A Florida teacher who allegedly said she wanted to "shoot some students" may have been mentally ill, according to court documents.
Ashlee Renczkowski, a teacher at Fox Chapel Middle School in Spring Hill, Florida, allegedly told a guidance counselor March 24 that she wanted to "shoot some students due to them not performing to their ability," according to an incident report.
The comments were made after a discussion with the school's assistant principal where Renczkowski said she was having "bad thoughts."
Renczkowski, who was born a male, but is in the process of transitioning to a female, told the guidance counselor that she was upset because "learned about a social media post where people were talking negatively about [Renczkowski's] sexual orientation," according to the incident report.
Police said in the incident report that Renczkowski is taking hormone medication and "is planning on having surgery over the summer."
FLORIDA TEACHER ALLOWED TO WORK FOR WEEKS AFTER ALLEGEDLY SAYING SHE 'WANTED TO SHOOT SOME STUDENTS'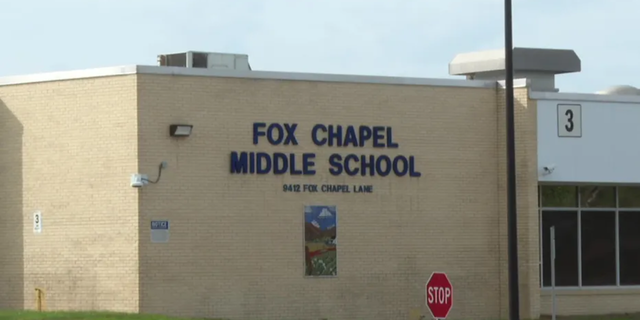 The Hernando County Sheriff's Office told FOX 13 that deputies removed guns from the home of the unnamed teacher after she had a conversation with the Fox Chapel Middle School assistant principal in late March, saying that she was "having bad thoughts" and "wanted to shoot some students." (FOX 13)
During the conversation, the teacher also said she has "three handguns at home."
After Renczkowski made the comments, she "immediately stated she would never harm a student" and "stated that she does not want to harm herself," the sheriff's report states. She later went on to say how
The Hernando County Sheriff's Office also filed a Risk Protection Order against the teacher in court, which was approved.
According to the Risk Protection Order, the court received evidence that Renczkowski "engaged in a recent act or threat of violence against themselves or others," "may be seriously mentally ill or may have recurring mental health issues," and "has used, or threatened to use, against themselves or others."
The incident report states that three handguns and ammunition were taken out of the teacher's home, adding that Renczkowski was on medication for depression at the time of the incident.
During a public meeting April 11, administrators said Renczkowski was initially cleared to return to the classroom.
FLORIDA MOTHER, SON CHARGED WITH ATTEMPTED MURDER AFTER USING BAT AND 'UNKNOWN TOOL' IN ATTACK: POLICE
A Hernando County School District spokesperson said that "a threat assessment protocol was followed."
"What the report shows is that a team of professionals made up of school, district and law enforcement personnel followed all steps of the district's threat assessment protocol to ensure this teacher was no danger to themselves or others," the spokesperson said Wednesday.
In a statement released April 13, the school district said Renczkowski will be removed from "all student contact," adding that a return date will be determined based on an investigation.
"This week, the Hernando County Sheriff's Office released more information regarding the incident involving a comment made by a Fox Chapel Middle School teacher on March 24th. As part of that release details, not previously known by the school district, appear in conflict with information gathered at the time of the incident," John Stratton, superintendent of schools, said in a statement.
CLICK HERE TO GET THE FOX NEWS APP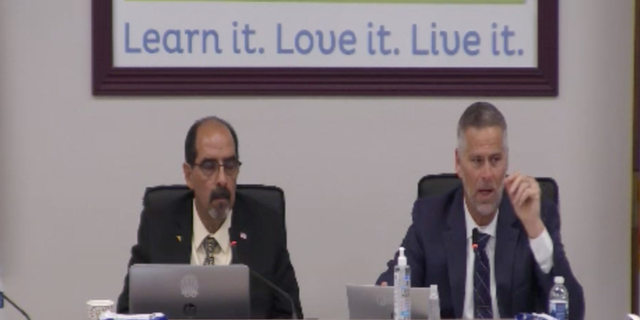 John Stratton, right, superintendent of schools at Hernando County School District, speaks during a school board meeting Tuesday. (Hernando County School District)
"In light of this additional information, the school district will continue to investigate the incident and require further involvement by mental health experts. As part of our investigation, we will take a hard look at all the actions that were taken on that day, and in the days following the incident, and determine if any steps were missed," Stratton said.
Fox News Digital reached out to Renczkowski for comment.