A wealthy former Maine gubernatorial candidate charged with possession of images depicting child sexual abuse reached an agreement with prosecutors in which he'll spend some time incarcerated, a prosecutor said Tuesday.
The hearing for Eliot Cutler, who previously pleaded not guilty, is scheduled for May 4 in Superior Court, a court clerk said.
Hancock County District Attorney Robert Granger declined to get into specifics but said there "will be some level of incarceration" along with probation for Cutler. Cutler's attorney, Walter McKee, declined to comment on the agreement.
FORMER MAINE GUBERNATORIAL CANDIDATE AND PROMINENT DEMOCRAT DONOR ARRESTED ON CHILD PORN CHARGES
The 76-year-old Cutler, who remains free on bail, was arrested last year at his waterfront home in Brooklin, a coastal community 130 miles from Portland.
Under the agreement, Cutler is expected to waive indictment and plead guilty or no contest to each of four counts of possession of sexually explicit material of a child under 12, Granger said. Each count carries a maximum penalty of five years in prison.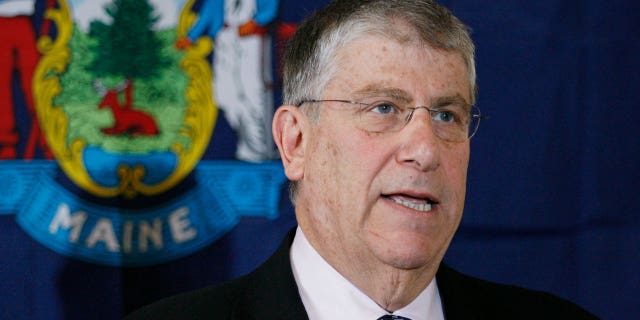 Former Maine gubernatorial candidate Eliot Cutler will be sentenced to prison time under a plea deal reached with prosecutors in a child pornography case. (AP Photo/Joel Page, File)
Cutler, a lawyer, ran for governor twice as an independent and used his personal wealth to bankroll both campaigns. He lost by less than 2 percentage points to Republican Paul LePage in a multi-candidate race in 2010. He lost again in 2014.
Years earlier, Cutler served as an aide to the late Democratic U.S. Sen. Edmund Muskie, of Maine, and later as former Democratic President Jimmy Carter's top adviser for environmental and energy issues. Cutler went on to serve as an environmental attorney and helped found a law firm in Washington.
MAINE DA RECUSES HIMSELF FROM FORMER GOVERNOR CANDIDATE CUTLER'S CHILD PORN CASE
After a career in Washington, the Bangor native later returned to Maine and resided in Cape Elizabeth, where he owned a mansion that he later sold for $7.55 million to a nephew of former President George H.W. Bush.
His fall from grace began with a two-month investigation that started with a tip from the National Center for Missing and Exploited Children. That led to search warrants for his homes in Brooklin and at another home in Portland that he later sold.
A law enforcement affidavit indicated that Cutler explained to his wife in the presence of investigators that the search warrant was for images depicting child sexual abuse and that investigators "would probably find some on one of his computers."
CLICK HERE TO GET THE FOX NEWS APP
While on bail, Cutler convinced a judge to let him back online, with restrictions, even though the affidavit indicated he possessed thousands of videos of children being sexually abused.