Garth Brooks is a beloved country icon and performer with dozens of hits and millions of albums sold.
But he's had his share of controversy throughout his multi-decade career.
Most recently, Brooks drew backlash after he entered the fray about Bud Light and its partnership with transgender activist and TikTok star Dylan Mulvaney.
Brooks is opening a bar in Nashville later this summer, The Friends In Low Places Bar & Honky Tonk, and spoke about his plans for the bar in an interview with Billboard, which include selling "every brand of beer."
"If you live in Tennessee, I recommend you never go to @garthbrooks new bar. They're going to sell Bud Light and apparently he thinks we're 'a—holes' if we don't like it. Make sure all your friends know that," one person wrote on Twitter.
DYLAN MULVANEY CALLS ON BRANDS TO DEVELOP MORE TRANS PARTNERSHIPS AFTER BUD LIGHT FIGHT: 'REALIZE' MY 'POWER'
Another spoke of getting rid of a collection of Brooks' music, noting, "My trash bin is full…I threw out everything that had Garth Brooks name on it."
For the music video, Brooks played the part of the cheating and abusive husband, with scenes that hint at the fourth verse's contents. According to the 2009 book "The Garth Factor: The Career Behind Country Music's Big Boom" by Patsi Bale Cox, Brooks' label screened the music video for a group of women who approved of the content and considered it a powerful statement against domestic violence.
GARTH BROOKS ANNOUNCES NEW LAS VEGAS RESIDENCY, 'GARTH BROOKS/PLUS ONE'
The violent nature of the music video got it banned by The Nashville Network (TNN) and CMT. A representative for CMT at the time said the network was "in business to entertain, not to promote or condone gratuitous violence or social issues," according to the book.
The following year, Brooks was set to perform the national anthem at that year's Super Bowl. He also had an agreement with NBC to air the music video for "We Shall Be Free" before the game.
The network initially refused to air the video, which included intense imagery, such as the KKK burning a cross, flag burning, violent incidents, starving children and positive imagery of people coming together.
WATCH: GARTH BROOKS TALKS DOCUMENTARY "THE ROAD I'M ON"
Brooks celebrated the 25th anniversary of the song in 2017 with an updated music video released on his Facebook page.
"I didn't think it would be controversial, but when this song first came out, it was not welcomed with opened arms," Brooks told People in 2017. "I guess I'm always surprised because, I guess, I'm just one of those ignorant guys who thinks that everybody kinda feels the same and, man, we don't."
GARTH BROOKS PERFORMING AT BIDEN'S INAUGURATION, JOKES HE'LL BE 'ONLY REPUBLICAN' THERE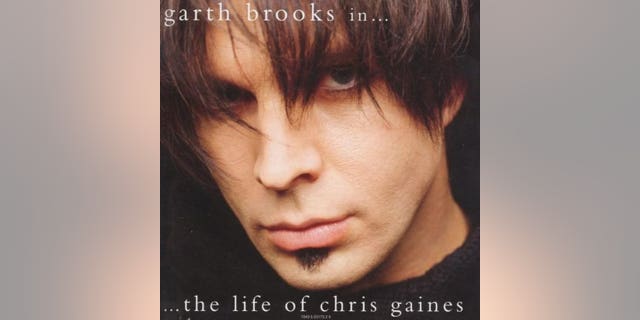 The album cover for the Chris Gaines character created by Garth Brooks. (Capitol Records)
In a recent interview during Billboard Country Live, Brooks said he still loved the character and was interested in doing more with Gaines.
"The Gaines project was a lot of time put in because it's not natural. You're acting on a record, but I want to do it simply for people who love the Gaines project," the 61-year-old said.
"And, selfishly, I love the Chris Gaines record. So, I want to do it for me. It challenged me as a vocalist," added Brooks. "So I don't know when we're going to get to it, but it's on the list."
Before his marriage to Yearwood, Brooks was with his first wife, Sandy Mahl, from 1986 to 2001. They have three daughters together — Taylor, August and Allie.
"I was on the front page of the USA Today for being a bad husband and man," Brooks recalled. "I'd have never survived that if there had been social media, ever."
In his "Garth Brooks: The Road I'm On" documentary, Mahl spoke about the toll the singer's career took on their marriage.
In a 2020 interview with Fox News Digital, Brooks said Mahl's perspective surprised him but gave him a greater understanding of their past.
"I heard things from her that she told me our whole life, but I didn't hear them until now," he said. "And so my respect and love for her is through the roof for what she went through and how she's handled it as well."
CLICK HERE TO SIGN UP FOR THE ENTERTAINMENT NEWSLETTER
CLICK HERE TO GET THE FOX NEWS APP
"So, I think everything happens right at the right time," he added. "And if she was the mother of the children, our three children wouldn't be who they are either. They got the right amount of their mom in them, the right amount of me in them and the right amount of Trisha's influence in them as well. So I think everything happens for a reason at a time. And I think she would probably tell you the same thing."