Everyone seems glued to their phones these days, including some celebrities. But there are some that are taking a stand against technology, for personal or professional reasons, or sometimes both.
Garth Brooks recently made headlines with a "no phones" policy for his Las Vegas residency, which kicks off May 18.
According to Ticketmaster's website, The Garth Brooks/Plus One residency at Caesars Palace will require fans to scan their ticket and then have their phone placed in a Yondr case, to be unlocked at the end of the show.
"Guests maintain possession of their phones at all times and can access their phones throughout the show at designated Phone Use Areas in the venue," the site continues. "All phones will be re-locked in Yondr cases before returning to the performance space."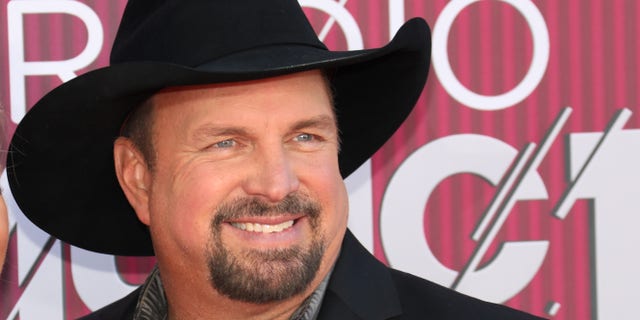 Garth Brooks is instituting a "no phones" policy at his new Las Vegas residency, beginning this week. (Toni Anne Barson / WireImage / File)
"Anyone caught using a cellphone during the performance will be removed from the venue," the event description notes.
Fans can still access photos via a QR code that will link to professional pictures from the performance.
When Brooks announced the residency last fall, he promised that no two shows will be the same.
"Any given night can have any given variation of any given song," Brooks said in a press release at the time.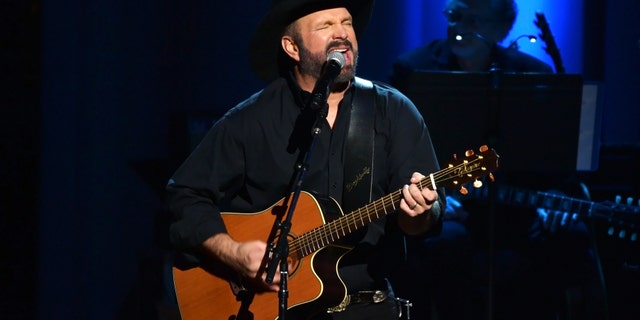 Garth Brooks promises no two shows will be the same at his Caesars Palace residency. (Shannon Finney)
GARTH BROOKS ON PERFORMING AT BARS INSTEAD OF STADIUMS AMID CORONAVIRUS PANDEMIC: 'DIVE BARS ARE VACCINATED'
Brooks isn't alone in stepping back from technology as other stars have revealed their disinterest, dislike or overall distaste in being available 24/7.
Dolly Parton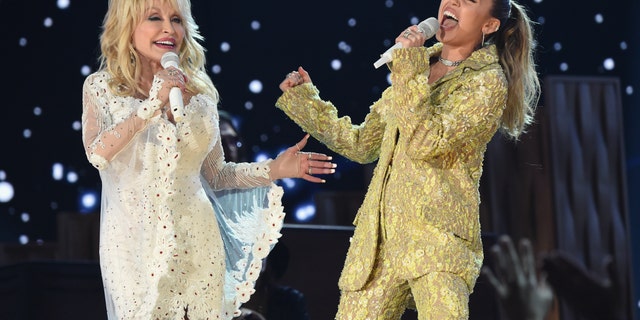 Dolly Parton's goddaughter, Miley Cyrus, says the country superstar doesn't really use a phone and communicates via fax. (Kevin Mazur / Getty Images for The Recording Academy / File)
Country superstar Dolly Parton prefers to be reached by fax, according to her goddaughter, Miley Cyrus.
Cyrus appeared on "Late Night with Seth Meyers" last year, speaking about the Super Bowl commercial they did together for cellphone carrier T-Mobile with the slogan "Do It For the Phones."
"Which was amazing because she was doing it for the phones, yet every time I coordinate and communicate with Dolly, it's still through fax," the "Flowers" singer said.
Meyers and Cyrus joked about the ad being false advertising, and Cyrus clarified, "We do use the phone, but she does a fax and then someone scans the fax, and then they put it into a text message and then that gets sent to me."
Despite the convoluted system, Cyrus appreciated the "letters" she gets, noting that it's "not casual, you know, that she took the time to get out, I guess, her typewriter," she joked.
"She has a phone, she just doesn't use it, I think. I think someone uses it for her," she added.
MILEY CYRUS SAYS DOLLY PARTON 'CLUTCHED HER PEARLS' WHEN SHE SUGGESTED THIS
Ed Sheeran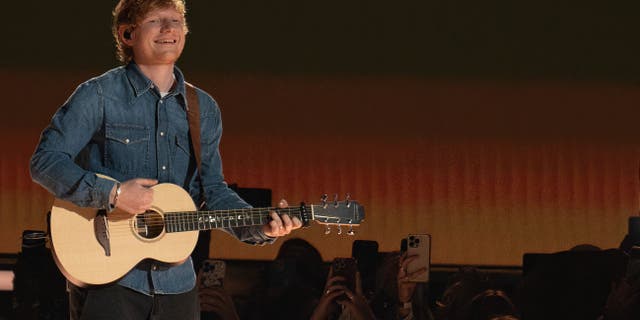 Ed Sheeran says he hasn't used a phone since 2015 and feels like "a veil just lifted." (Suzanne Cordeiro / AFP via Getty Images / File)
Ed Sheeran decided to go low-tech with his personal phone to avoid overdoing it on social media.
In fact, in 2015, he announced he was taking a break from apps like Twitter and Instagram (though he has since returned to Instagram), saying he felt like he was "seeing the world through a screen and not my eyes."
 
 

 
 
View this post on Instagram
 

 
 
 

 
 

 
 
 

 
 

Later, in 2017, Sheeran told "BBC Radio 1 Breakfast" that he downgraded to a non-smartphone, surprising his friend, singer Adele, in the process.
"I have an addictive personality, you can see from the tattoos. So, my New Year's resolution was to get off social media," he told the outlet.
"I've got one of those little drug dealer phones – untraceable burners," he continued. "I told [Adele] I got a flip phone, and she thought I was taking the mick out of her."
SINGER ED SHEERAN QUITS TWITTER OVER INTERNET TROLLS' 'MEAN' COMMENTS
And just last year, Sheeran revealed he doesn't carry a phone at all.
He told "The Collector's Edition" podcast, "I haven't had a phone since 2015. I just spent my whole time in a very low place. I got rid of it, and it was like a veil just lifted."
Ed Sheeran prefers to check email for his communication and says not having a phone has been good for his mental health and being in the moment with his loved ones. (David M. Benett / File)
To stay in communication, he'll check his email.
"Every few days, I'll sit down, and I'll open up my laptop, and I'll answer 10 emails at a time," he explained.
"And I'll send them off, and I'll close my laptop. And then I'll go back to living life, and I don't feel overwhelmed by it."
"The best thing about it is, aside from mental health and feeling better about everything, is the moments I have with the people I love in person are uninterrupted."
ED SHEERAN, PRINCE HARRY PROMOTE WORLD MENTAL HEALTH DAY WITH COMEDIC VIDEO
Hugh Grant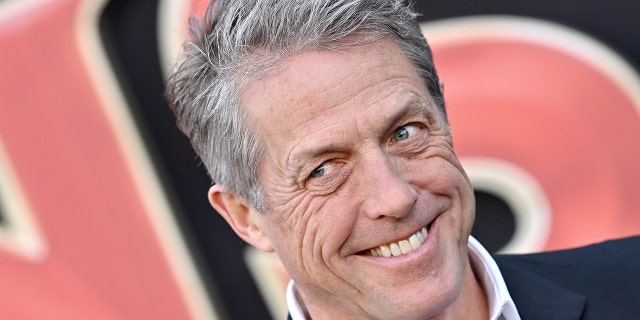 Speaking to Stephen Colbert, Hugh Grant says that in the old days, actors would fall in love with one another on-set. (Axelle/Bauer-Griffin / FilmMagic / File)
"Love, Actually" star Hugh Grant thinks cellphones have had a negative impact on the set but for a rather cheeky reason.
Earlier this year on "The Late Show with Stephen Colbert," the actor noted that "films are so weird now" because of the prevalence of cellphones on-set.
"You know in the old days … by the end of the second week, you were all getting drunk in the evening and having dinner and falling in love with each other and all that," he said.
"And all that stopped because of telephones. … Everyone goes home and looks at Twitter," Grant said. "It's so sad."
Colbert then asked Grant if he believed the number of affairs would increase on movie sets if there were no phones.
"Yeah, I think so," he replied, adding, "You know [Quentin] Tarantino bans telephones from his set. Quite right, too."
"And then the people there do all shag each other. So, I'm told," he jokingly concluded.
Grant did not specify if he carries a phone, though he does not maintain a social media presence.
HUGH GRANT CRITICIZED FOR 'RUDE' OSCARS RED CARPET INTERVIEW
Justin Bieber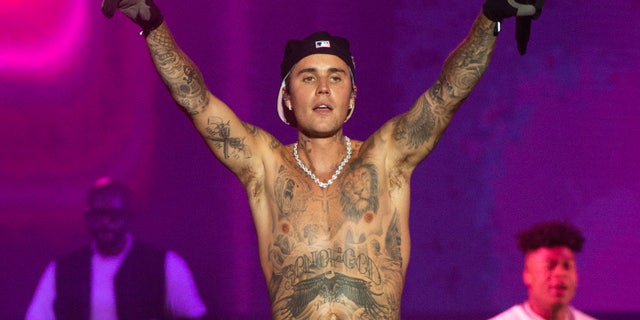 Justin Bieber revealed to Billboard in 2021 that he logs off for the day at 6 p.m. and only uses an iPad to communicate with his team. (Joseph Okpako / WireImage / File)
Justin Bieber got his start as a viral star on YouTube, but these days he avoids most social media and phone distractions.
In 2021, he told Billboard that he does not have a cellphone and uses an iPad to communicate with his management team after he stops working at 6 p.m. to spend time with his wife, Hailey Bieber.
"I definitely learned how to have boundaries, and I just don't feel like I owe anybody anything," Bieber told the outlet. "That has helped me to be able to just say no and just be firm in it and know that my heart [wants] to help people but [that] I can't do everything. I want to sometimes, but it's just not sustainable."
Bieber does continue to post on social media, less so on Twitter than Instagram.
Earlier this year, Bieber took to social media to share his Ramsay Hunt syndrome diagnosis with fans, detailing why he had to cancel tour dates for the remainder of the year into 2024.
On June 10, 2022, Bieber uploaded a video that showed one side of his face paralyzed.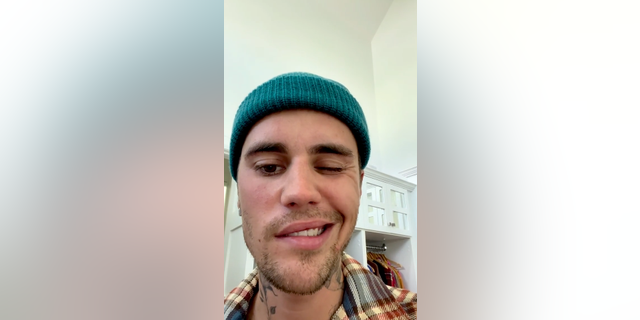 On June 10, 2022, Bieber uploaded a video that showed one side of his face paralyzed. (Instagram)
He showed fans that he couldn't blink his right eye, move his right nostril or smile with the right side of his mouth.
"For those who are frustrated by my cancellations of the next shows, I'm just physically, obviously, not capable of doing them," he said. "This is pretty serious as you can see. I wish this wasn't the case, but obviously my body is telling me that I've got to slow down."
"I hope you guys understand. I'll just be using this time to rest and relax and get back to 100% so that I can do what I was born to do."
MUSICIANS MORGAN WALLEN, JUSTIN BIEBER, CELINE DION AMONG STARS CANCELING TOURS FOR HEALTH STRUGGLES
Sir Elton John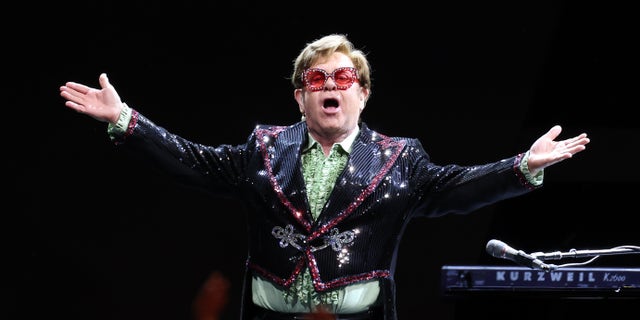 Sir Elton John says his life is "fabulous" without a cellphone. (Simone Joyner)
Sir Elton John declared his life is better without a cellphone attached to his hand.
In 2013 on "Jimmy Kimmel Live," the legendary musician said, "My life is fabulous. I don't have people ringing me two times a minute."
The "Crocodile Rock" singer may not carry a phone, but he admitted a person in his entourage does.
"I couldn't bear to have a phone," John said. "And I just have an iPad for the kids and Skyping them when I'm not with them."
John has two children with husband David Furnish, Zachary Jackson Levon Furnish-John and Elijah Joseph Daniel Furnish-John, both born via the same surrogate.
CLICK HERE TO SIGN UP FOR THE ENTERTAINMENT NEWSLETTER
Chris Pine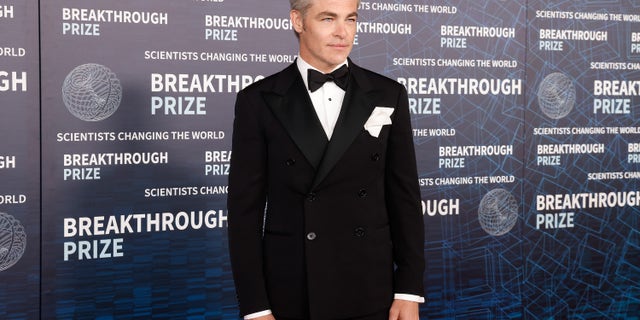 Chris Pine revealed he had a more analog phone before upgrading to a smartphone, which he said was so addictive, admitting, "I don't know if I can handle it." (Taylor Hill / File)
Chris Pine may star in the futuristic "Star Trek" film series, but the actor admitted he's not into anything all that high-tech.
On the "Happy, Sad, Confused" podcast in 20222, Pine admitted he had a flip phone for three years but caved and decided to upgrade.
"I felt pummeled by how difficult being analog … it was very difficult," he said.
But unfortunately, he found the smartphone to be incredibly addictive.
"It's really bad," he said, revealing that he used to read close to 15 books a month.
"And then this showed up," he continued. "I can tell you everything about Pete Davidson and Kim Kardashian, but not a f—ing thing about literature," he said.
The "Don't Worry Darling" star also noted he wanted to go back to his old phone.
"I don't know if I can handle it. I don't know if my soul can handle it," he said.
'DON'T WORRY DARLING' STAR HARRY STYLES 'DID NOT' SPIT ON CHRIS PINE: 'FOOLISH SPECULATION,' REP SAYS
Dierks Bentley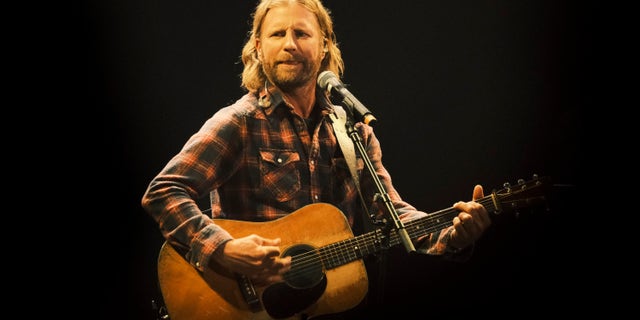 Dierks Bentley told People in 2020 he went shopping for a new phone and "disappointed" the salesperson for wanting the "cheapest, lowest tech phone you have." (David A. Smith / File)
Dierks Bentley had one goal in mind when he was shopping for a new phone in 2020.
He told People he walked into the store and told the salesperson he wanted "'The cheapest, lowest tech phone you have.' I think he was disappointed."
"Everybody else was running out for the new iPhone 6, but I got a flip phone. It has a camera because of the kids, but it's pretty basic. This one was like 99 cents."
CLICK HERE TO GET THE FOX NEWS APP
The country star was happy to keep it old school, explaining the constant connectivity was getting to him.
"I'm trying to call more and text less," he said. "I don't want to check my phone 5,000 times a day anymore. It was getting to me. I'm bringing old back."