EXCLUSIVE: The House Republicans who forced a legislative stalemate earlier this week want written assurances from Speaker Kevin McCarthy that conservatives will get more of a say in what the chamber does after their trust in him had been "shattered" over the debt limit bill, Rep. Ben Cline, R-Va., said on Thursday.
"I mean, it's obvious to everyone that the trust between members of the Freedom Caucus and McCarthy has been shattered over the way that this debt ceiling bill came about. And they're determining whether and how they can move forward," Cline told Fox News Digital in an interview. "My understanding is that there'll be a conversation that would outline the specific requests and commitments in writing."
Members of the hard line-right House Freedom Caucus and their allies tanked a procedural vote on the rules for a set of Republican-backed bills on Tuesday. It was the first time in two decades that a rules vote had failed. The dissenting lawmakers have voiced anger over the debt limit deal struck between McCarthy and President Biden, claiming Republicans got "rolled" in the compromise, and they've accused GOP leadership of exacting revenge on one member who tried to block the bill from coming to the floor by scuttling his own firearms legislation.
MCCARTHY BLAMES CONSERVATIVES' HOUSE FLOOR REVOLT ON POSSIBLE SCALISE 'MISCALCULATION'
Cline was not among those who blocked the bill, but he indicated that he too was dissatisfied with how the debt limit compromise was handled. He was one of 71 House GOP lawmakers to vote against the bill last week.
"My hope is that confidence can be restored and while you never may fully regain the trust that you had, at the very least you have the ability to move forward. And I think that's what we're all searching for," he said.
CONSERVATIVES BLOCKADE HOUSE FLOOR IN LATEST MUTINY AGAINST GOP LEADERSHIP
"I don't know who he's hearing from throughout the conference. Hopefully, it's a diverse array of viewpoints, including conservative," he added.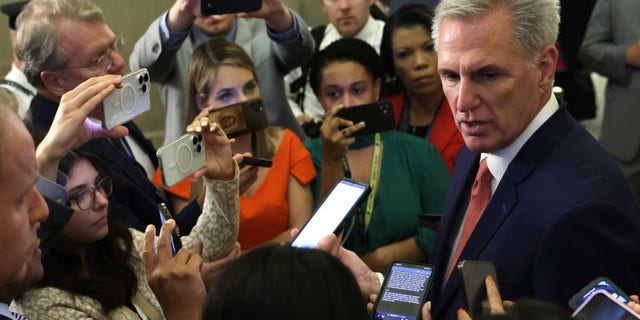 WASHINGTON, DC – JUNE 07: U.S. Speaker of the House Rep. Kevin McCarthy (R-CA) speaks to members of the press outside his office at the U.S. Capitol on June 7, 2023, in Washington, DC.