White House National Security Advisor Jake Sullivan on Monday denied allegations that he was part of a Biden family "corrupt influence-peddling operation" in Ukraine.
Sullivan responded to the allegations during a Monday press briefing at the White House, telling reporters that he had nothing to do with such an operation. The allegations arose from a former White House stenographer who claims to have been privy to conversations among the Biden family and Sullivan in 2014.
"On Ukraine, I wanted to give you the opportunity to respond to a former White House stenographer who this month outed you as an anonymous senior administration official who briefed reporters on Air Force Two en route to Ukraine in 2014," a reporter began. "He says that you spoke about giving aid to the Ukrainian national gas industry just days after [Hunter Biden] had secretly joined the board of a Ukrainian gas company. He says he considers you part of a corrupt influence-peddling conspiracy, and he wants to testify to a Delaware grand jury about it."
"Do you have a response to that, and were you part of a corrupt influence-peddling operation involving the Biden family and Ukraine or any other country?" the reporter asked.
"No," Sullivan responded succinctly before moving on.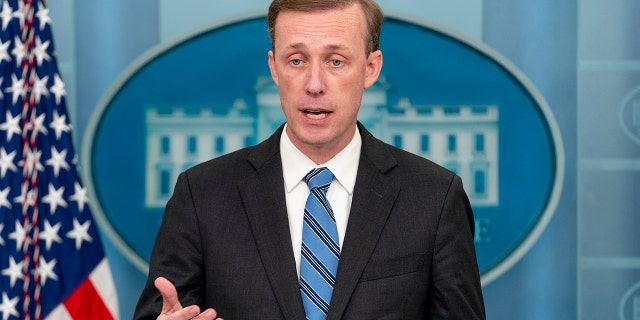 White House National Security Advisor Jake Sullivan on Monday denied allegations that he participated in a "corrupt influence-peddling" operation with members of the Biden family. (AP Photo / Andrew Harnik / File)
The former White House official, Mike McCormick, worked as a stenographer for the White House for 15 years. He said he submitted a tip to the FBI in which he claimed that President Joe Biden and members of his family are criminals.
"In February, I went to the FBI and filed one of their tips on their website. If you do that, and you're lying to them, you go to jail. I'm not lying. I'm telling the truth, and I'm not going to jail," McCormick said this month. "Joe Biden is a criminal. He was conducting malfeasance in office to enrich his family. Jake Sullivan is a conspirator in that, and there's more … Obama officials involved in it, I believe."
BIDEN WISHES REPUBLICANS 'LOTS OF LUCK' IN PLANS TO INVESTIGATE SON HUNTER IF THEY TAKE THE HOUSE
McCormick, who worked with Biden from 2011 to 2017, detailed key dialogue that allegedly involved Vice President Kamala Harris, Sullivan and the press on Air Force Two before a trip to Kyiv, Ukraine, on April 21, 2014.
Sullivan outlined in a White House transcript Biden's priorities for his trip to the country, which included U.S. investment in the Ukrainian energy sector days after Hunter joined the board of Burisma, according to the New York Post.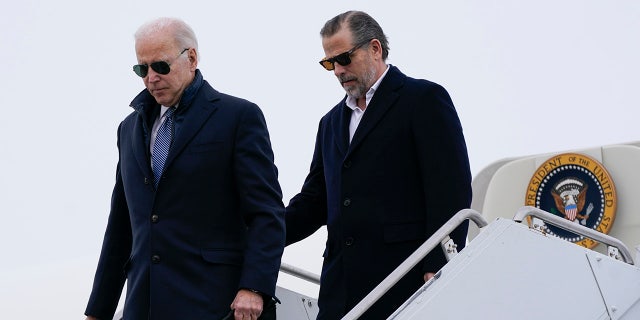 President Joe Biden, left, and his son, Hunter Biden, have faced accusations of corruption. (AP Photo / Patrick Semansky / File)
Months later, and well after the trip, Congress allocated $50 million to Ukraine's energy market.
"I'm sitting back there with a tape recorder. Jake Sullivan comes back and somebody asks about fracking. His answer is, 'Well, we're bringing a lot of American assistance over for fracking.' Burisma was the direct beneficiary of that fracking, and that's what I recorded, and that's in a White House transcript," McCormick said.
CLICK HERE TO GET THE FOX NEWS APP
"In the transcript, you don't know who Jake Sullivan is. It's a senior administration official. I'm the witness that says Jake Sullivan is the guy who said it, and he should be investigated because at the time Hunter Biden was on the board of Burisma and Joe Biden is bringing American taxpayer money to enrich that company and himself and his family," he continued.
Fox News' Bailee Hill contributed to this report.