Japan's public safety chief has come under fire for his remark that he enjoyed eel rice so much that he kept eating after his agency informed him of Prime Minister Fumio Kishida's narrow escape from a pipe bomb attack two weeks ago.
Koichi Tani, chair of the National Public Safety Commission for Kishida's Cabinet, told a governing party gathering Tuesday that he had the local delicacy in front of him for lunch when the phone rang.
"I was told that we can eat delicious unagi (eel) rice bowl there, and I was really looking forward to it," Tani told party lawmakers. "Just as I was going to dig into it, I got a call from the National Police Agency saying something was thrown at the prime minister in Wakayama," Tani said.
JAPANESE SUSPECT THROWS SMOKE BOMB AT PRIME MINISTER, GETS TACKLED ON VIDEO
"But I fully savored and finished … my unadon (eel rice bowl)," he said, beaming.
Tani was in the Shimanto area in the southwestern prefecture of Kochi during the attack — about 150 miles southwest of Wakayama, where a man threw an explosive device at Kishida as the prime minister was about to make a campaign speech to cheer a local governing party candidate. Kishida was unharmed and the suspect arrested.
The attack on the prime minister came less than a year after former leader Shinzo Abe was killed while delivering a campaign speech. The assassination investigation found holes in police security and led to reinforcement of dignitary protection. Experts, however, said the attack on Kishida raised questions if any lessons were learned from the Abe case.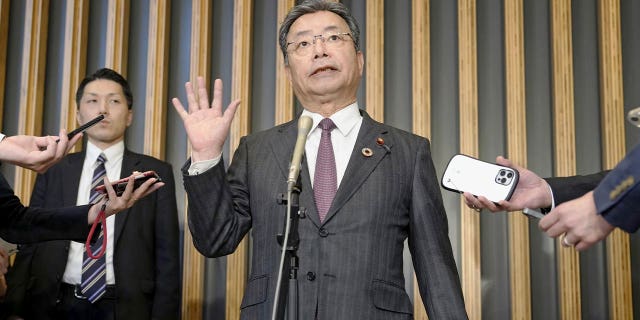 Chairperson of the National Public Safety Commission Koichi Tani speaks to reporters in Tokyo on April 26, 2023. Tani has come under fire for his remark that he continued to enjoy his eel rice when his agency informed him of Prime Minister Fumio Kishida's pipe bomb attack.  (Kyodo News via AP)
Tani's eel comment immediately sparked criticisms and concern at Parliament and on social media about Japan's public safety as the country makes its final preparations for the Group of Seven summit that Kishida will host May 19-21 in Hiroshima. During a parliamentary session, some opposition lawmakers demanded Tani's dismissal.
"As head of the National Public Safety Commission, (Tani) lacks sense of urgency," said Jun Azumi, an executive of the main opposition Constitutional Democratic Party of Japan. "Isn't this a negative for the prime minister to have such a person as chief executive responsible for Japan's security?"
But Kishida said Tani handled his duties adequately and that he wanted the public safety chief to stay on.
LACK OF SECURITY AROUND JAPANESE PRIME MINISTER SURPRISES MANY FOLLOWING SMOKE BOMB ATTACK
Chief Cabinet Secretary Hirokazu Matsuno also defended Tani. He said the public safety chief, who was in Kochi as the disaster prevention minister, juggled both duties and gave adequate instructions to officials responding to the explosion in Wakayama.
"I also contacted Minister Tani and once again told him to carry out his duties firmly," Matsuno said.
Tani later Wednesday told reporters he wanted to highlight eel as a local delicacy of the area he visited, but that he had "poorly expressed myself in my brief comment and might have caused misunderstanding — and I must take it seriously."
CLICK HERE TO GET THE FOX NEWS APP
"With the G-7 summit coming up, I'm aware of the importance of protecting Japan's public safety, and I will carry out my duty with a sense of alertness," Tani added.
Kishida told a group of foreign media journalists last week that he planned to improve security before G-7.
Tani is the latest member of Kishida's government to come under fire over controversial remarks. In November, then-Justice Minister Yasuhiro Hanashi resigned after saying his low-profile job only makes news when he places a stamp approving a death penalty. In February, a Kishida aide was dismissed after making homophobic remarks that he didn't want to live next door to or see LGBTQ+ people.