Jay Leno's recent injuries haven't slowed him down at all.
The comedian, who was seriously burned while working on a car last year and also broke several bones in a January motorcycle accident, is the first person outside the Dodge team that developed it to test drive the 2023 Challenger SRT Demon 170.
The coupe is the last V8-powered car the brand will ever make and the most powerful muscle car ever.
The Challenger SRT Demon 170 is powered by a supercharged 6.2-liter V8 engine that's rated at 900 hp, but it can produce 1,025 horsepower when running on E85 fuel.
1968 DODGE CHARGER RETURNS AS MODERN QUICKSILVER MUSCLE CAR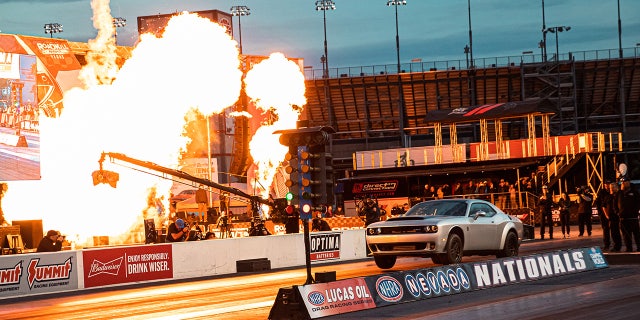 The 1,025 horsepower 2023 Dodge Challenger SRT Demon 170 is the world's quickest production car to 60 mph. (Dodge)
It's the quickest production car in the world in accelerating to 60 mph, with the sprint certified at 1.66 seconds, and it can also cover a quarter-mile in 8.9 seconds at a trap speed of 151 mph.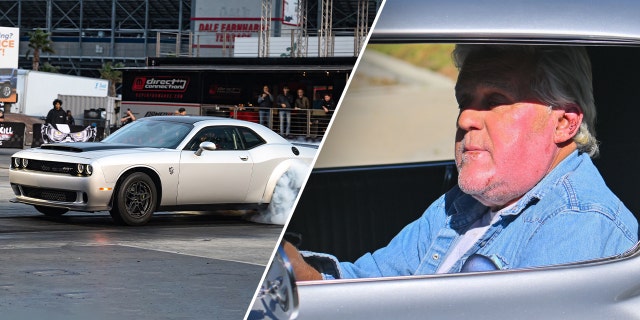 Leno (seen here in his Chevrolet Corvette) test drove the Challenger SRT Demon 170 on his YouTube channel. (Dodge//MEGA/GC Images via Getty Images)
Dodge unveiled it in March at an event held on the Las Vegas Motor Speedway's drag strip, where Leno was one of the hosts.
Leno has now posted a video to his YouTube channel featuring an interview with Dodge CEO Tim Kuniskis and a cruise on the Burbank, California, streets near his famous Big Dog Garage in the Challenger SRT Demon 170.
The car Leno drives is equipped with just a driver's seat and a roll cage, which are both available options for customer cars.
"Well this is, this is hilarious," he says after giving it some gas.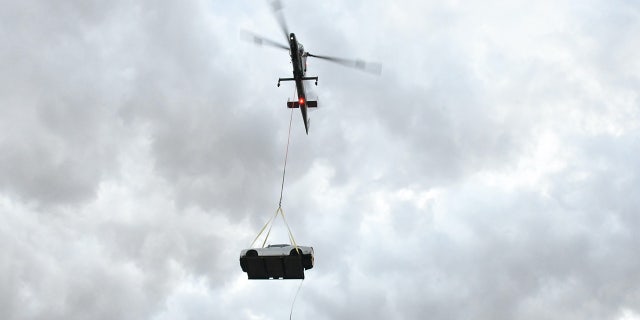 Dodge airlifted the Challenger SRT Demon 170 to the reveal event in Las Vegas. (Dodge)
"I just kind of put my foot in it just a little bit at the light there and I see these two huge stripes right behind me," he adds after accelerating away from an intersection and leaving tire marks on the street.
"It's hard to believe this is a 4,200-pound car. It seems pretty light on its feet."
CLICK HERE TO SIGN UP FOR THE FOX NEWS AUTOS NEWSLETTER
The 72-year-old calls the car a "torque monster" then stops in the middle of a road and proclaims "there is no substitution for immaturity" before doing a burnout.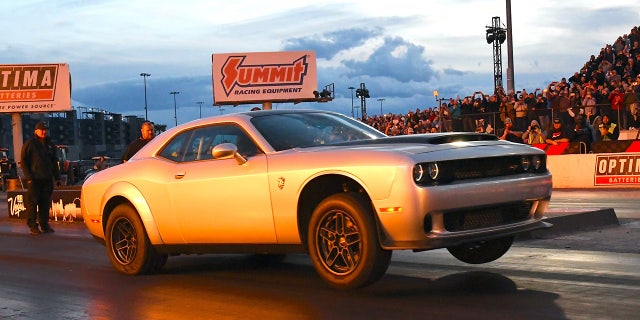 The Challenger SRT Demon 170 is the only production car that can pop a wheelie. (Dodge)
"I grew up in the era when you bought a Hemi car, it was big and it was clumsy but it was fast. This thing seems like a ballet dancer," he said.
CLICK HERE TO GET THE FOX NEWS APP
"This is a good choice for last of the internal combustion engines."