Jessie James Decker criticized United Airlines for an alleged in-flight incident which left her pregnant sister in tears.
The 35-year-old musician used social media to voice her concerns after her sister Sydney described a "humiliating" experience on board a flight.
Decker claimed that Sydney, who is married to Toronto Blue Jays pitcher Anthony Bass, was handed a trash bag and wet wipe by a flight attendant and then forced to pick up popcorn her toddlers had spilled on the cabin floor.
Sydney was traveling alone with their two little ones and was told the request to clean the plane came from the captain.
JESSIE JAMES DECKER SAYS SHE DIDN'T 'THINK TWICE' ABOUT POSTING CONTROVERSIAL PIC OF KIDS' ABS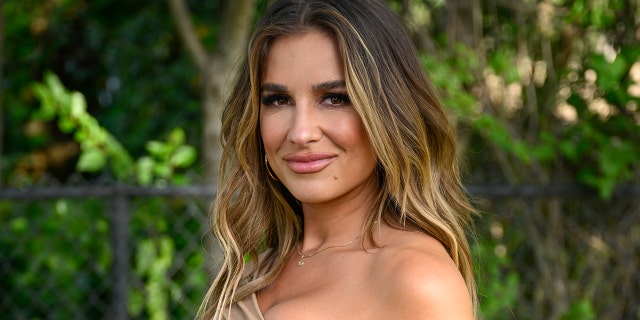 Jessie James Decker criticized United Airlines after an alleged incident involving her pregnant sister. (Steve Jennings)
"My sister @sydneyraebass just texted me from her flight on @united," Decker wrote. "As you know, she is five months pregnant, high risk, and also traveling alone with her two small children."
She wrote, "Blaire accidentally spilled some popcorn in the aisle and the flight attendant came up to Sydney with a trash bag, and a wet wipe, telling her the captain wants Syd to clean up every drop."
JESSIE JAMES DECKER, THE ROCK, PINK LEAD HOLLYWOOD FAMILIES FIGHTING BACK AGAINST PARENTING POLICE
The Kittenish designer said her "poor sister is on her hands and knees, crying in the aisle completely humiliated and exhausted with her children while everyone else watched. Way to go united."
Bass shared a similar reaction to his wife's story about the popcorn incident on Twitter.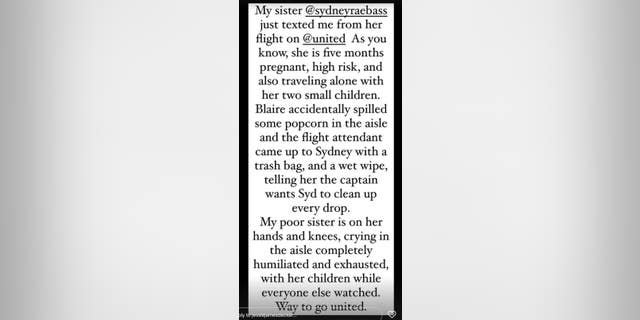 Jessie James Decker shares her sister's "humiliating" experience with United. (Instagram/ Jessie James Decker)
Bass tweeted, "The flight attendant @united just made my 22 week pregnant wife traveling with a 5 year old and 2 year old get on her hands and knees to pick up the popcorn mess by my youngest daughter. Are you kidding me?!?!"
JESSIE JAMES DECKER DEFENDS HER CHILDREN AFTER 'BIZARRE' PHOTOSHOP ACCUSATIONS: 'BE ACCEPTING OF ALL PEOPLE'
He also responded to social media users. One Twitter user said, "Genuinely curious who should clean up the mess your 2 year old made? As a parent of three kids I am the one responsible for them."
"The cleaning crew they hire!" Bass responded.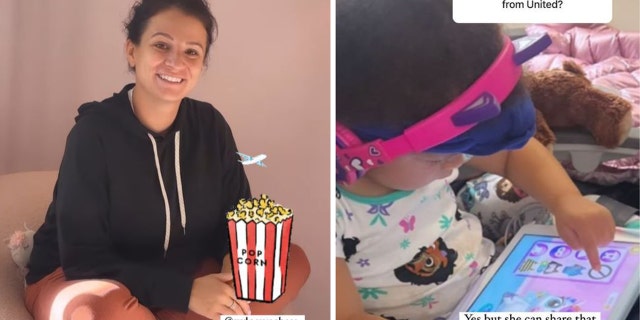 Jessie James Decker shared that her sister had been contacted by United after the popcorn ordeal. (Instagram/Jessie James Decker)
Representatives for Decker and United Airlines did not immediately respond to Fox News Digital's request for comment.
CLICK HERE TO SIGN UP FOR THE ENTERTAINMENT NEWSLETTER
Decker shared an update with Sydney after she landed and said that the airline "gave her the popcorn."
"If popcorn is a hazard, why are they giving it on planes?" she asked.
Shortly after, both Decker and Anthony confirmed that United had reached out to the family.
"Thank you everyone for the support," the baseball player tweeted. "United Airlines is taking care of matters with the flight attendant internally."