White House National Security spokesman John Kirby warned against sharing leaked documents, while still refusing to confirm their authenticity.
Highly classified materials were reportedly leaked that contain intelligence on China, Israel's intelligence agency Mossad, and the progress of the war in Ukraine. Some reported discrepancies among the documents, such as lower estimates for Russian troop deaths than have been publicly released, have led to skepticism about the material's actual authenticity, but Kirby still cautioned against sharing the documents.
"Again, without confirming the validity of the documents, this is information that has no business in the public domain," he told the press in a Monday briefing. "It has no business — if you don't mind me saying — on the front pages of newspapers or on television. It is not intended for public consumption, and it should not be out there."
An adviser to Ukrainian President Volodymyr Zelenskyy, Mykhailo Podolyak, accused Russian operatives of doctoring and leaking the documents to undermine U.S. support for the Ukrainian war effort.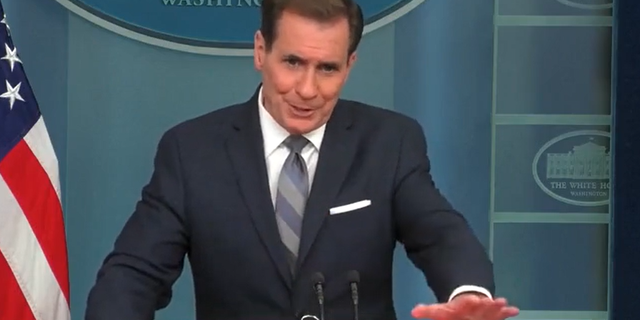 White House National Security spokesman John Kirby warned against sharing documents that have reportedly been leaked.
UKRAINE WAR PLANNING DOCUMENTS LEAKED ONLINE, PENTAGON INVESTIGATING
"The fictitious 'document' that ended up on the net most likely serves to discredit counter-offensive ideas and should provoke an increase in distrust between Ukraine and its partners or within Ukraine," Podolyak told Fox News.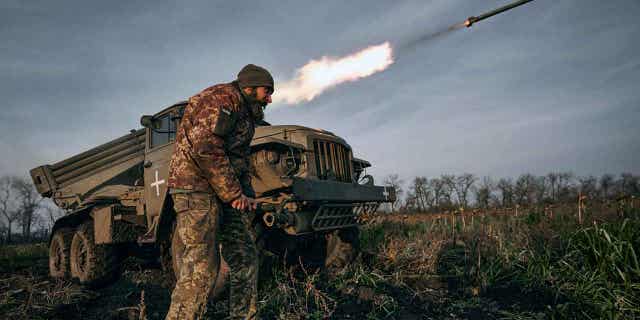 Ukrainian military's Grad multiple rocket launcher fires rockets at Russian positions in the frontline near Bakhmut, Donetsk region, Ukraine, Thursday, Nov. 24, 2022. (AP Photo/LIBKOS, File)
BIDEN BADGERS BIBI: NETANYAHU SAYS PRESIDENT WARNED BILL TO REFORM ISRAEL SUPREME COURT THREATENS DEMOCRACY
The leaks also alleged that the Mossad had secretly encouraged massive protests against Israeli Prime Minister Benjamin Netanyahu in March
Netanyahu's office, which is in charge of Mossad, dismissed the claims in a statement to Fox News Digital.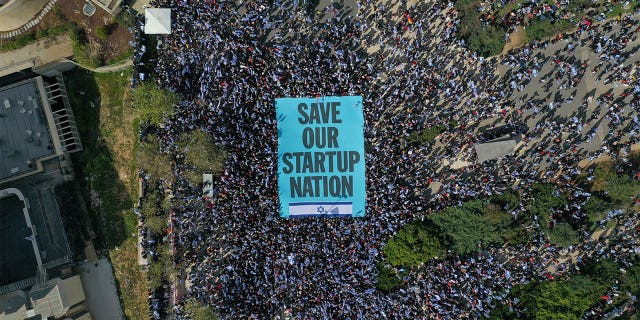 An aerial photograph showing protesters outside Israel's parliament on March 27.  (Israeli Knesset)
CLICK HERE TO GET THE FOX NEWS APP
"The Mossad and its senior officials did not – and do not – encourage agency personnel to join the demonstrations against the government, political demonstrations or any political activity," the prime minister's office wrote on behalf of the Mossad.
Written with help from Jennifer Griffin, Paul Best, and Anders Hagstrom.