Attorneys for New York City Marine veteran Daniel Penny have raised more than $1 million to help pay his legal expenses after he was charged in the subway chokehold death of an erratic homeless man.
Penny, 24, was arraigned Friday on one count of second-degree manslaughter for fatally choking 30-year-old Jordan Neely, who prosecutors say had been "making threats and scaring passengers."
His lawyers, Thomas Kenniff and Steven Kaiser, launched the campaign Tuesday on the Christian crowdfunding site GiveSendGo, which has raised $1,097,282 as of Saturday afternoon.
"The outpouring of generosity and support for Daniel Penny, is beyond anything we could have imagined," Kenniff told Fox News Digital. "Daniel is incredibly grateful for the support of so many New Yorkers."
NYC MARINE VETERAN CHARGED IN DEATH OF MAN 'MAKING THREATS AND SCARING PASSENGERS': PROSECUTORS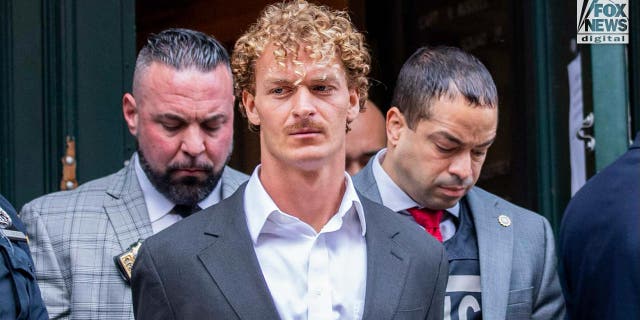 Daniel Penny leaves the 5th Precinct of the NYPD on Friday, May 12, 2023. He is charged in connection with the death of subway rider Jordan Neely.  (Julia Bonavita/Fox News Digital)
Neely, a homeless man who suffered from mental illness, began ranting wildly when he entered the northbound F train May 1, a witness told the New York Post.
"He said, 'I don't care. I'll take a bullet, I'll go to jail' because he would kill people on the train," a 66-year-old woman said of Neely's tirade. "He said, 'I would kill a motherf—er. I don't care. I'll take a bullet. I'll go to jail.'"
MARINE VETERAN IN NYC SUBWAY CHOKEHOLD DEATH FACES TOUGH LEGAL ROAD, EXPERTS SAY
Penny, a college student and decorated Marine veteran, grabbed Neely from behind and dragged him to the ground.
Neely continued to struggle in Penny's grip for several minutes before going limp, according to video recorded by a freelance journalist.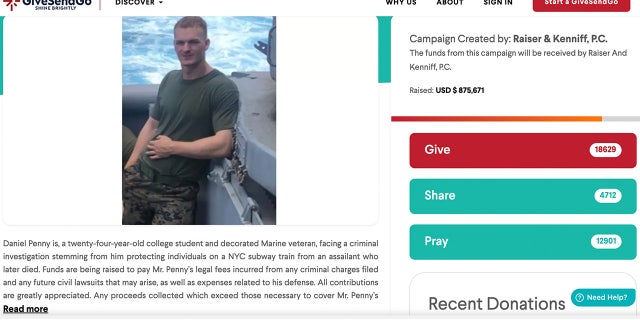 A campaign to raise legal fees for Marine veteran Daniel Penny accused of the chokehold death of a homeless man had raised nearly $900,000 as of Saturday morning. (GiveSendGo)
His lawyers have argued that he acted to protect himself and his fellow passengers.
On the "Daniel Penny's Legal Defense Fund" page, his lawyers wrote that the money will cover all legal fees stemming from criminal charges and potential lawsuits.
"Any proceeds collected which exceed those necessary to cover Mr. Penny's legal defense will be donated to a mental health advocacy program in New York City," the statement says.
The fundraiser was boosted by Florida Gov. Ron DeSantis on Twitter, who said, "We stand with Good Samaritans like Daniel Penny. Let's show this Marine… America's got his back."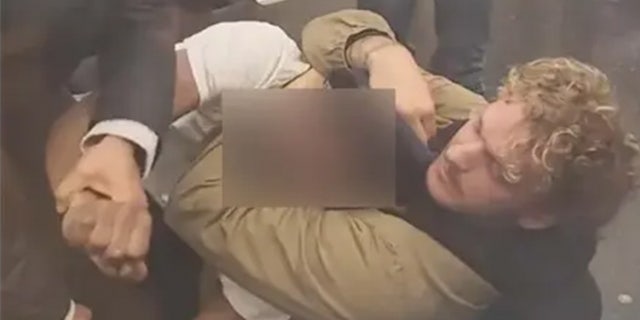 Screenshot from bystander video showing Jordan Neely being held in a chokehold on the New York City subway.  (Luces de Nueva York/Juan Alberto Vazquez via Storyful)
On Saturday, an anonymous donor contributed $10,000 with the message, "Thank you for protecting the citizens that day." Another anonymous donor forked over $2,500, writing, "God bless our vets."
JORDAN NEELY'S FAMILY BLASTS MARINE VET'S LACK OF REMORSE AFTER NYC SUBWAY CHOKEHOLD DEATH
A man using the name Brett Kingstone donated $1,000 and praised Penny's actions.
"We live in a time when heroes are vilified and villains are praised. It is time to show our support for heroes like Daniel and take back our country from these villains bent on destroying our nation," the message says.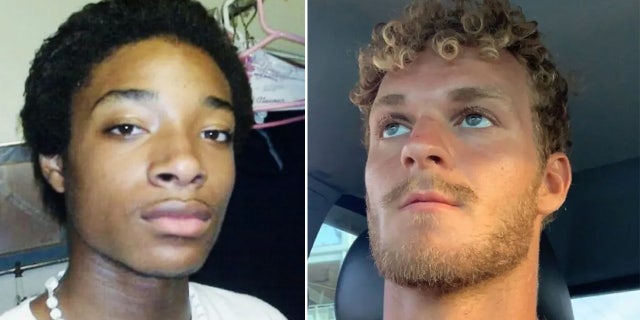 Marine veteran Daniel Penny, right, fatally choked Jordan Neely, left, on a NYC subway after the homeless man threatened passengers. (Mills & Edwards/ AllTrails)
Rep. Matt Gaetz, R-Fla., contributed $100 to the campaign. "In a just world, Daniel Penny would be given a key to the city, not an arraignment," the congressman told Fox News Digital.
A GoFundMe account was also launched a week ago to pay for Neely's funeral and memorial costs. It has raised more than $75,000 as of Saturday afternoon.
JORDAN NEELY HAD HISTORY OF ATTACKS ON SUBWAY RIDERS BEFORE NYC CHOKEHOLD DEATH
Neely's tragic death has divided the city, with many New Yorkers calling Penny a "hero" as others have denounced him as a "murderer."
The slain man had been arrested more than three dozen times and had a history of violent attacks on Manhattan subway platforms.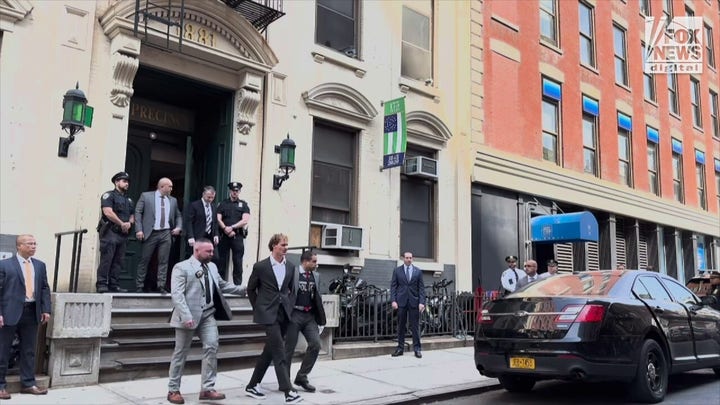 Video
Most recently, in 2021, he punched a 67-year-old woman in the face, breaking her nose and orbital bone, according to court records obtained by Fox News Digital.
Four months earlier, he allegedly slugged another woman in the face, the records reveal.
CLICK HERE TO GET THE FOX NEWS APP
He allegedly sucker-punched two men in 2019 in the face at different subway stations one month apart, breaking one victim's nose, according to the documents.
Outreach workers were so familiar with Neely that he was on the city's "Top 50" list – an internal roster kept by the Department of Homeless Services of people most in need of help, the New York Post reported.