Josh Berry will take the final step in his long journey to the top of racing with Stewart-Haas Racing next season as the replacement for future NASCAR Hall of Famer Kevin Harvick.
Harvick is retiring at the end of this season and Berry on Wednesday was named next year's driver in the No. 4 Ford Mustang for SHR. Berry, a journeyman who earlier this year signed with Harvick's agency as the first management team he's had in his career, will be 33 when he begins his first full season at the elite Cup level.
His route from Hendersonville, Tennessee, to one of the most prominent seats in the sport was pushed along by Dale Earnhardt Jr., who discovered Berry at least a dozen years ago in the online racing community. Earnhardt has taken Berry as far as possible, which this year has included eight Cup races with Hendrick Motorsports as the injury replacement for both Chase Elliott and Alex Bowman.
Some believed those races driving Hendrick equipment were a tryout for Berry, but SHR already was pursuing him. The 47-year-old Harvick is the core of the four-car team but is stepping down at the end of his 23rd Cup season.
"What a team will get when they sign Josh Berry to a Cup deal is a driver with great race craft and a turn-key winner," said Earnhardt, who developed Berry and last year got him into a full-time Xfinity Series ride.
"Whereas it's incredible and a great opportunity to sign a young driver that will develop into a champion, I believe you get to skip those years of development with a guy like Josh, and you get right into working on the championship part and winning races because he's there mentally, professionally and in talent."
NASCAR STAR BUBBA WALLACE SUGGESTS DOUBLE STANDARD IN REACTION TO HIS ANTICS AFTER MIDDLE-FINGER DRAMA
Berry was unsure the right time would ever happen for him, especially as a 19-year-old discovered by Earnhardt Jr., who offered Berry a late model test and persuaded him to move to North Carolina. Earnhardt gave Berry a job in the parts department at JR Motorsports and a chance to prove himself on the short track scene.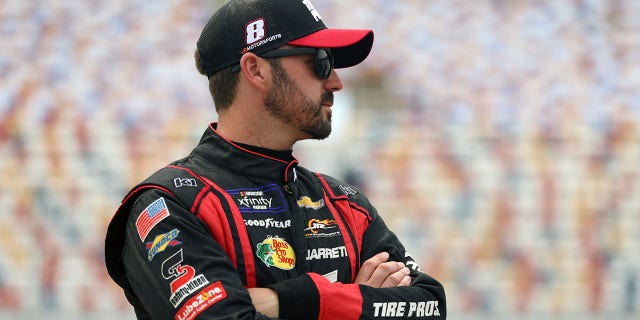 Josh Berry, driver of the #8 Tire Pros Love The Drive Chevrolet, looks on during practice for the NASCAR Xfinity Series Alsco Uniforms 300 at Charlotte Motor Speedway on May 26, 2023 in Concord, North Carolina. ( David Jensen/Getty Images)
Earnhardt noted that Berry driving for his Late Model program won "over a hundred feature races and multiple track championships and the national title." Earnhardt found a way to get Berry some Xfinity Series starts "that was basically like, 'Hey, here's like a very meager chance to show what you can do. Go out there and you have to make it happen," and Berry won at Martinsville in his 13th career start.
"I cried like if he was my brother. It's hard to describe the emotion, but it was incredible," Earnhardt said of the moment that finally put Berry on the national radar.
CLICK HERE TO GET THE FOX NEWS APP
"The timing of Dale and I getting together, that was crucial. If that doesn't happen, I don't know that I would've ever raced a stock car, or how much more I would've raced at all, just because racing overextended us financially," Berry continued. "Those years of racing and winning, and the people I was around and worked with, prepared me for the opportunities that I've gotten, and they've prepared me to capitalize on this opportunity with Stewart-Haas Racing. Even without knowing where it would ultimately take me, I'd do it all over again."