White House press secretary Karine Jean-Pierre denied Monday that the administration was "trying to protect" President Biden from the media by preventing him from answering its questions.
"Is the administration trying to protect the president from our questions? Please answer that question," one reporter asked Jean-Pierre during the daily White House press briefing after a number of other reporters questioned why Biden had no formal press conferences scheduled, including on his upcoming trip to Ireland.
"Absolutely not. Absolutely not," Jean-Pierre replied.
REPORTERS ERUPT ON JEAN-PIERRE OVER BIDEN NOT TAKING QUESTIONS FROM PRESS POOL: 'THAT'S NOT TRUE'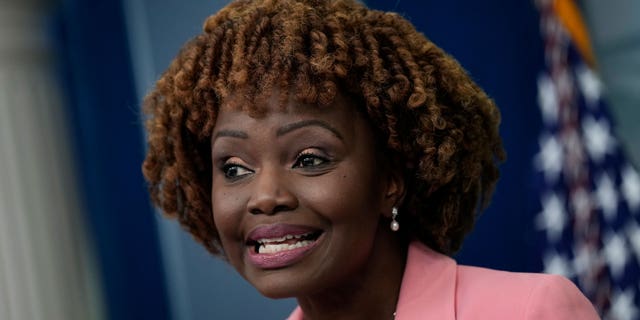 White House Press Secretary Karine Jean-Pierre speaks during the daily press briefing at the White House on April 10, 2023, in Washington, DC. (Drew Angerer/Getty Images)
The reporter then pressed Jean-Pierre on why Biden had nothing formal in place on the calendar for the press to ask him questions. She claimed Biden "takes shouted questions," but the reporter pushed back. Jean-Pierre, however, spoke over the reporter and continued claiming Biden does take questions.
"I understand, John. I understand. I understand. I have dealt with this question about three times already. I understand. It is the job of you all to ask this question to me. I totally get that. And that's not a problem at all," Jean-Pierre said.
"But certainly the president, many times, has stood in front of all of you, has taken questions on his own because he wanted to see what was on your minds. He wanted to see what the questions you all were going to ask him, and he wanted to answer them directly. That has happened multiple times, many times, during this administration. And that will certainly continue to be. When it comes to a formal press conference, I don't have anything to share with you at this time," she said.
WHITE HOUSE'S KARINE JEAN-PIERRE STUMBLES WHEN PRESSED ON BIDEN ABSENCE AT KING CHARLES' CORONATION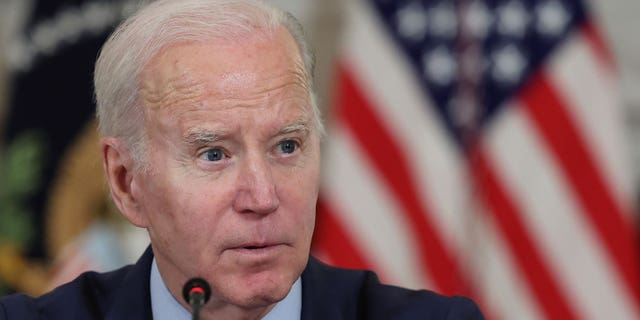 President Joe Biden holds a meeting with his science and technology advisors at the White House on April 04, 2023, in Washington, DC. (Kevin Dietsch/Getty Images))
The reporter didn't relent, and told Jean-Pierre that Biden was diverting from "the norm" of previous administrations. He added that the press had not had the opportunity "in quite some time" to ask Biden questions in a formal setting.
"So I'll say this: It is also unprecedented that a president takes as many shouted questions as this president has, and he has," Jean-Pierre said.
Reporters across the room erupted at the claim, grumbling inaudibly in what appeared to be sharp disagreement.
WHITE HOUSE'S KARINE JEAN-PIERRE LAUGHS WHEN ASKED IF IT'S 'APPROPRIATE' FOR INDICTED PERSON TO RUN FOR OFFICE
Jean-Pierre chuckled, and said, "Okay. Well, we'll certainly get the data and share that with all of you … I hear you. I hear you on the press conference, on a formal press conference. We get this probably every couple of months when you guys ask us about a formal press conference. I don't have anything to share with all of you at this time, And I'll just leave it there." She then moved on.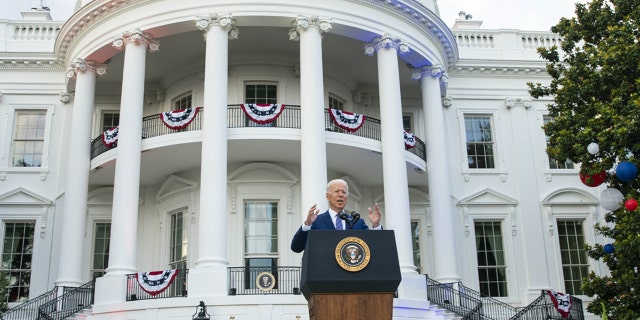 U.S. President Joe Biden speaks during a Fourth of July event on the South Lawn of the White House in Washington, D.C., U.S., on Sunday, July 4, 2021.  (Sarah Silbiger/Bloomberg via Getty Images)
This isn't the first instance Jean-Pierre has face pressure in the briefing over Biden's lack of availability to the press. Last month, reporters erupted when she told them they would have the opportunity to ask the president questions from the press pool during a meeting with the Irish prime minister at the White House.
CLICK HERE TO GET THE FOX NEWS APP
They immediately started pushing back, with one saying, "But he never answers questions during those periods," referring to Biden.