German Chancellor Olaf Scholz on Monday sharply criticized climate activists as "nutty" for drastic protests such as blocking streets or gluing themselves to famous paintings in museums.
"I think it's completely nutty to somehow stick yourself to a painting or on the street," Scholz said during a visit to an elementary school in the town of Kleinmachnow outside of Berlin, German news agency dpa reported.
The chancellor added that he did not think anybody's opinion on climate change could be changed by such actions but rather that these protests made people angry.
Members of the group Last Generation have repeatedly blocked roads across Germany in an effort to pressure the government to take more drastic action against climate change.
In recent weeks, they've brought the traffic to a halt on an almost daily basis in Berlin, gluing themselves to busy junctions and highways. They've also glued themselves to various paintings in Berlin and elsewhere over the past year.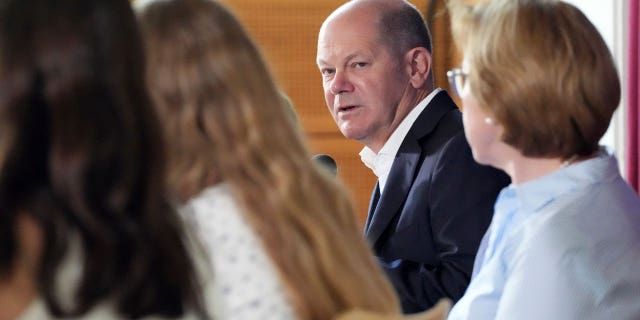 German Chancellor Olaf Scholz castigated European climate protestors' tactics during a Monday visit to a Berlin-area elementary school, calling it "completely nutty to somehow stick yourself to a painting or on the street." (Soeren Stache/dpa via AP)
The group responded angrily to Scholz's remarks, accusing him of ignoring the risk that global warming poses to young people.
"How dare you stand in front of children whose future you are currently destroying and say that you think the protests against your destructive policies are 'completely nutty?'" it said.
GERMAN CHANCELLOR OLAF SCHOLZ'S WIFE STEPS DOWN AS BRANDENBURG EDUCATION MINISTER
While some people support the protesters' fight for climate protection, others — especially angry drivers stuck in traffic — have tried to pull the activists off the roads using violence, even though officials have warned motorists repeatedly not to engage in vigilantism.
Last Generation wants Germany to stop using all fossil fuels by 2030 and take short-term measures including the imposition of a general speed limit of 62 mph on highways as a way of cutting transport emissions.