A longtime Democratic figure and former presidential candidate stepped back onto the public political stage Thursday when it was announced he will be serving as campaign manager for Robert F. Kennedy Jr.'s effort to beat out President Biden for the party's 2024 nomination.
Dennis Kucinich, a former Ohio Congressman who unsuccessfully ran for the 2008 Democratic presidential nomination against then Sens. Hillary Clinton and Barack Obama, has been advising Kennedy for months, and introduced him at his campaign kickoff in Boston last month.
Kennedy's campaign made the appointment official in a press release touting Kucinich's experience and referred to him as "one of the foremost progressive voices in American politics."
RFK JR. SAYS DEMS HAVE BECOME 'PARTY OF WAR,' AMERICANS CAN'T AFFORD A $1,000 EMERGENCY
ABC NEWS ADMITS EDITING RFK JR'S VAX CLAIMS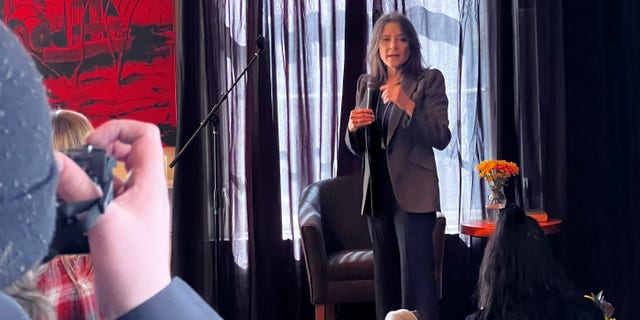 Democratic presidential candidate Marianne Williamson campaigns in Portsmouth, New Hampshire on March 9, 2023. (Marianne Williamson campaign )
Kennedy and Williamson have decried the Democratic National Committee's (DNC) plan not to hold any primary debates between the three candidates, although it is common for the party in power to avoid primary elections when in control of the White House.
Both Williamson and Kennedy have also made New Hampshire a key target of their race since the DNC changed the order of primaries. The national party bumped New Hampshire from the lead-off primary spot, but the state will likely hold an unsanctioned primary on its preferred date – meaning Biden may not even appear on the primary ballot in that contest.