The video announcement of President Biden's re-election bid was revealing, a fast-paced montage of pretty pictures with the leader of the free world providing a voice-over.
Only twice did Biden briefly address the camera, the message being we're all in this together, fighting for America's "freedoms," a far cry from "I alone can fix it."
Biden ran his 2020 pandemic campaign from his basement, and seems intent on another low-key effort that would present a sharp contrast with Donald Trump, his likely opponent. That's why there was a shot of the Capitol riot as the president said he would "fight for our democracy."
And there were visual appeals to Black voters, with Kamala Harris in many scenes, a lingering shot of Justice Ketanji Brown Jackson and ordinary folks who make up a good chunk of Biden's base.
AS RON DESANTIS GETS AVALANCHE OF NEGATIVE COVERAGE, ELON MUSK ALSO BURIED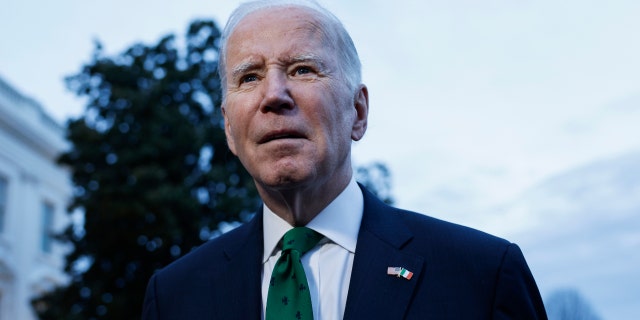 President Biden speaks with reporters before departing from the South Lawn of the White House on Marine One on March 17, 2023, in Washington, DC. President Biden is spending the weekend in Wilmington, Delaware.  (Anna Moneymaker/Getty Images)
Yet it's a paradox: the latest NBC poll shows that more than half of Democrats don't want Biden to run again, a lack of enthusiasm heavily fueled by his age. Biden will be almost 82 on Election Day.
He may well be able to beat Trump, who will be 78, but a younger GOP nominee would have a big advantage.
Rich Lowry, National Review's editor-in-chief, says "Biden's political genius turns out to be not provoking strong negative emotions because no one particularly thinks of him as being in charge or as having anything interesting to say."
If this "left-wing government" was run by Bernie Sanders or Elizabeth Warren, writes Lowry, there would be a "political firestorm."
But Biden has been around so long that "his rhetoric is generally moderate-sounding, and he never says anything memorable. No matter how radical and lawless the acts of his administration, it's hard to associate those qualities with an elderly man who tells stories of his bygone cooperation with Republicans and often rambles to little effect."
I don't buy the not-in-charge part, but it's true that the president rarely delivers a stinging sound bite.
Peter Baker in the New York Times says Biden had "stoked renewed speculation by delaying his kickoff for months," but the video "finally ended any lingering suspense."
Biden's decision, aides say, was fueled in part "by his antipathy for Mr. Trump and his belief that he is the Democrat best positioned to keep the criminally indicted and twice-impeached former president from recapturing the White House."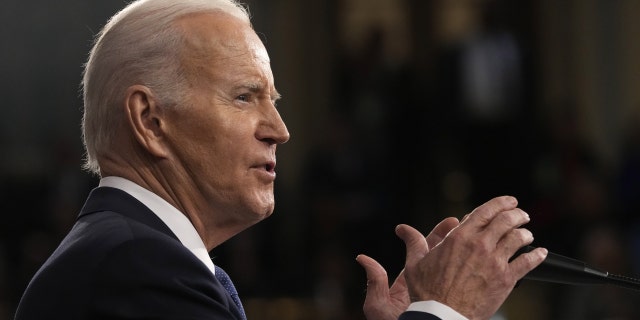 President Biden speaks during a State of the Union address at the US Capitol in Washington, DC, US, on Tuesday, Feb. 7, 2023.  (Jacquelyn Martin/AP/Bloomberg via Getty Images)
In the video, Biden said: "MAGA extremists are lining up to take those bedrock freedoms away. Cutting Social Security that you've paid for your entire life while cutting taxes for the very wealthy. Dictating what health care decisions women can make, banning books and telling people who they can love. All while making it more difficult for you to be able to vote."
So we could be looking at the first contest between a president and former president since Teddy Roosevelt took on his protégé, William Howard Taft, in 1912 and both lost.
We can't ignore the way that Biden is shielded by his top advisers, especially from the press. This is not a typical whine from a journalist, but a concern that their motive is to hide his deterioration as he moves further into his 80s.
The Times recently reported that Biden has held the fewest news conferences in the last 100 years except for Richard Nixon and Ronald Reagan. Worse, he's granted the fewest interviews since Reagan – 54 – compared to Trump with 202 and Barack Obama with 275 at a comparable point.
"It is public evidence that Mr. Biden's political strategists want to protect him from the unscripted exchanges that have often resulted in missteps and criticism."
And here's what really aggravates the paper: "He has not done a single interview with reporters from a major newspaper." (Biden has had off-the-record chats with a couple of columnists.)
When Biden was in Ireland, he blew off the longstanding tradition, not for the first time, of holding a bilateral presser with the other country's leader.
TRUMP'S GOP RIVALS TRY TO GRAB MEDIA COVERAGE, BUT HE DOMINATES WITH FOX INTERVIEW
Biden aides don't deny they're trying to have the boss communicate in a different way. He'll often take a couple of questions by the helicopter, but his answers are terse and hard to hear, and he frequently walks away after two minutes.
I've known Joe Biden since the 1980s, and he used to enjoy talking to reporters. He's always been known for his gaffes, but he's clearly lost a couple of steps. And that's why he only did a voice-over.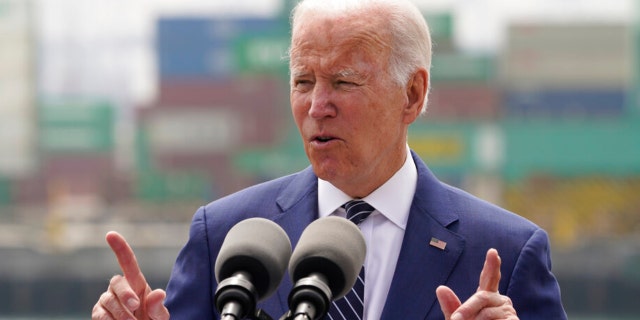 President Biden speaks about inflation and supply chain issues in Los Angeles.  (AP Photo/Damian Dovarganes)
The president will also have to defend his record. On the plus side, he passed a COVID relief bill, an infrastructure law, a computer chips law, big bucks for climate change, a measure to help veterans exposed to toxins and led a global effort to help Ukraine – often with bipartisan support.
On the minus side, the chaotic withdrawal from Afghanistan was horrible, the border is a mess, mass shootings are rampant, inflation still plagues us and an incumbent is blamed for every unresolved problem.
CLICK HERE TO GET THE FOX NEWS APP
Whether Biden can win again as a minor presence in our lives is a test for the history books.
Footnote: A trial started yesterday involving accusations that Trump had raped E. Jean Carroll in a department store decades ago, which he denies. How long before the Biden announcement fades from the news?