Manhattan District Attorney Alvin Bragg announced Wednesday that a New York City Police Department officer has been indicted on a misdemeanor assault charge after allegedly being caught on video punching a homeless man who prosecutors say had been "acting erratically" while placing him under arrest.
NYPD Officer Juan Perez, 42, is accused of punching Borim Husenaj in the face six times during an encounter in Greenwich Village in November 2021. Bragg said the victim sustained a broken nose, had bruising around the eyes, and he was knocked unconscious.
Perez, who works in the 6th Precinct, is charged with one count of assault in the third degree, a Class A misdemeanor.
JORDAN NEELY PROTESTERS ARRESTED AFTER CLASH WITH COPS AT NYC VETERANS RALLY IN SUPPORT OF DANIEL PENNY
Both Perez and Husenaj eventually fell to the ground and began to struggle with each other. Perez's partner returned from the vehicle and helped subdue the victim.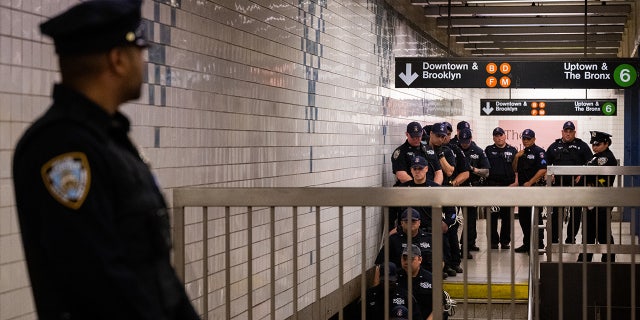 NYPD officers from the Special Response Group unit wait inside the Broadway-Lafayette subway station ahead of a "Justice for Jordan Neely" vigil and protest on May 8, 2023, in New York City. (Alexi Rosenfeld/Getty Images)
VETERANS, NY REPUBLICANS SUPPORT DANIEL PENNY, DEMAND MANHATTAN DA DROP 'SENSELESS' CASE IN JORDAN NEELY DEATH
"Perez then proceeded to rapidly punch the victim six times in the face, who was lying on the ground defenseless," according to Bragg's office. "He was brought to the hospital, where he was diagnosed with a broken nose and significant swelling."
CLICK HERE TO GET THE FOX NEWS APP
The announcement comes as New York City is still reeling from the subway choke hold death of Jordan Neely and subsequent second degree manslaughter charges brought against Marine veteran Daniel Penny. Neely was homeless and had more than 40 prior arrests, and prosecutors said he had been threatening passengers aboard the subway train on May 1.
The Associated Press contributed to this report.