Martha Stewart and rapper Snoop Dogg are the dynamic duo nobody saw coming.
After Stewart, 81, graced the cover of Sports Illustrated's Swimsuit issue, she dished on her unlikely friendship with Snoop Dogg during an all-encompassing interview.
"Snoop!" Stewart excitedly said while pulling out her phone. "Let's see. 'Love you! Coming right up,'" she read out loud and laughed.
"Well, Snoop came on my show, and what was really charming about Snoop, first of all, was his giggle. He giggles in a very, very nice way," the cover model recalled.
MARTHA STEWART, 81, LANDS SPORTS ILLUSTRATED COVER AS SHE POSES IN DARING SWIMSUIT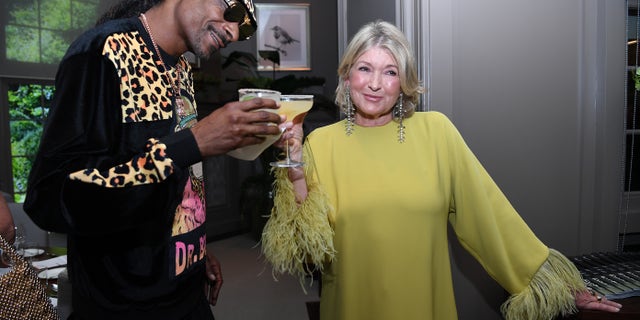 Martha Stewart, 81, dishes on friendship with Snoop Dogg, left, amid landing Sports Illustrated Swimsuit cover. (Getty Images)
"And his quest for learning! He is a real student, and that's what really appealed to me."
The former cooking show star continued to reminisce on other moments the two shared together, including when they were seated next to each other at the "Comedy Central Roast of Justin Bieber."
"All he did was smoke, and everybody was in such a good mood … we were all roasting each other. And luckily, Snoop's secondhand smoke really kind of eased the pain for me a lot," Stewart added.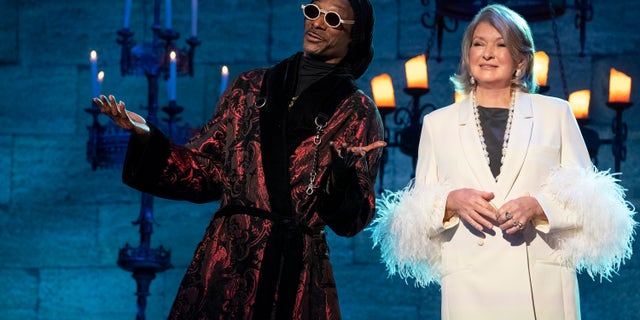 Martha Stewart, right, and Snoop Dogg collaborated on several projects including, "Snoop and Martha's Very Tasty Halloween." (Getty Images)
"It was hysterical because I just felt, 'Okay! I'll go with the flow here.' After like 6 billion views around the world, it turned out to be one of the best things, and it cemented my relationship with Snoop."
In 2008, the "Gin and Juice" rapper joined "The Martha Stewart Show" as a guest. After whipping up some mashed potatoes, Snoop Dogg returned the following year to bake brownies.
SNOOP DOGG AND MARTHA STEWART TEAM UP FOR NEW HALLOWEEN TV SHOW
Since then, Stewart and Snoop Dogg collaborated on several projects including, co-hosting Puppy Bowls, VH1's celebrity cooking show "Martha & Snoop's Potluck Dinner Party" and "Snoop and Martha's Very Tasty Halloween."
Stewart reflected on her memories with Snoop Dogg while she made history as the oldest woman to appear on the cover of Sports Illustrated's Swimsuit issue.
The businesswoman posed in several daring swimsuits as she broke down her look with the editor-in-chief of Sports Illustrated, MJ Day, on her podcast.
The first cover shoot photo was Stewart lounging on a couch surrounded by tropical interior in a white one-piece bathing suit and a sheer cover-up over. She flaunted her toned legs in the picture.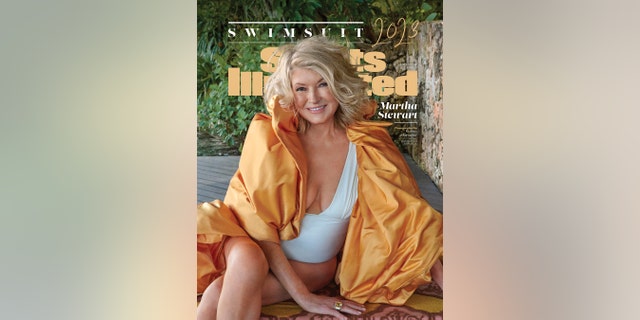 Martha Stewart makes history as oldest woman to model for Sports Illustrated Swimsuit issue in daring swimsuit. (Ruven Afanador / Sports Illustrated)
"I love that photograph," Stewart pointed out.
"I mean look at those legs, look at that smile, look at that fit," Day noted.
The next photo showed Stewart posing in a low-cut red swimsuit with a matching bathing suit wrap over her waist.
"Sexy red Marilyn Monroe kind of pose," Stewart remarked.
"How beautiful are you," Day reacted.
The last look was Stewart puckering her lips to the camera while she posed in the ocean.
"Those fabulous sunglasses and that fabulous body-glove suit. They were pouring water over my head. I was dunking constantly for that photograph," Stewart said.
"We baptized you, that's when you got your official baptism into Sports Illustrated Swimsuit right there," Day quipped.
CLICK HERE TO SIGN UP FOR THE ENTERTAINMENT NEWSLETTER
Stewart was asked to participate in the Sports Illustrated cover shoot in November 2022, and the shoot took place at the end of January 2023.
CLICK HERE TO GET THE FOX NEWS APP
"That was kind of a request that I've never had before," Stewart recalled during an interview with "Today." "To be on the cover at my age was a challenge. And I think I met the challenge."