Independent journalist Matt Taibbi, who was threatened with jail time by a top Democrat on Capitol Hill over testimony he gave about his reporting on the Twitter Files, feels the media would have lost its minds if Republicans did the same to CNN's Jim Acosta.
"Can you imagine if something like this had happened in the Trump years? If Republicans had threatened someone like Jim Acosta with five years in prison over a minor error? That he didn't even make in testimony before Congress? You would have had every human rights organization on earth complaining about it but not a peep from my so-called colleagues in mainstream media," Taibbi said Monday on "FOX & Friends."
"It doesn't matter what journalist it is, they should be upset about it because it could be them next," Taibbi added.
Del. Stacey Plaskett, D-Virgin Islands, the ranking member of the House Judiciary Select Subcommittee on the Weaponization of the Federal Government, sent a letter to Taibbi earlier this month regarding his testimony during a March 9 hearing, which she alleged included an error regarding the name of one of the federal agencies swept up in the Twitter Files. She cited MSNBC host Mehdi Hasan's contentious interview with Taibbi on the matter.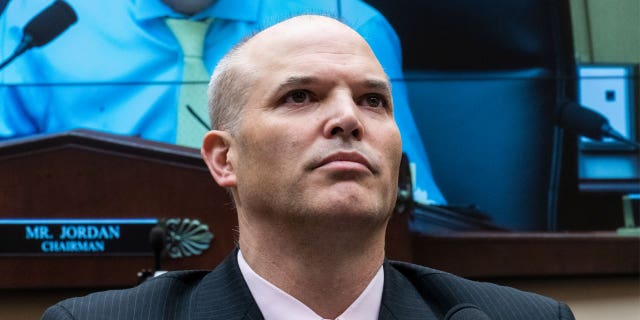 Independent journalist Matt Taibbi was threatened with jail time by a top Democrat on Capitol Hill over testimony he gave about his reporting on the Twitter Files. (Tom Williams/CQ-Roll Call, Inc via Getty Images)
"It was a very minor mistake," Taibbi said to Fox News' Brian Kilmeade.
The error was a specific reference to CISA, the government's Cybersecurity and Infrastructure Security Agency, when he meant to refer to CIS, the Center for Internet Security, which is a private organization. Taibbi later addressed and corrected the error in his reporting.
Plaskett pointed to Taibbi's statement in her letter, writing it is "contradicted by your own admission."
JOURNALIST MATT TAIBBI THREATENED WITH PRISON TIME FOR PERJURY BY TOP DEMOCRAT OVER TWITTER FILES TESTIMONY
"This mistake is important because, by adding an 'A,' you weren't making a harmless spelling error. Rather, you were alleging that CISA — a government entity — was working with the EIP [Election Integrity Partnership] to have posts removed from social media," Plaskett wrote to Taibbi, according to a letter obtained by journalist and fellow Twitter Files reporter Lee Fang on Thursday. "When presented with this misinformation, you acknowledged you had made 'an error' by intentionally altering the acronym CIS and you subsequently deleted your erroneous tweet."
Plaskett continued, "Prior to your appearance before the subcommittee on March 9, you signed the Judiciary Committee's Truth in Testimony form, certifying that you understand that 'knowingly providing material false information to this committee/subcommittee or knowingly concealing material information from this committee/subcommittee, is a crime (18 U.S.C. 1001). In addition, at the beginning of the March 9 hearing, you swore 'under penalty of perjury that the testimony you [were] about to give [was] true and correct to the best of your knowledge, information, and belief.' Under the federal perjury statue, 18 U.S.C. 1621, proving false information is punishable by up to five years imprisonment."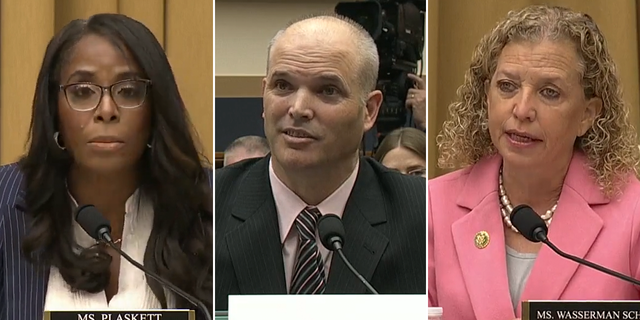 Democratic Congresswomen Stacey Plaskett and Debbie Wasserman-Schultz both questioned journalist Matt Taibbi during a House hearing on March 9, 2023.  (House Judiciary )
But as Fang noted in his reporting, the specific comments Taibbi told Congress that Plaskett cited "were correct" despite the original error in his Twitter Files reporting.
Taibbi called his error a "brain cramp" and noted both that both groups actually partnered with state entities.
CNN's Oliver Darcy did not mention the threats against Taibbi in his "Reliable Sources" newsletter that covers the media industry and often frets about attacks on journalists. Darcy and liberal media colleagues have been largely dismissive of the Twitter Files reporting; at one point, several left-wing reporters were left embarrassed when they used clearly coordinated language to accuse Taibbi on Twitter of doing "PR work" for the "world's richest man."
MSNBC HOST FEUDS WITH MATT TAIBBI OVER TWITTER FILES, DODGES RUSSIAGATE COVERAGE CRITICISM: 'I WASN'T THERE'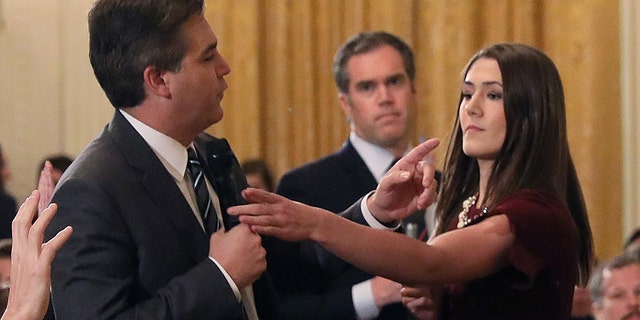 CNNs Jim Acosta was once temporarily banned from the White House after he engaged in a contentious back-and-forth with President Trump during a press conference that included briefly contacting a female White House aide who was attempting to take the microphone.  ((REUTERS/Jonathan Ernst) )
A CNN spokesperson did not immediately respond when asked if Acosta had comment on Taibbi's comparison.
In 2018, Acosta was serving as CNN's senior White House correspondent when the Trump-era White House had his press pass suspended.
While he wasn't facing anything close to jail time, the media industry largely rallied around him. Acosta's "hard pass," which provides expedited access to the White House grounds, was suspended after he engaged in a contentious back-and-forth with Trump during a press conference, at one point refusing to pass the microphone to a female White House aide. His pass was restored after CNN argued that it violated the network and Acosta's First and Fifth Amendment rights.
Acosta, who how hosts a staunchly left-wing weekend program for CNN, emerged as one of the most outspokenly liberal White House reporters during the Trump era, earning a book deal in the process. He was criticized by colleagues for a showboating style that was heavier on style than substance.
Taibbi had a falling out with Musk after the billionaire tech tycoon cracked down on content from the subscription newsletter platform Substack, which Taibbi publishes his work on.
Fox News' Joseph A. Wulfsohn contributed to this report.