Former Vice President Mike Pence spoke his mind about the upcoming 2024 presidential elections, saying that "serious" candidates would need "to be in this contest by June," in an interview with CBS News.
"I think that anyone that would be serious about seeking the Republican nomination would need to be in this contest by June," he told CBS News's "Face the Nation" in an interview clip that will air on Sunday, April 23.
"When we have an announcement to make, it will be well before late June," the former Vice President added.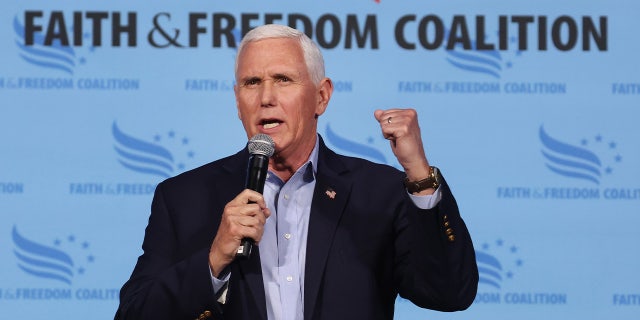 Former Vice President Mike Pence speaks to guests at the Iowa Faith & Freedom Coalition Spring Kick-Off on April 22, 2023 in Clive, Iowa.  (Scott Olson/Getty Images)
When CBS News chief election and campaign correspondent Robert Costa pressed Pence on whether he is leaning towards running, Pence quipped, "Well, I'm here in Iowa."
TRUMP MOCKS DESANTIS, PENCE DURING STUMP SPEECH AT NRA CONVENTION
Pence has previously told Fox News Digital that he and his wife, former second lady Karen Pence, "both believe that we'll have a clear sense of our call this spring."
The former vice president has made numerous visits to Iowa, New Hampshire, South Carolina and Nevada — the first four states to hold contests in the GOP's presidential nominating calendar — the past two years.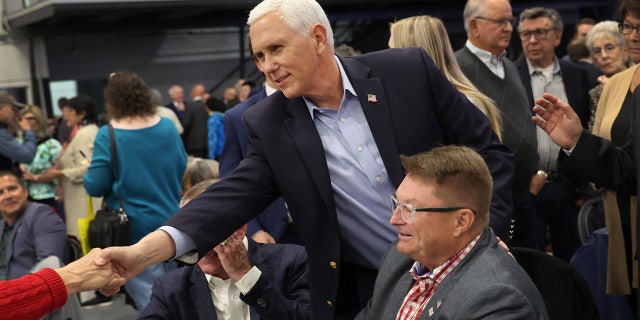 Iowa is scheduled to hold the first Republican presidential nominating contest of 2024, on Feb. 5.  (Scott Olson/Getty Images)
If he were to run, Pence would join former President Donald Trump who declared his candidacy for the White House in mid-November. Former ambassador and former South Carolina Gov. Nikki Haley and entrepreneur, author and conservative commentator Vivek Ramaswamy who launched their presidential campaigns in February.
CLICK HERE TO GET THE FOX NEWS APP
Republican Sen. Tim Scott of South Carolina in April took a major step towards running for the White House announcing that he has launched a presidential exploratory committee.
Fox News' Paul Steinhauser contributed to this report.