House and Senate negotiators wrapped up work Tuesday on the details of a bill to legalize recreational marijuana for adults in Minnesota, setting the stage for final votes in the closing days of the legislative session.
It will still take staffers a day or two to prepare the final bill language, the Democratic chairs of the cannabis conference committee, Rep. Zack Stephenson, of Coon Rapids, and Sen. Lindsey Port, of Burnsville, said as they closed out their final meeting. The bill can then go to the House and Senate floors, where final approval is expected.
"It has been an incredible journey," Stephenson said, recalling the more than 30 committee hearings held between the both chambers this year to get the bill into its final shape. "Minnesota will be better because of it."
MINNESOTA RECREATIONAL POT BILL GOES TO CONFERENCE COMMITTEE, GOV. WALZ PLEDGES TO SIGN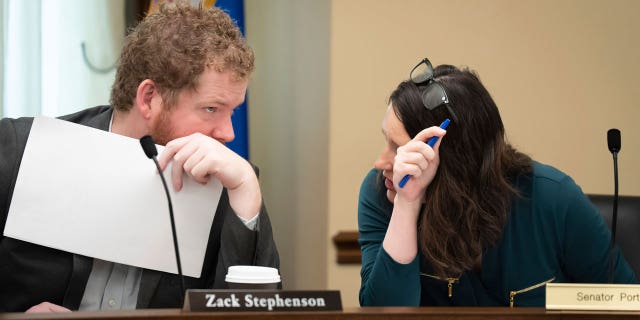 A legislative conference committee chaired by Minnesota Democrats Zack Stephenson and Lindsey Port has finalized its version of a bill that, if passed, would legalize recreational marijuana in the state. (Glen Stubbe/Star Tribune via AP)
Minnesotans who've been convicted of misdemeanor or petty misdemeanor possession will get their records automatically expunged. The Bureau of Criminal Apprehension estimates it will take until August of next year to process all the automatic expungements. Those convicted of sales or other more serious but nonviolent marijuana offenses that will no longer be crimes, or will become lesser offenses, will be able to apply to a special board to get their records cleared or sentences reduced.
Local governments got more authority in the negotiations to limit the numbers of dispensaries and keep them away from schools, but not to ban them altogether.
Now on its way to Walz for his signature is the final version of a wide-ranging public safety budget bill that includes two high-profile gun control measures. One is a "red flag law" that would allow authorities to ask courts for "extreme risk protection orders" to temporarily take guns away from people deemed to be an imminent threat to others or themselves. The other would expand background checks for gun transfers. Gun rights groups are already threatening legal challenges.
The bill also includes new juvenile justice initiatives with an added emphasis on rehabilitation, early intervention and restorative justice.
CLICK HERE TO GET THE FOX NEWS APP
Walz went to St. Paul's drinking water plant on Tuesday to sign a bill to provide $240 million in grants to remove and replace lead pipes across the state. The Minnesota Department of Health estimates that there are still about 100,000 water service lines across the state that leach lead into drinking water.