EXCLUSIVE: A new conservative group has formed with the purpose of analyzing the votes and policies of federal and state lawmakers and assigning them a grade "based on the limited government principles of the U.S. Constitution."
The group, the Institute for Legislative Analysis (ILA), describes its mission as "advancing the limited government principles of the U.S. Constitution by increasing transparency within Congress and the 50 state legislatures" and uses what it calls a "Limited Government Index" to calculate whether an individual lawmaker leans toward a larger role for government or a more limited one.
According to the ILA, the index assigns grades by using thousands of votes and roll calls from each individual legislator, including votes on amendments and procedural motions, leading to a "much greater ability to pinpoint exactly where lawmakers stand across the full spectrum of issues."
BIDEN EDUCATION SECRETARY ROASTED FOR CLAIMING 'TEACHERS KNOW WHAT IS BEST' FOR PARENTS' KIDS: 'CRAZY'
DEMOCRATS COME OUT SWINGING WITH TOUGH-ON-CRIME STANCE IN DEEP-RED STATE AS REPUBLICANS PLAY CATCH-UP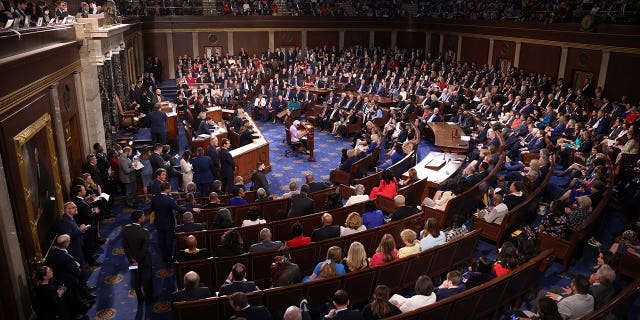 The House of Representatives votes for its new speaker at the U.S. Capitol on Jan. 3, 2023. (Win McNamee/Getty Images)
Speaking with Fox News Digital, ILA President Fred McGrath and CEO Ryan McGowan said the new ratings index can provide crucial information to voters about their respective representatives in Congress and in state legislatures, and it would help them have all necessary information when deciding for whom to cast their vote.
"We created the ILA to build a legislative scorecard platform with only one agenda – measuring each lawmaker's adherence to the limited government principles of the U.S. Constitution," McGowan said. "By equipping the leading advocacy groups with our research and technology, more Americans will have the data needed to effectively hold their lawmakers accountable and make more informed decisions at the ballot box."