New York state lawmakers passed another weeklong extension for the state's budget Monday to ensure state operations run undisrupted and workers get paid as budget negotiations continue.
State Comptroller Thomas DiNapoli highlighted the need for lawmakers to push the deadline yet again when he sent a letter to Gov. Kathy Hochul on Friday urging her to take action to ensure 83,000 state workers get paid in time for the next payroll cycle.
State lawmakers will not be paid themselves until a budget is passed, DiNapoli's office said, and it is not clear how long it'll take Democratic legislative leaders to reach an agreement.
NEW YORK LAWMAKERS BLAME 'BIG BUDGET ISSUES' FOR LIKELY FAILURE TO MEET DEADLINE
The legislators missed the original April 1 deadline for adopting a state budget because of disagreements over the governor's proposals to change bail rules and create new housing.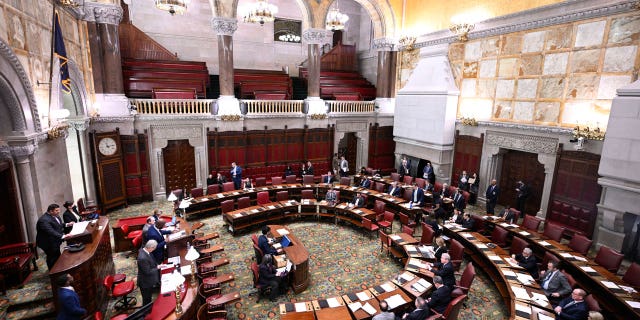 New York lawmakers have voted for another weeklong extension for the state's budget as they struggle to pass a new one. (AP Photo/Hans Pennink, File)
There has been "zero movement in discussions" on any other issues besides bail and housing in a state budget that is now more than a week late, state Assembly Speaker Carl Heastie told reporters on Monday.
"I don't believe that we should be doing policy on budgets, I've been very clear on that," Heastie said.
NY GOV. KATHY HOCHUL RAISES CIGARETTE TAX, INCREASES STATE SCHOOL AID AS PART OF BUDGET PROPOSAL
Hochul, a Democrat, said Saturday during an Easter celebration that although it will take additional time to solidify a final budget, she's "confident" that progress is being made.
With a second extension, the Legislature would have through April 17 to either pass a budget or extend the process again.
Senate Republican Leader Rob Ortt called disagreements among the Democratic leaders "a sticking point."
CLICK HERE TO GET THE FOX NEWS APP
"New Yorkers have suffered enough by Democrat policies making our state less affordable and less safe," he said.