North Carolina Senate Republicans revealed their proposed two-year state government budget proposal Monday, one that would further reduce personal income taxes but offer less generous pay raises for workers compared to what their House counterparts sought.
The Senate plan spends the same amounts as the House budget bill approved last month, with $29.8 billion for the year starting July 1 and $30.9 billion for the following year. Those bottom-line figures are the result of an already-negotiated agreement by GOP leaders from both chambers.
Chamber leaders say judicious year-over-year spending increases, along with billions of dollars in reserves and for capital projects, will protect a state faced with an uncertain business climate.
WATCH: JEAN-PIERRE CUTS OFF REPORTER, GETS VISIBLY ANGRY OVER QUESTION ON BIDEN'S BUDGET RESPONSIBILITIES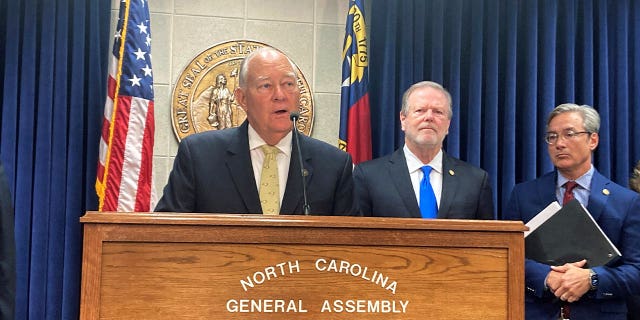 North Carolina budget writer and state Republican Sen. Brent Jackson, left, speaks on May 15, 2023, in Raleigh. State Senate Republicans have unveiled their two-year state government budget proposal. (AP Photo/Gary D. Robertson)
Cooper was already in an uncomfortable negotiating position since language in Medicaid expansion legislation he signed into law in March requires passage of a state budget law before the coverage of low-income adults can begin. With expansion as one of the governor's top priorities, Cooper may have to swallow budget provisions he finds distasteful.
One such Senate provision would incorporate a previous standalone measure that would expand greatly the taxpayer-funded program for K-12 students to attend private schools so that any child could receive some type of grant no matter the family's income. All House Republicans have signed on as sponsors to similar school-choice legislation.
There are other differences between the House and Senate plans through spending line items, competing policy prescriptions and what to do with an estimated $3.1 billion in revenue overcollections this year.
Rank-and-file state workers would see 5% pay raises through mid-2025, compared to more than 7.5% from the House and over 8% by Cooper. Additional funds are provided to raise salaries further in hard-to-staff categories.
As for individual income taxes, current law is ratcheting down the rate from its current 4.75% to 3.99% starting in 2027. The Senate Republican budget would instead reach 3.99% in 2025 and lower it further over time to 2.49% in 2030. House Republicans are still aiming for the 3.99% in 2027 but would reduce the planned rate in 2024 slightly further than what is currently in law.
CLICK HERE TO GET THE FOX NEWS APP
Another Senate item threatens urban hospitals with the loss of operating licenses unless they participate in efforts to generate health care expense savings for the state employee health insurance plan. The bill states that accumulated savings target would be $125 million in 2026.