The troubled son of imprisoned Oklahoma City bombing co-conspirator Terry Nichols was sentenced Wednesday to prison in Nevada for kidnapping and armed robbery in a February 2020 attack on a man in the Las Vegas area.
Joshua Isaac Nichols and a co-defendant, George William Moya III, each took plea deals in March that avoided trial that could have resulted in longer sentences. Moya's guilty plea was to armed robbery. Each was sentenced separately by Clark County District Court Judge Carli Kierny to their agreed-upon sentences.
Nichols and Moya were convicted of luring a 67-year-old jeweler to a vacant home in suburban Henderson and robbing him at gunpoint of cash, jewelry, clothing and a cellphone.
OKLAHOMA CITY BOMBING ACCOMPLICE'S SON CHARGED IN KIDNAPPING, ARMED ROBBERY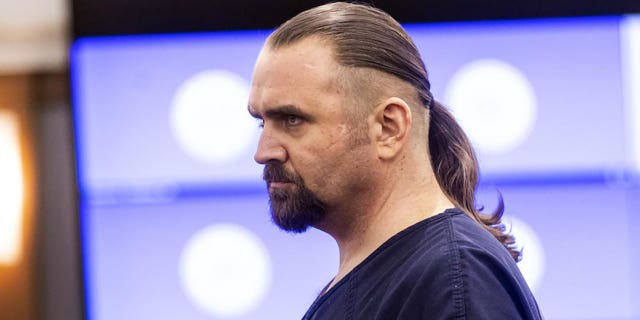 Joshua Nichols, son of Oklahoma City bombing accomplice Terry Nichols, has been sentenced to over 17 years in prison for his role in a February 2020 armed robbery in Henderson, Nevada. (Chase Stevens/Las Vegas Review-Journal via AP)
Nichols' plea deal allowed him to post $50,000 bail to be released from jail for 13 weeks on high-level electronic monitoring pending his sentencing. His lawyer, Augustus Claus, said it allowed him to spend time with his wife.
On Tuesday, Claus sought a delay in sentencing, citing what he said were medical reasons. The judge on Wednesday rejected that bid, saying the medical records Claus submitted to her showed Nichols was being treated for "minor, not serious" health concerns.
OKLAHOMA BOMBING CO-CONSPIRATOR'S SON PLEADS GUILTY TO ARMED ROBBERY AND KIDNAPPING IN NEVADA: REPORT
CLICK HERE TO GET THE FOX NEWS APP
Joshua Nichols has been arrested and convicted several times over the years in Nevada, and he previously served prison time for felony convictions dating to 2005 including armed assault, vehicle theft and resisting a police officer. He has in the past acknowledged receiving treatment for drug abuse.