Model and actress Paulina Porizkova fully embraced turning another year older, rocking her literal birthday suit in a new photo shared to Instagram.
"I begin my 58th year with nothing but sunshine and a smile," Porizkova wrote beneath a bird's-eye photo of her lying in bed, loosely wrapped in a sheet and cuddling a stuffed animal.
"And the hope that the best is yet to come, and nothing but gratitude for all that has brought me here to the now," she continued, adding in a creative frequently used hashtag of hers, '#betweenjloandbettywhite.'
"Thank you all so much for the birthday wishes! Although twenty hours of my birthday were spent traveling- it was SO worth it," the model said, referencing her post from an airport terminal just a day earlier.
PAULINA PORIZKOVA POSTS MAKEUP-FREE PIC, SAYS SHE FEELS 'INSECURE': 'TRYING TO COME TO TERMS WITH MY AGING'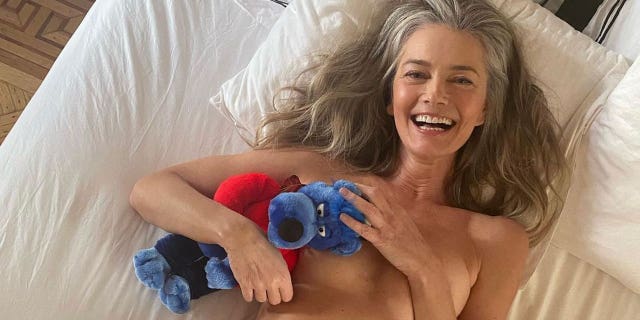 Paulina Porizkova showed off her body on Instagram while celebrating her 58th birthday. (Paulina Porizkova Instagram)
"Total bonus points for anyone who can figure out the toy reference," she wrote of the animal covering her chest.
Fans were quick to identify the fuzzy blue bear as Käpt'n Blaubär, a German cartoon character.
 
 

 
 
View this post on Instagram
 

 
 
 

 
 

 
 
 

 
 

Porizkova also reposted birthday messages she received from friends and family to her Instagram story, one of which showcased her nearly nude body.
A birthday message overlaid the photo of Porzikova showcasing her svelte figure, in nothing but a tiny bikini bottom.
"Happy birthday to my godmother, the hottest, the smartest, the person I would bring to a desert island, a true genius and icon," the post read.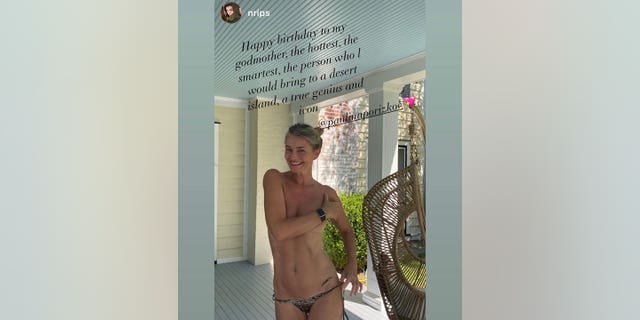 Paulina Porizkova shared a birthday post from her goddaughter to her Instagram story, also wearing minimal clothing. (Paulina Porizkova Instagram)
CLICK HERE TO SIGN UP FOR THE ENTERTAINMENT NEWSLETTER
As Porizkova has aged, she has been incredibly transparent about the changes to her body, hair and face, frequently posting unfiltered photos without makeup and highlighting her graying hair.
In August, the model eviscerated a cosmetic surgeon on Instagram for suggesting what work she could have done.
"I found this photo, which I have posted here before, (and thought I looked great in) reposted here on IG by a cosmetic surgeon, and discussing in detail what I needed done," she wrote. "Those pesky hollows under my cheeks could be gotten rid of with fillers, Botox for my forehead, those wrinkles on the side of my mouth, and the chords in my neck, and a whole bunch of lasers to tighten and smooth and tighten everything ….
"This is what an older woman in the public eye gets to deal with. I'm told my face needs 'fixing.' It has somehow gone 'wrong' by aging. Is it any wonder that most of us who have the means will resort to some forms of fixing what we're told is broken," she questioned.
 
 

 
 
View this post on Instagram
 

 
 
 

 
 

 
 
 

 
 

The 58-year-old admitted to having had laser treatments and using a plasma pen, but wanted to emphasize "a balance between being proud to look my age and still get to feel pretty at times."
"In my job, I'm faced with my own face in almost unnatural detail – and although I have come to accept most of it, I still have a rough time accepting it all. But telling a woman what she 'needs' to do herself in order to be seen as attractive, whether it's hair color, makeup, skin creams or clothing – or the more invasive options – is shaming her," she said.
CLICK HERE TO GET THE FOX NEWS APP
"Every time you catch yourself thinking or saying 'you know, you should…' to a friend, stop for a moment. If she doesn't ask for help, are you really helping? Find what you think is beautiful in your friends and point it out. The best way to support one another is to celebrate what is already there."