A Pennsylvania girl is speaking out after surviving a shark bite at a Florida beach on Monday.
Magnolia Woodhead, 12, told FOX 35 Orlando that the incident occurred while swimming in Cocoa Beach.
"Right when I got out of the water, I just started screaming because I knew that it wasn't good," she said.
Her mother, Melissa Stallings, told the outlet that when her husband picked their daughter up, they could see blood dripping down her leg.
They took a trip to the beach a day before.
"My first thought was, like, I'm not going to do gymnastics," the girl explained.
"Shark bite was not on the agenda for the day, I'll tell you that," Stallings said.
After all of that, she was still able to show up to support her teammates.
"I was just there because I really wanted to support my teammates because I know they've worked so hard on this contest and stuff," Woodhead said.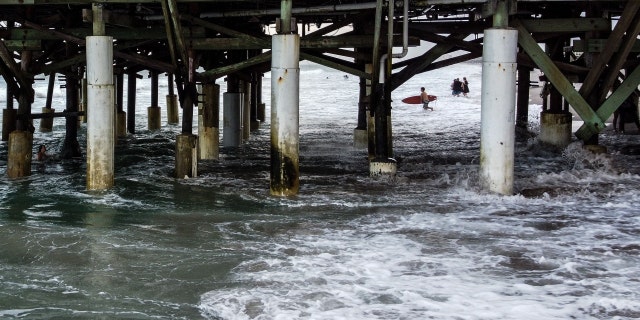 A surfer runs in the water on Cocoa Beach, Florida, on Feb. 28, 2022. (CHANDAN KHANNA/AFP via Getty Images)
While the tween still hopes to return to the Sunshine State to compete in the future, she is not going to the beach again any time soon.
CLICK HERE TO GET THE FOX NEWS APP
Florida's 16 cases represented 39% of the U.S. total and 28% of unprovoked bites worldwide. Notably, that number was lower than Florida's most recent five-year annual average of 22 incidents.
Volusia County had the most shark bites, seven, representing 44% of the state's total.