Pennsylvania House Democrats were returning to the Capitol on Wednesday after they objected to a budget deal between Democratic Gov. Josh Shapiro and Senate Republicans as state government plows through its fifth day without full spending authority.
The holdup in the politically divided Legislature is primarily over education spending — including Shapiro's support for a new private-school funding program Republicans support.
But that first-ever "voucher" program is opposed by Democrats, teachers' unions and school boards.
They say that sending more taxpayer money to private and religious schools makes no sense just months after a state judge ruled in a landmark case that Pennsylvania's system of school funding is violating the rights of children in poorer school districts.
Rep. Ismail Smith-Wade-El, a Democrat from Lancaster County, said the Senate's budget plan "undercut several key Pennsylvania values" in funding education. His constituents want more money for education, special education and mental health services in schools, he said.
"They didn't ask for vouchers," Smith-Wade-El said.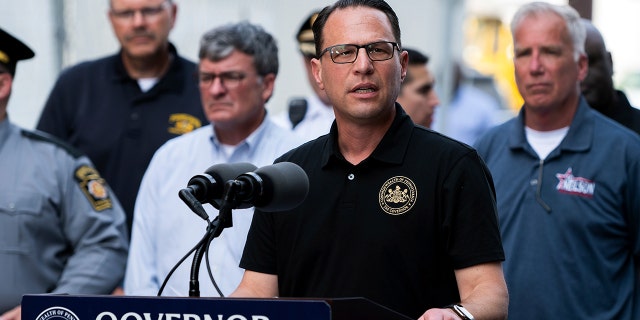 Pennsylvania Gov. Josh Shapiro speaks during a news conference following the collapse of an elevated section of Interstate 95 on June 11, 2023. Gov. Shapiro is still working to finalize the state budget after five days without full spending authority. (AP Photo/Joe Lamberti, File)
Shapiro's insistence on including $100 million for a voucher program for private and religious schools has surprised lawmakers, sown intraparty tension with his fellow Democrats and thrown a late curveball into budget negotiations.
House Democrats, in response, demanded some $750 million more in aid for public schools that Senate Republicans are thus far unwilling to meet and, last week, voted down the Senate's separate legislation to create the voucher program.
CLICK HERE TO GET THE FOX NEWS APP
On Wednesday, House Democrats distributed a letter they received from the governor's office that said, legally, the $100 million for the voucher program can't be spent without that separate legislation becoming law — even if the Senate's $45 billion budget plan becomes law.