Police in Kent, in England, say that a woman who has been stealing plants from gardens may have been caught on camera.
CCTV footage captured a woman entering a front patio through a gate at 3:30 a.m. local time, and then proceed to snoop through various potted plants, said British news agency SWNS.
The video is the latest clue in a series of reported garden thefts, said the police.
NEARLY 100 KOI FISH GO MISSING IN MARYLAND COMMUNITY, RESIDENTS SUSPECT THEFT: POLICE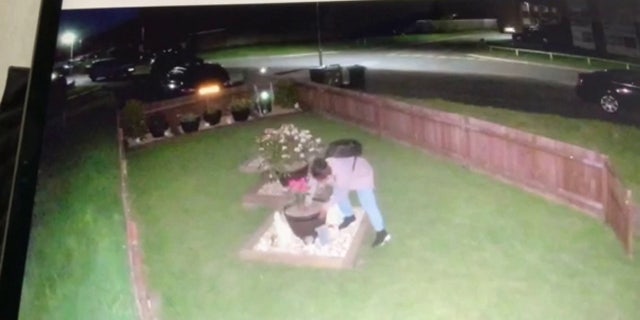 A still image of the alleged plant thief was caught on CCTV. (SWNS)
Karon March, owner of the property that is shown in the video, was angry at how bold the woman on the film was during the incident.
"It's very strange, and she's very brazen," March told SWNS. "She's just so carefree. When my security light goes on, it doesn't deter her at all."
CAT WON'T STOP STEALING ITEMS FROM NEIGHBORS, WOMAN'S SIGN WARNS
MICHIGAN K-9'S MUGSHOT GOES VIRAL AFTER POLICE ACCUSE PUP OF STEALING OFFICER'S LUNCH
The March residence was not the only one in the neighborhood to experience plant theft. Police in Kent said that thefts were reported on May 10, May 15 and May 23, with the first two thefts occurring at the same house.
Jan Samson, the victim of the first two plant thefts, said that the thief took a box of flowers one night and five fuchsia plants on another, SWNS said.
CLICK HERE TO SIGN UP FOR OUR LIFESTYLE NEWSLETTER
Police have not yet made an arrest in the case, but said that "inquiries are ongoing."