Pope Francis renewed his call to pray for peace on Easter Monday, celebrating the Regina Coeli (Queen of the Heavens) prayer in St. Peter's Square.
At the end of the prayer, the pontiff recalled the 25th anniversary of the Good Friday Agreement, which brought an end to decades of violent conflict between Catholics and Protestants in Northern Ireland.
In a restatement of his Easter message, he invited people to continue to pray for peace in the world, especially in troubled Ukraine.
POPE FRANCIS TO MISS GOOD FRIDAY WAY OF THE CROSS PROCESSION DUE TO LOW TEMPERATURES
Pope Francis on Sunday invoked prayers for both the Ukrainian and Russian people and praised nations which welcome refugees.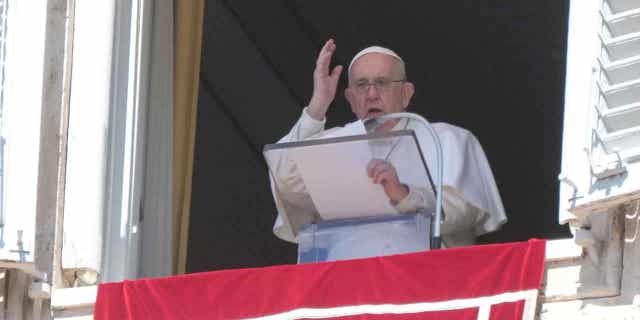 Pope Francis delivers a blessing during the Regina Coeli prayer in St. Peters Square, at the Vatican on April 10, 2023. (AP Photo/Gregorio Borgia)
The 86-year-old pontiff, who was hospitalized recently with bronchitis, skipped the traditional Good Friday nighttime procession at the Colosseum because of chilly weather in Rome.
During the Regina Coeli, he recalled how the women in the Gospel hurry to share the news of the resurrection and teach the faithful that they encounter Jesus by bearing witness to him.
CLICK HERE TO GET THE FOX NEWS APP
"When we encounter Jesus," Francis said, "no obstacle can keep us from proclaiming him. If instead we keep his joy to ourselves, perhaps it is because we have not yet truly encountered him."