Republicans are less convinced than Democrats that the federal government needs to impose regulations on artificial intelligence systems and are even more skeptical on whether the government is up to the task, according to a new Fox News poll.
The poll of registered voters shows a noticeable gap between the two parties on the question of whether and how to regulate AI, a sign that the increasingly important issue could get hung up in politics as it advances in Washington.
When asked how important it is for the federal government to regulate AI, 82% of Democrats said "very" or "somewhat," compared to 71% of Republicans. That was one of the bigger splits in a poll that found 76% of respondents saw some importance to federal regulation.
FOX NEWS POLL: MORE SEE BAD THAN GOOD IN AI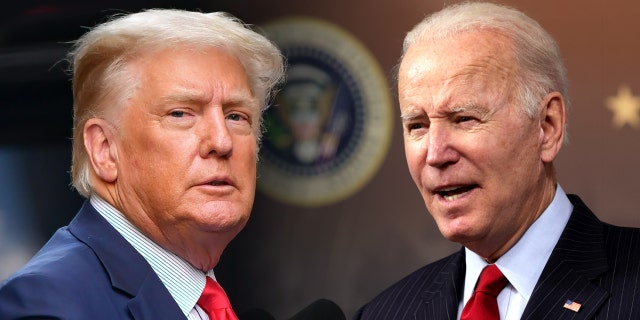 Former President Donald Trump, left, and current President Joe Biden (James Devaney / GC Images / File | Alex Wong / Getty Images / File)
A similar split was seen when the group was split between Biden and Trump supporters – 82% of Biden voters favored federal regulation compared to 70% of Trump voters.
The split between parties got even wider when respondents were asked how confident they are that the government could "properly regulate" AI. The poll said 50% of Democrats answered "a great deal" or "some" while 31% of Republicans gave one of those answers. A full two-thirds of GOP respondents said they had "not much" or "none at all" when asked about their confidence level.
That split grew wider when comparing Biden to Trump voters. Just 28% of Trump voters said they had some measure of confidence in the government on AI, compared to 51% of Biden voters.
CHINA FUMES AS BIDEN PLOTS TO STARVE IT OF AI INVESTMENT: 'SCI-TECH BULLYING'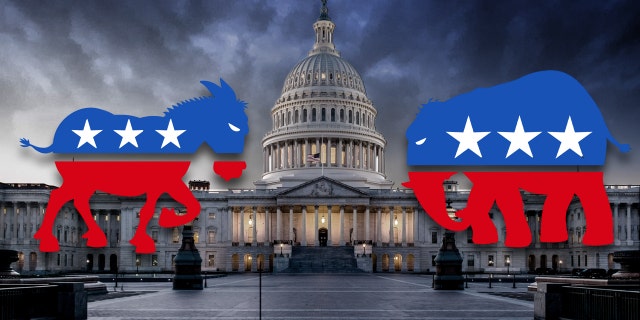 The NRSC is launching a new ad campaign that targets vulnerable Senate Democrats up for reelection in 2024 over their past support for the American Rescue Plan. (Fox News)
GOP skepticism weighed heavily on the poll. Just 39% of the entire group of respondents said they had some confidence in the government, compared to the 59% who said they were not confident.
Overall, voters are "skeptical elected leaders are up to the task of placing appropriate limits on this new tech, which probably says something about opinion on the tech and opinion on our leaders," said Daron Shaw, a Republican who conducts the Fox News poll with Democrat Chris Anderson.
Whether the government is ready or not, federal policymakers are increasingly examining how to regulate AI systems that many argue will soon bring radical changes to all aspects of life. The Biden administration has set out a blueprint aimed at encouraging a fair, safe AI that doesn't lead to discriminatory economic results for Americans.
AI PAUSE CEDES POWER TO CHINA, HARMS DEVELOPMENT OF 'DEMOCRATIC' AI, EXPERTS WARN SENATE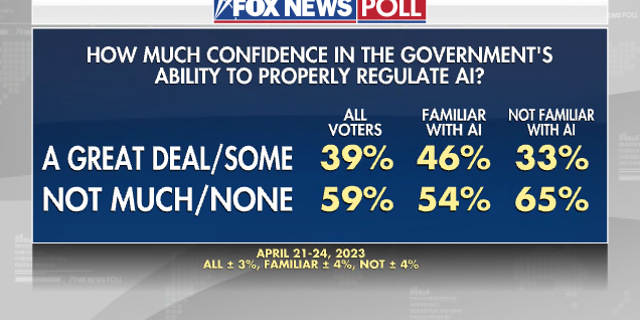 Fox News poll on AI (Fox News)
The Pentagon is already looking at how it can use AI to more quickly make strategic or battlefield assessments, and the Federal Trade Commission is looking closely at how AI systems are advertised in case those ads lead to misperceptions among consumers about their benefits.
And in anticipation of the need to regulate AI, congressional leaders are meeting with experts to learn about the issue. Last week alone, Senate Majority Leader Chuck Schumer, D-N.Y., met with billionaire technology entrepreneur Elon Musk; House lawmakers met with two experts from the Massachusetts Institute of Technology and are hoping to meet with OpenAI CEO Sam Altman.
CLICK HERE TO GET THE FOX NEWS APP
The Fox poll was conducted by Beacon Research and Shaw & Company Research and surveyed 1,004 registered voters.