FIRST ON FOX: Republican-led states are preparing to challenge the legality of the Biden administration's latest climate action, aggressive regulations targeting power plant emissions.
On Thursday morning, the Environmental Protection Agency (EPA) released regulations that would force coal- and natural gas-fired power plants to shut down or adopt costly carbon capture technology. While the EPA argued it has the authority to issue such emissions standards under the Clean Air Act, Republican attorneys general said the agency overstepped, following the announcement.
"Congress never authorized the president to wage war against the American people with these relentless administrative assaults on consumers and industries that supply reliable and sustainable access to power," Louisiana Attorney General Jeff Landry told Fox News Digital.
"This is yet another Biden proposal that will drive up inflation, raise food costs, and increase electricity prices, and I will fight it," he said.
JOE MANCHIN THREATENS TO OPPOSE BIDEN NOMINEES OVER UPCOMING POWER PLANT CRACKDOWN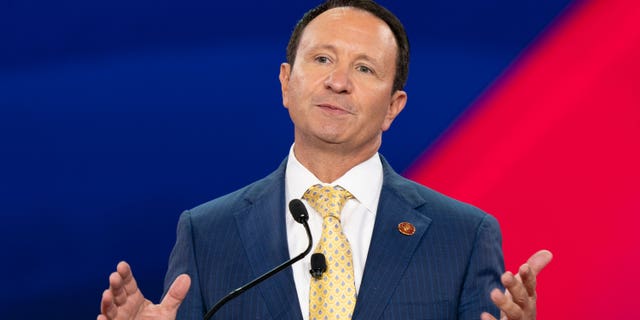 Republican Louisiana Attorney General Jeff Landry vowed to fight the Environmental Protection Agency's power plant regulations Thursday. (Lev Radin/Pacific Press/LightRocket via Getty Images)
According to the EPA's regulatory impact analysis of the standards, the rules are expected to lead to retail electricity prices increasing 2% and prices of natural gas delivered to power sector increasing 9% on average nationwide by 2030. The Henry Hub spot price, widely considered the benchmark tool to measure the U.S. natural gas market, is expected to increase 10% in that same time span.
And U.S. electric generation derived by coal plants without carbon capture will decline 67% by 2030 and 100% by 2035, while coal plants with carbon capture will increase 29% and 13%, respectively, the analysis also showed.
TEXAS GOVT PUSHING ACTION THAT COULD 'KNEECAP' NEW FOSSIL FUEL GENERATION, DESTABILIZE GRID, EXPERTS WARN
"Not content with just damaging the country during his presidency, President Biden is now seeking to permanently wreck our nation's ability to produce affordable electricity," Montana Attorney General Austin Knudsen told Fox News Digital.
"His plan targets energy producing states like Montana, would cost consumers around the country billions of dollars, and is yet another gross federal and executive overreach," Knudsen continued. "I will fight this disastrous proposal every step of the way and not hesitate to sue the Biden administration when it inevitably oversteps its legal authority."
The proposal Thursday – which the EPA said would curb carbon dioxide emissions by about 617 million metric tons through 2042 – is the Biden administration's version of the Obama-era Clean Power Plan proposed in 2015. That plan, which sought to curb power plant emissions 32% by 2030, was blocked by the Supreme Court in 2016 after a successful challenge from states led by West Virginia.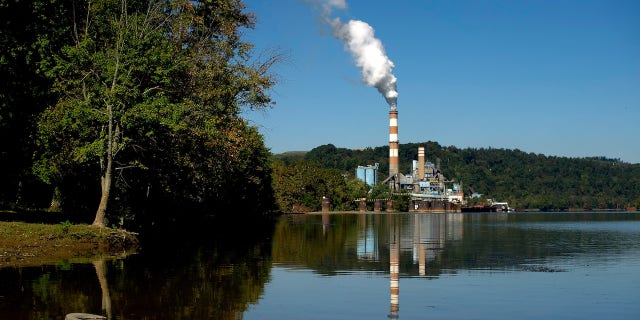 A coal-fired power plant near Pittsburgh, Pennsylvania. President Biden aims to create carbon pollution-free power sector by 2035. (Jeff Swensen/Getty Images)
The Supreme Court also ruled in June 2022 that the Clean Power Plan was unconstitutional since Congress never granted the EPA the explicit power to issue such regulations.
"Based upon what we currently know about this proposal, it is not going to be upheld, and it just seems designed to scare more coal-fired power plants into retirement – the goal of the Biden administration," Patrick Morrisey, the attorney general of West Virginia, a major coal-producing state, said Thursday. "That tactic is unacceptable, and this rule appears to utterly fly in the face of the rule of law."
"The U.S. Supreme Court has placed significant limits on what the EPA can do – we plan on ensuring that those limits are upheld, and we expect that we would once again prevail in court against this out-of-control agency," he continued. "We urge everyone not to fall for this clear attempt to accomplish what the law doesn't allow. We need the plants to stay open."
CLICK HERE TO GET THE FOX NEWS APP
Overall, there are 3,393 fossil fuel-fired power plants nationwide, the majority of which are natural gas plants, according to the most recent federal data. Those plants generate more than 60% of the nation's electricity, compared to the roughly 14% of electricity generated by wind and solar projects.
However, EPA data shows that the electric power sector accounts for about 25% of total U.S. emissions, placing it behind only the transportation sector and slightly ahead of the industrial sector, making it a target of Democrats and environmental organizations.
In addition, the Obama administration plan was repealed in 2018 by the Trump administration, which replaced it with substantially looser standards, the Affordable Clean Energy Rule. That replacement rule was repealed as part of the EPA's announcement Thursday.