Retired Navy Commander Kirk Lippold called on the Biden administration to project strength after China's latest military exercises near Taiwan were interpreted as a show of force.
Taiwan Foreign Minister Joseph Wu issued a stark warning that China's military drills are becoming serious and coming very close to Taiwan. Any accident, Wu said, could spark an "uncontrollable war" if other countries try to intervene.
Lippold, who commanded the USS Cole, said on "Fox & Friends" Monday he believes China is responding to Taiwanese President Tsai Ing-wen's recent meeting with House Speaker Kevin McCarthy.
TAIWAN RESIDENTS AGREE US WILL NOT COME TO THEIR AID IF CHINA INVADES, ARE DIVIDED ON THREAT LEVEL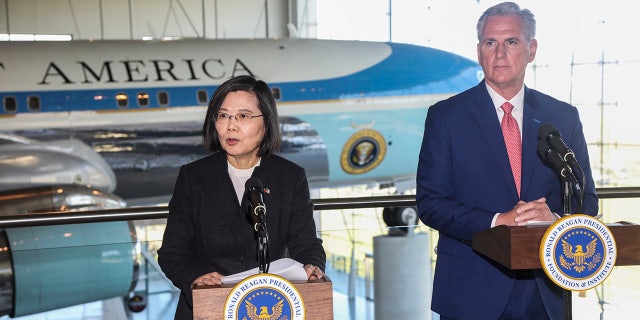 FILE – House Speaker Kevin McCarthy, R-Calif., right, and Taiwanese President Tsai Ing-wen deliver statements to the press after a Bipartisan Leadership Meeting at the Ronald Reagan Presidential Library in Simi Valley, Calif., Wednesday, April 5, 2023. (AP Photo/Ringo H.W. Chiu, File)
"I wouldn't be surprised to see if Russia, China and Iran were working in concert to try and create issues that spread the United States and our allies thin, both in the intelligence world, the military world, and diplomatically in trying to figure out who's doing what, where and when. And that's what's causing a lot of the destabilization," Lippold explained.
And though he praised the U.S. for continuing to show resolve by sending a Navy warship through the South China Sea, Lippold warned the U.S. does not have the capability to fight a war if necessary.
"It's clear we couldn't even fight one today because we don't have the depth. We don't have the ability to fight a sustained conflict. We can do the quick hit, hard hit, get in and out and stop. But we don't have the ability to do that sustained effort. And that's what is concerning to the American people and our allies," he said, noting that the military no longer has the capability to fight a "two-front major war."
Co-host Brian Kilmeade noted that military recruitment fell short by 25% in 2022, an added issue for a nation trying to show strength.
BIDEN'S MILITARY RECRUITING CRISIS A DEMON OF ITS OWN DESIGN
Retired Navy SEAL Mike Sarraille said he believes the Biden administration's messaging may be to blame.
"I don't think it's a lack of will in our young American people," Sarraille said. "Why would you join a military that's politicized? And every time one of our soldiers makes a very decisive decision that maybe results in collateral damage, their characters assassinated by the liberal media, why would you want to join that organization?"
Lippold then called on the Biden administration to follow through on military contracts with Taiwan, an act that he believes may send a message to China.
"They bought [arms], get it to them, give them the ability to defend their nation. Don't just talk the talk, walk the walk and make sure that China is going to be deterred from even considering that attack," he said.
CLICK HERE TO GET THE FOX NEWS APP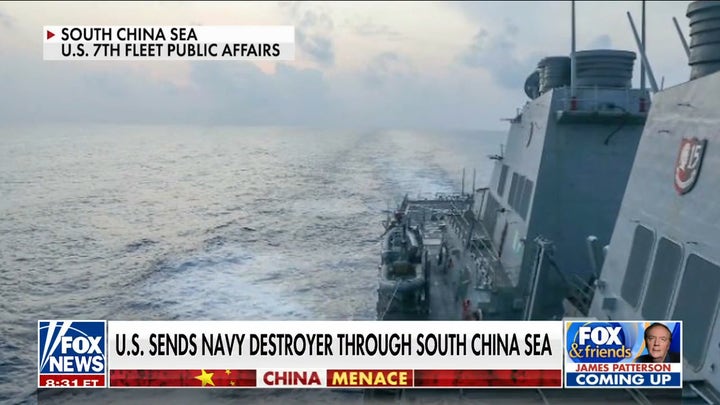 Video