Democrats over the weekend said President Biden should accept House Speaker Kevin McCarthy's invitation to talk about the fiscal outlook for the federal government, but like Biden argued those talks should not combine the two issues of how to raise the government's borrowing limit and the GOP's demand for spending cuts.
Sens. Amy Klobuchar, D-Minn., and Dick Durbin, D-Ill., emerged over the weekend calling for Biden to speak with the Republican leader after he put out a 320-page bill that would raise the debt ceiling while capping spending and imposing work requirements for government benefits, among other measures.
Neither signaled support for the spending cuts that Republicans are seeking, and made it clear any further talks should keep separate the two issues.
"Of course, President Biden should sit down with Speaker McCarthy," Klobuchar said Sunday on CNN Sunday. But she also indicated she favors Biden's position, which is to handle the debt ceiling first, and only then talk about possible spending cuts.
JEAN-PIERRE GETS DEFENSIVE ON BIDEN DEBT CEILING STRATEGY, SHIFTS BLAME TO MCCARTHY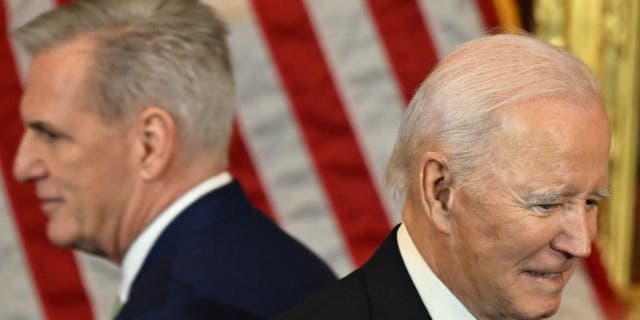 US Speaker of the House Kevin McCarthy (L), Republican of California, and US President Joe Biden attend the annual Friends of Ireland luncheon on St. Patricks Day at the US Capitol in Washington, DC, on March 17, 2023.  (ANDREW CABALLERO/AFP via Getty)
"The proposal that McCarthy has put forward, that belongs in the budget. We just passed a budget with 18 Republicans voting for it in the U.S. Senate," she said, referring to the $1.7 trillion spending bill passed in December.
She made it clear the debt ceiling should be everyone's top priority.
"Right now, we have got to simply make clear we're going to avoid default and get this behind us. We pay our bills," Klobuchar said.
Durbin took the same approach by saying more meetings are fine as long as the issues are treated separately.
"Of course we should talk" to Republicans, Durbin said on NBC Sunday. "Listen, we don't need to default in this country. If we default on our national debt, it's going to cost our economy dearly. That is a terrible outcome."
MCCARTHY MOCKS 'MISSING IN ACTION' DEMS ON DEBT CEILING IN FLOOR SPEECH: 'MAPLE SYRUP MONTH'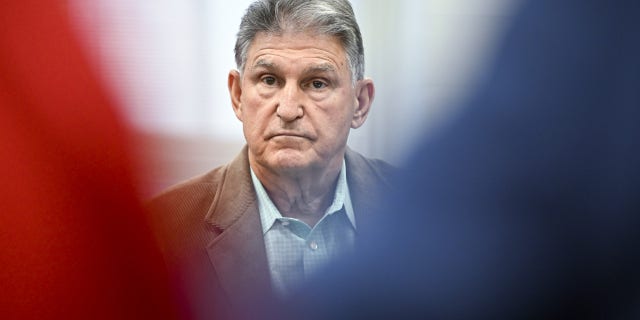 Senator Joe Manchin, a Democrat from West Virginia, released a forceful statement last week urging President Joe Biden to negotiate with McCarthy (Gaelen Morse/Bloomberg via Getty Images)
"So let's do the responsible thing and not default, move forward on the debt ceiling," he added as he called for spending talks later. "Now, we can have a fulsome debate on the budget, and we will. And I understand it on the spending levels, but not at the expense of jeopardizing jobs and economic growth in America. Don't default. Avoid default on our national debt."
Senate Democrat support for Biden's one-at-a-time stance came just days after moderate Sen. Joe Manchin, D-W.Va., released a statement late last week calling Biden's failure to hold a second meeting with McCarthy a "deficiency of leadership" and even agreeing that federal spending should be reined in.
Manchin said he supports the idea of linking cuts with more government authority to borrow, a position that puts him against that of others in his party in both the House and Senate who for now want to keep those issues separate.
TOP SENATE REPUBLICANS COALESCE AROUND MCCARTHY AFTER HE UNVEILS DEBT LIMIT PROPOSAL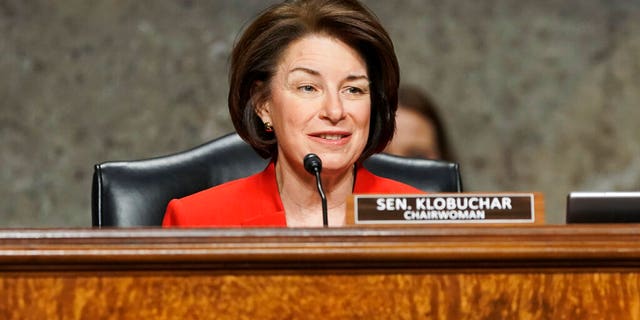 Sen. Amy Klobuchar, D-Minn., also called on Biden and McCarthy to speak but urged Republicans to keep budget and debt conversations separate
CLICK HERE TO GET THE FOX NEWS APP
Rep. Jared Moskowitz, D-Fla., told Politico last week, "I am happy we are talking about the debt ceiling, because I think it's very critical to talk, and so do I think the speaker of the House and the president should sit down and talk about the debt ceiling? Of course they should."
"I don't think there's any harm in the two of them sitting down to talk… The idea that we're even coming this close to a potential default is insane," Rep. Greg Landsman, D-Ohio, told the outlet.