A woman claiming to be pregnant allegedly attacked a Spirit Airlines employee at the country's busiest airport Sunday — after a few too many drinks — according to police documents.
Que Maria Scott, 29, faces disorderly conduct charges in connection with the brawl, which broke out after airline employees turned her away from boarding gate D2 at Hartsfield–Jackson Atlanta International Airport on Sunday night.
Before part of the melee was caught on video, she allegedly told the victim she was from "West Philly" and was going to "beat our a–," employees told police.
The clip, shared to Twitter by @GAFollowers, shows a woman punching and tackling another into a barrier as onlookers yell, "Stop!" Two men tried to pull them apart before the video ends, but the police report says it actually took four bystanders to separate them.
MASTURBATING BANDIT IN TEXAS WHO BROKE WOMAN'S LEG IN VIOLENT CHASE DODGES JAIL TIME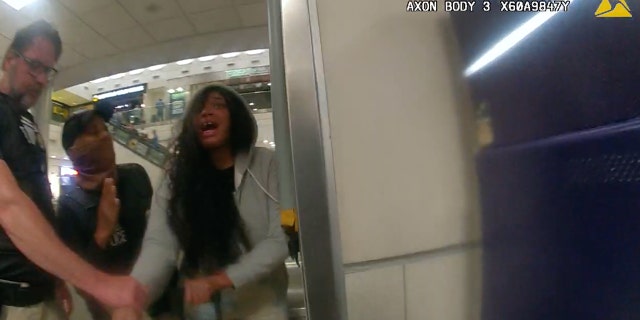 A still image from bodycam video shows police arriving to arrest Atlanta airport brawl suspect Que Maria Scott. (Atlanta Police Department)
Prior to the melee, police say an airline employee called 911 to report a dispute at the gate. As officers were responding, they received an update from dispatch telling them it had escalated to a physical confrontation, according to the incident report released by Atlanta police.
The victim, Jasmine Rhoden, an airline manager, told police that she had intervened after Scott allegedly threatened to beat up one of the gate agents. After the threats, the employees told her she could not board the flight, but she allegedly tried to get on anyway.
Graphic Content and Language Warning
"Ms. Rhoden stated that the Ms. Q. Scott put her boarding pass in one of her pockets, pulled up her sweat pants and proceeded to attack her by swinging her arms and hitting [the victim] on the left side of her face," the incident report reads. "[She] then stated that Ms. Q. Scott began to pull her hair at the scene and pulling her into a barrier that was at the location causing them to fall to the ground."
WOMAN KILLED IN ATLANTA SHOOTING ID'D AS CDC WORKER AMY ST. PIERRE; SUSPECT CHARGED WITH MURDER
Scott allegedly fell on top of Rhoden and grabbed on tight until the four bystanders pulled her off.
"Rhoden stated that she clearly smelled alcohol on Ms. Q. Scott, even though Ms. Q. Scott claimed to be pregnant," the report notes.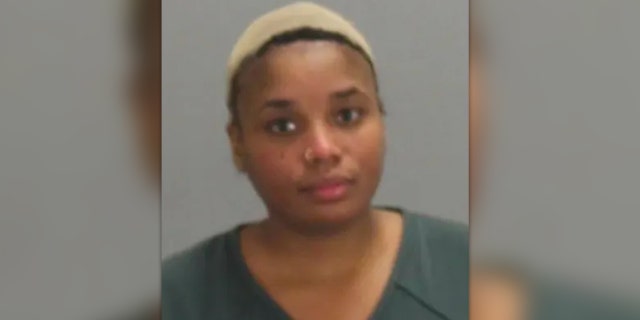 Atlanta police booked Que Maria Scott into the Clayton County Jail early Monday, hours after an altercation involving a Spirit Airlines employee at the airport Sunday night. (FOX 5 Atlanta)
Before police arrived, Scott had made her way to the concourse of the Georgia airport, where a Homeland Security officer held her until officers reached the scene.
"At this moment, the subject was still irate and using abusive language toward others involved at the scene," police wrote.
Scott claimed to be pregnant when APD officers arrived, bodycam video shows. Witnesses also told police she'd claimed to be pregnant, but at least one said she did not believe her.
CLICK HERE TO GET THE FOX NEWS APP
"I didn't do nothing to nobody," Scott says after officers place her in cuffs. "You really just got me booked. It's cool. I'm gonna remember your face in my head forever."
Scott was cleared by medical personnel before being transported to jail, where she was being held on $1,500 bond.
According to FOX 5 Atlanta, Spirit Airlines previously had hired off-duty officers for additional security but discontinued the practice.
The airline did not immediately respond to Fox News Digital's request for comment.