Sylvester Stallone is hanging up his boxing gloves and stepping in front of the reality TV cameras.
In February 2023, Paramount + announced they greenlit a reality show, entitled "The Family Stallone," starring Stallone, his wife Jennifer Flavin Stallone, and their three daughters, Sophia, Sistine and Scarlet.
In a recent interview with Fox News Digital, Stallone noted that they're "all still together," so he questioned: "Why not take advantage of that?"
In addition to becoming a reality TV figure, the Hollywood A-lister, is of course known for being a bona fide movie star. Here is a look back at his career.
Stallone, however, said while on "The David Rubenstein Show: Peer-to-Peer Conversations" that the actual inspiration was a simulated fight between Ali and Rocky Marciano. Stallone said he only used the Ali versus Wepner fight as a reference point when making his pitch, since Marciano wasn't as widely known.
When the script was finished, Stallone had more obstacles in his way, as producers initially were against the idea of him starring in it. They wanted a more well-known actor for the role. Stallone, however, refused to sell the script unless he could star in it, no matter the price.
"There is that moment where you go, 'Hmm am I ever gonna find anything even close to this again? Maybe, yeah.' Then I go 'No, not really,'" Stallone told CBS "Sunday Morning" in November 2015. "I've kind of sort of figured out poverty, how to get along on no money whatsoever. I had adapted to a certain lifestyle, it was not very joyful, but it would have been much worse if I had sold that, and I had saw it go to someone else and I realized that was my ship."
The "Creed" franchise, starring Michael B. Jordan, was a major success and has gone on to have two sequels, "Creed II" and "Creed III," the last of which did not feature Stallone. "Creed III" is the first Rocky movie Stallone didn't participate in throughout all nine films and in the 47 years the franchise has existed.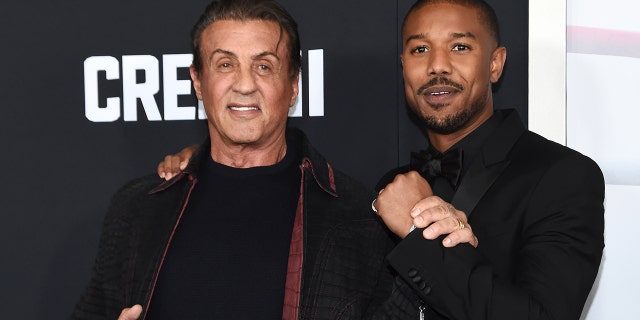 In 2015, Stallone starred in the spinoff movie "Creed," as well as its 2018 sequel "Creed II," but chose not to appear in the third installment of the franchise. (Daniel Zuchnik/WireImage)
"That's a regretful situation because I know what it could have been," Stallone told The Hollywood Reporter in November 2022 about his absence in the film. "It was taken in a direction that is quite different than I would've taken it. It's a different philosophy – Irwin Winkler's and Michael B. Jordan's. I wish them well, but I'm much more of a sentimentalist. I like my heroes getting beat up, but I just don't want them going into that dark space. I just feel people have enough darkness."
SYLVESTER STALLONE CALLS OUT 'ROCKY' PRODUCER OVER HIS LACK OF OWNERSHIP RIGHTS
"That scene was a tough one to get past the producers. They didn't want it. I was supposed to be shot and die. And I go, 'There are a lot of veterans who are going to look at this and go, 'So my only hope is to kill myself?' I can't do that," Stallone told The Hollywood Reporter last year.
"I did 20 interviews with veterans and I compiled it into that moment, all stream of consciousness, with everything just pouring out. I want people to take away some sense of hope when they leave the theater. I don't want my heroes to die."
The 1982 movie went on to become a franchise, spawning four sequels, including "Rambo: First Blood Part II," "Rambo III," "Rambo" and "Rambo: Last Blood," which came out in 2019.
After the third movie was released in 1988, Stallone recalled the studio offering him $34 million to make the fourth movie right away. He told The Hollywood Reporter he turned down the money and explained to producers "let's not jump the gun here." The fourth movie didn't come out until 20 years later, when "Rambo" was released in 2008.
Stallone also gave his opinion about the potential for another sequel in the franchise, and how the character could evolve in the future.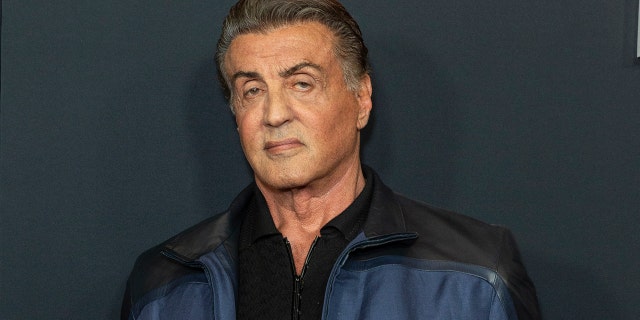 Stallone opened up about the potential for another sequel in the franchise, with Rambo passing the torch to a new generation. (Lev Radin/Pacific Press/LightRocket via Getty Images)
"I think it's going to happen," he told The Hollywood Reporter in November. "I wanted to do it like a Ken Burns documentary on Vietnam, where you drop young Rambo in there, and he's this outgoing guy, football captain, and then you see why he becomes Rambo. But what they want to do is a modern-day story where I pass the torch. That's getting close."
"Man, it was seven guys, kicking each other's a–, one guy tougher than the next… no joke, our stunt guys were begging for mercy," he told FHM Magazine in January 2010. "Actually, my fight with Stone Cold Steve Austin was so vicious that I ended up getting a hairline fracture in my neck. I'm not joking. I haven't told anyone this, but I had to have a very serious operation afterward. I now have a metal plate in my neck."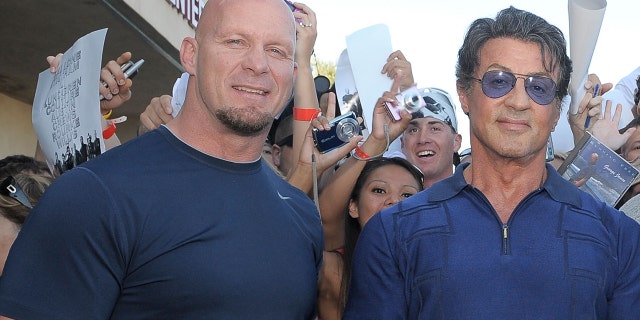 While filming a scene with Steve Austin in "The Expendables," Stallone sustained a hairline fracture in his neck and had a metal plate inserted to repair it. (Charley Gallay/Getty Images for Lionsgate)
The second movie featured all the same actors playing the core group of mercenaries, with the notable additions of Liam Hemsworth, Arnold Schwarzenegger and Jean-Claude Van Damme. Stallone told The Hollywood Reporter that getting all those high caliber actors together in one place is "a minor miracle," saying it's "very special because you're never, ever going to see this again."
When it came to filming the second movie, per The Irish Examiner in August 2012, Stallone said he "threw all common sense out of the window" and went against all medical advice, putting himself at further risk for injury.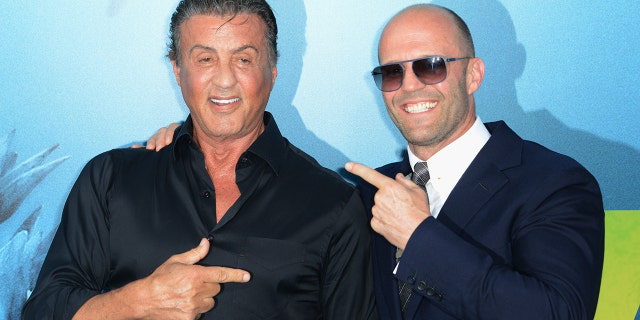 Stallone announced he will have a smaller role in "The Expendables 4" and is ready to pass the torch to Jason Statham. (Albert L. Ortega/Getty Images)
Things weren't always great between Stallone and other members of the cast. Lundgren recently spoke out about getting so angry with Stallone while filming the first installment of the franchise that he came dangerously close to getting physical with him.
"He was very harsh on me in a scene in 'The Expendables,' where he kind of yelled at me in front of the whole crew and had me do about 20 takes on a scene," he said of the Stallone-directed film on May 11. "It was like, 'My grandmother could do it better than that. What the f—, what are you doing?' You know, basically in front of everybody. And there was press there that day too, international press."
He explained when they came back from lunch, the tension between them was obvious to everyone on set, but things immediately calmed down when Stallone approached him with an apology, saying, "Uh, I'm sorry about that. Let's just do another take and let's just keep moving on."
 
 

 
 
View this post on Instagram
 

 
 
 

 
 

 
 
 

 
 

APP USERS CLICK HERE TO VIEW POST
While Stallone is stepping away from the franchise, he still has love for the films and for action movies in general.
"The greatest thing is being able to provide films [and] entertainment [where] maybe there's a little message in there, because what I try to convey in my successful films is the human touch," Stallone said in his October 2021 Instagram post. "Not so much the action; the action is self-evident. But it's just relating to the audience in a way that they can identify with whatever the mission is, with the characters at hand."
Other action movies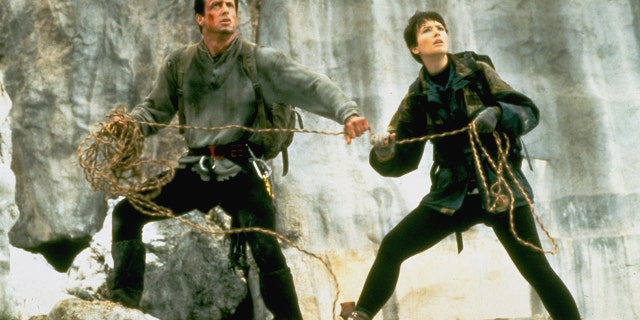 Stallone also starred in 1993's "Cliffhanger." (John Bryson/Getty Images)
Outside the big franchise movies he's been a part of, Stallone has made a name for himself as an action star in other films, including 1993's "Cliffhanger." The film also stars John Lithgow, Michael Rooker and Janine Turner.
In the movie, Stallone plays Gabriel "Gabe" Walker, a ranger who finds himself taken hostage in the mountains by international thieves who are searching the area for three cases of money that fell out of their plane as it was being shot down. As a former mountain climber and current rescue ranger, they knew Gabe would be able to lead them to their money.
Stallone reflected on his feelings about the film in an Instagram post in February 2022.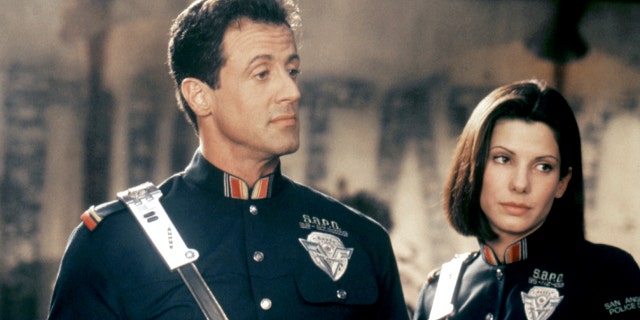 Stallone and Bullock teamed up to catch Snipes' character as he wreaks havoc in the future. (Sunset Boulevard/Corbis via Getty Images)
"I always enjoyed this movie," he wrote in the caption. "It was a Great Action film wonderfully directed By Marco Brambilla , And the writers were way ahead of their time."
 
 

 
 
View this post on Instagram
 

 
 
 

 
 

 
 
 

 
 

APP USERS CLICK HERE TO VIEW POST
In 1986, Stallone starred in "Cobra," playing the titular character Lt. Marion "Cobra" Cobretti. The film starts out immediately showcasing Cobra's lack of regard for police protocol and authority, a theme that is present throughout the whole film.
SYLVESTER STALLONE SHARES VIDEO OF HIS VISIT TO THE ROCKY BALBOA STATUE IN PHILADELPHIA WITH HIS FAMILY
As more major crimes begin to be committed over the next few weeks, Cobra is tasked with finding and taking down the head of The New World. In the end, Cobra succeeds in his mission.
"I've always wanted to play a gangster. But I wanted to play a unique gangster who is not like a gangster – at least, not when you meet him. He's actually a guy who likes to cooperate," he told The Hollywood Reporter last year.
"I thought about Franz Kafka's 'The Metamorphosis.' Like, what if you woke up and you were now in a different profession but you had the same personality? That way, you don't assume the automatic cliché of a thug who stares at you dead-eyed and doing the deep voice. But if he has to get heavy, it's gonna get real heavy. So I said, 'I'm gonna play him as close to myself as I've ever done in my life.'"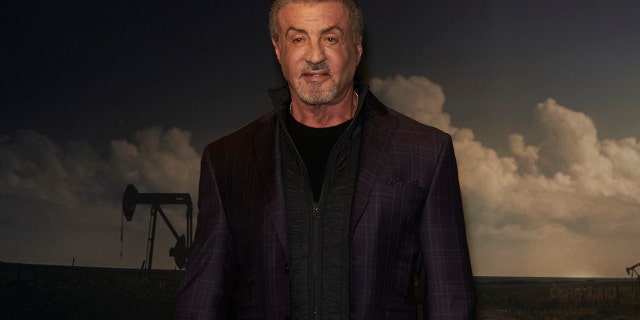 Stallone explained he always wanted to play the role of a gangster, but in a unique way, which is what he's doing in "Tulsa King." (Robert Okine/Getty Images)
Stallone stars alongside Dana Delany, Garrett Hedlund, Martin Starr, Andrea Savage, Max Casella, Domenick Lombardozzi, Vincent Piazza, A.C. Peterson and his daughter Scarlet Stallone.
Scarlet appears in five episodes of the show, as a barista named Spencer who frequently serves Manfredi his espressos when he comes in. She later goes on to be a caretaker for one of his horses, Pilot, who had a tendency to break out of the stables and run free around Tulsa.
While on "Fox & Friends," Stallone called filming the show "a real grind," noting that in the time it took to film nine episodes, he would have been able to film five back-to-back sequels of "Rocky."
"It's beyond tough. I can't believe some people have done this for four, five or six seasons. It's brutal, compared to filmmaking," he echoed to Variety in November. "I'll never say, 'This is a hard shoot' again on a feature. It's a vacation compared to this! It really is."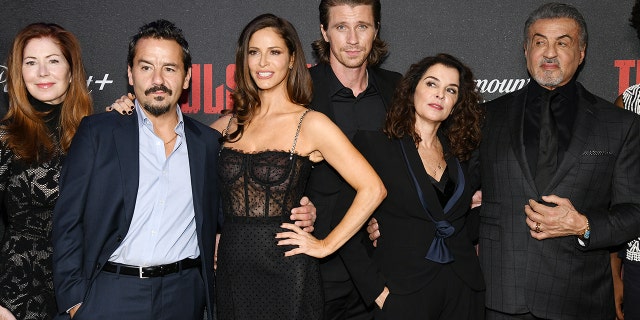 "Tulsa King," starring Dana Delany, Max Casella, Andrea Savage, Garrett Hedlund and Annabella Sciorra, was renewed for a second season. (Photo by Kristina Bumphrey/Variety via Getty Images)
After only three episodes of the first season aired, it was announced "Tulsa King" would be returning for a second season.
'The Family Stallone'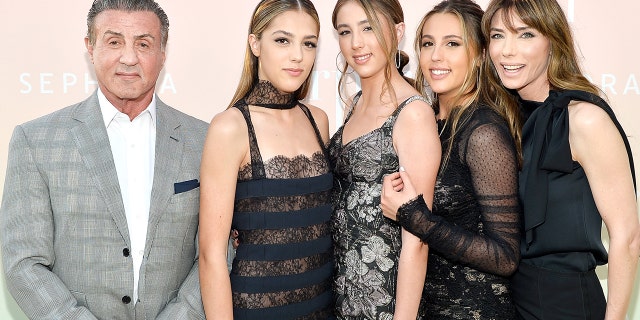 Stallone and his family are set to star in their own reality show on Paramount+, called "The Family Stallone." (Stefanie Keenan/Getty Images for Harper's Bazaar)
In a surprising twist, Stallone will be starring in his own reality show, called "The Family Stallone," alongside his wife Jennifer Flavin and their daughters Sophia, Sistine and Scarlet.
During an appearance on the "Today" show earlier this month, Stallone joked that he agreed to appear on a reality show about his family because "I've always wanted someone to film me while I'm brushing my teeth," asking, "Who wouldn't want that documented?"
"I thought it was a great idea in a way, because we have kind of a very interesting synergy," he told the outlet. "We laugh, we enjoy (each other), and everyone, I wouldn't say (is) not neurotic, but eccentric," he said. "And they bring it out in a good way. They all have distinctive personalities, and certainly Jennifer, and I'm a little nuts, so I thought OK, why not?"
CLICK HERE TO SIGN UP FOR THE ENTERTAINMENT NEWSLETTER
Stallone explained to The Hollywood Reporter in February 2023 he liked the idea of creating the "ultimate home movie" and is excited to work with his wife and daughters.
In a recent interview with Fox News Digital, the whole family came together to discuss their unique dynamic, and why they thought a show about their family would be a good idea.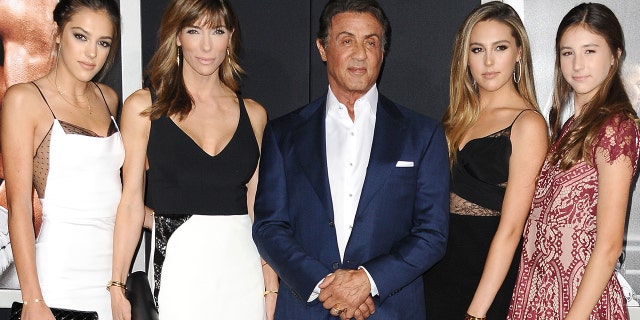 Stallone wanted to write a movie about his family, but when the opportunity to star in a reality show with them came up, he thought why not? (Jason LaVeris/FilmMagic)
"I [wanted] to do a movie about our family ourselves," Stallone said. "I go, 'OK, rather than write a pseudo one, why not jump into the world of reality?'"
"God knows, I know enough about it because being around these young ladies, I've seen every show there is," he said gesturing to his daughters. "And I thought, this is an interesting time because it's not like the career is on the wane and I need a job. This is a peak time for me because they're not married, thank God."
"So we're all still together. And I said, 'Why not take advantage of that?'"
Stallone was first married to Sasha Czack, who he shares two kids with, from 1974-85. He was then married to his "Rocky IV" costar Brigitte Nielsen from 1985-87.
Stallone tied the knot with Jennifer Flavin in 1997, and they have been married for 25 years. The pair recently got back together after a brief separation in August 2022.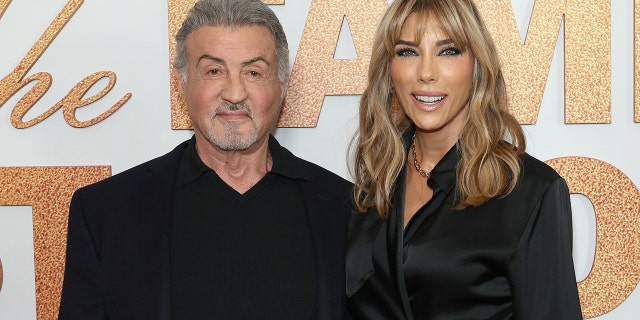 Stallone and his wife Jennifer Flavin shockingly filed for divorce in August 2022, however the couple reconciled and called it off. (Dimitrios Kambouris/Getty Images for Paramount+)
Last year, Flavin shocked fans by filing for divorce, accusing Stallone of "intentional dissipation, depletion and/or waste of marital assets which has had an adverse economic impact on the marital estate." Stallone denied the accusations, and a month later the couple reconciled and called off the divorce proceedings, all of which will be featured in the show.
"Of course it's part of the show," he told The Hollywood Reporter in November 2022. "It's the John Lennon thing: 'Life is what happens when you're making other plans.' Hopefully, you're involved with people who understand the foibles of life and the fragility of it and how rare a real good relationship is."
"Sometimes I put the work ahead of [my family], and that is a tragic mistake which won't happen again."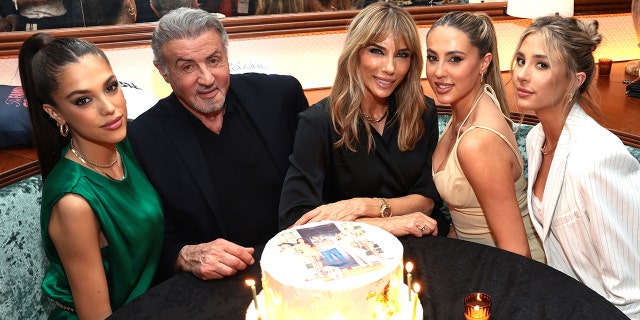 "The Family Stallone" is set to begin airing on Paramount + on May 17. (Dimitrios Kambouris/Getty Images for Paramount+)
CLICK HERE TO GET THE FOX NEWS APP
Episodes of "The Family Stallone" are set to drop on Paramount + on May 17.