Thousands of dead Menhaden fish washed ashore on a beach in the Gulf Coast of Texas Friday morning, according to county officials.
Quintana Beach County Park said the dead fish were found at the far end of Bryan Beach, near the mouth of the Brazos River, approximately six miles down the coast from Quintana Park.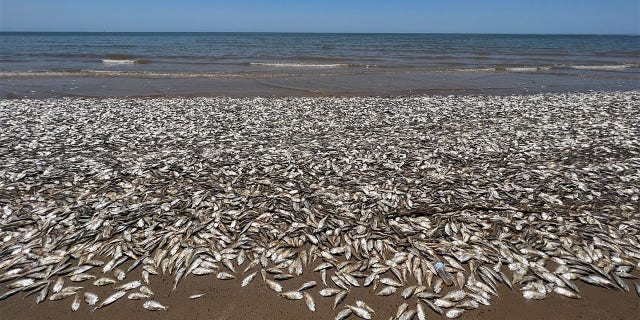 Thousands of dead fish wash ashore a beach in Brazoria County, Texas.  (Brazoria County)
County officials said warmer water, which can't hold as much oxygen as cooler water, was to blame for the mass fish deaths.
When water rises above 70 degrees Fahrenheit, it becomes hard for Menhaden to receive enough oxygen to survive, Quintana Beach County Park said in a Facebook post.
"So in a nutshell, it was the perfect storm to deplete oxygen levels inshore," Quintana Beach County Park said.
CLICK HERE TO GET THE FOX NEWS APP
Crews have begun the removal process but will need the tide to recede several more feet before all the fish can be removed, FOX 26 reported, citing park officials.