Texas wildlife officials were left stumped last week after a "mystery animal" was caught on camera by a park visitor.
Texas Parks and Wildlife said the visitor had taken the photo with a game camera — which is used in hunting — in the Rio Grande Valley.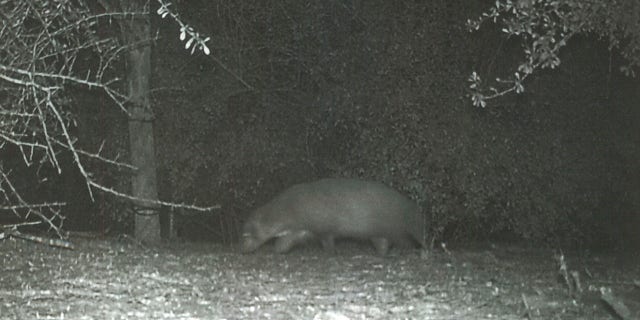 A mystery animal captured on film by a park visitor.  (Texas Parks and Wildlife)
"We're scratching our heads trying to identify this elusive creature. Is it a new species? An escapee from a nearby zoo? Or just a park ranger in disguise," the park wrote in a social media post. "Regardless, it's thrilling to see such an incredible animal in its natural habitat."
INDIA'S INDIGENOUS GROUPS ALLEGEDLY DRIVEN OUT TO SAVE COUNTRY'S DWINDLING TIGER POPULATION
The post prompted a wave of comments on social media. Many people hypothesized that the creature could be an American badger, which is commonly found in North America, or an endangered Jaguarundi.
The honey badger, on the other hand, lives in Africa and Asia and — according to Texas Parks and Wildlife — "is rumored to not care very much."
CLICK HERE TO GET THE FOX NEWS APP
"While American badgers are not commonly seen in the valley (partly due to their nocturnal behavior), this is part of their natural range," park officials said.
The mystery remained unsolved as of Monday.