In a massive effort to bring awareness to the plight of homeless veterans, a team from Baylor University in Waco, Texas, lined up 1,203 sleeping bags — stretching a quarter mile long — to provide comfort and hopefully break a Guinness World Record (GWR).
"When we saw the sheer number of sleeping bags that we had collected, that really got a hold of us," Sam Esparza, 24, an event manager at Baylor's McLane Stadium told Fox News Digital.
The current World Record for the longest line of sleeping bags is 550, according to the GWR website.
NEW JERSEY MAN WALKS ACROSS US TO RAISE NEARLY $100K FOR HOMELESS VETERANS: 'RESPECT AND REVERENCE'
"There are over 2,000 homeless veterans in Texas," Meagan Noranbrock, program supervisor at Veterans OneStop, told Fox News Digital.
TUNNEL TO TOWERS EMBARKS ON BOLD NEW EFFORT FOR AMERICA'S HOMELESS VETERANS
"And it's not just something that happens overnight. When people get discharged from the military, sometimes it's a struggle landing on their feet. Or maybe they think it's going to be okay and little by little things happen. Everybody's transition is different."
WWII VET, 100, LIVES 'CHARMED LIFE' IN SPITE OF SURVIVING GREAT DEPRESSION, DUST BOWL STORMS AND A GLOBAL WAR
Magnusen teaches a class called Athletic Fundraising and Development, which helps graduate students best learn how to generate revenue, primarily by way of fundraising for athletic departments.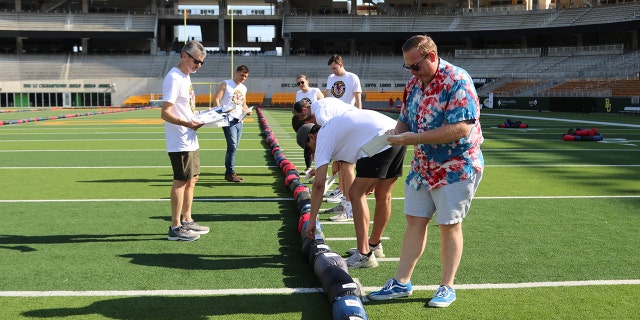 Volunteers count the sleeping bags as they are lined up at Baylor University's McLane Stadium on July 4, 2023. (Mar Magnusen)
At the end of the semester, Magnusen said, each of his students pitch a fundraising project that he or she is passionate about.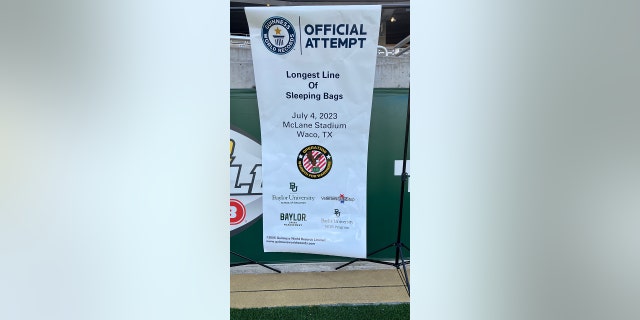 Kylie Galloway, a spokesperson for the Guinness Book of World Records, confirmed for Fox News Digital that the organization received the application for the attempt. (Mar Magnusen)
"Sam and I met in my office and kind of put our brains together because I had an idea to do something with veterans," Magnusen said.
He went on, "I'd had a student in my program, Kevin Davis, who is a Marine Corps veteran and head of the VETS (Veteran Educational and Transition Services) program at Baylor."
FLORIDA WOMAN, 8 MONTHS PREGNANT, POLESPEARS FISH FOR POTENTIAL WORLD RECORD CATCH
An account was set up on Baylor's crowdfunding platform, Torch, and donations started rolling in for the purchase of sleeping bags.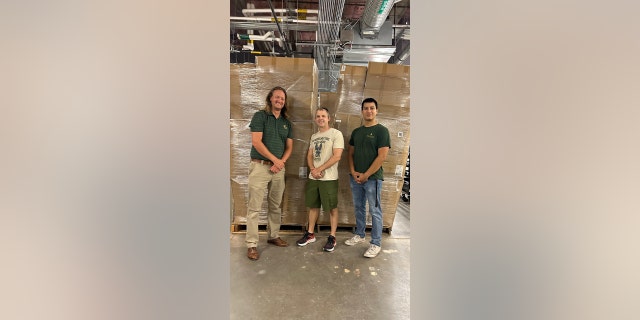 Baylor University's Kevin Davis (left), Mar Magnusen (center) and Sam Esparza (right) stand in the warehouse that housed more than 1,000 sleeping bags that, after it's established that they broke a world record, will be donated to homeless veterans in Texas. (Mar Magnusen)
The team and a host of volunteers — including Baylor president Dr. Linda Livingstone and her husband Brad Livingsone and some local veterans — arrived to the stadium on July 4 and went to work, taking 45 minutes to line up the sleeping bags.
CALIFORNIA VETERAN REVEALS HER SOLUTIONS FOR SOLVING THE HOMELESS CRISIS IN SAN DIEGO
Esparza kept his GoPro camera running all morning and produced a time-lapse video that was shot from the stadium press box (See the video at the top of this article).
'DO YOU KNOW THESE WWII VETERANS?': MISSOURI HISTORICAL SOCIETY ASKS FOR HELP IN IDENTIFYING UNNAMED HEROES
The team took photos of every step, all of which will be submitted as evidence.
CLICK HERE TO SIGN UP FOR OUR LIFESTYLE NEWSLETTER
"You have to figure out so much on your own and it's really daunting. We want veterans to know there's help. It's like the doors are opening a little bit with the symbolism of these sleeping bags," she said.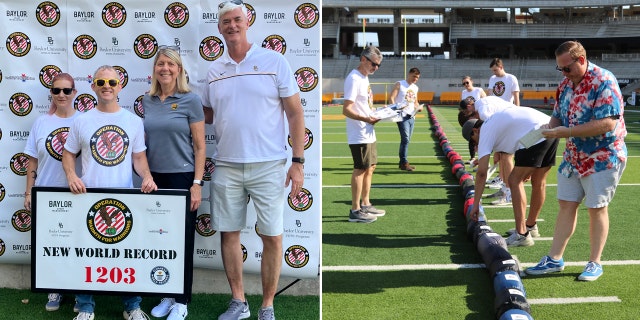 Homeless veterans will be receiving the sleeping bags used to attempt to break the world record. (Mar Magnusen)
For Esparza, the whole event was somewhat personal as he had a grandfather and an uncle in the Navy, he said.