Civilian deaths in Ukraine have mounted, according to figures released by the United Nations on Tuesday, reaching nearly 8,500 confirmed deaths since the war began, with the top agency warning that actual figures are likely "considerably higher."
The United Nations High Commissioner for Human Rights (OHCHR) reported the 8,490 civilians had been killed and another 14,244 injured had been injured as of April 9, 2023, following Russia's invasion on Feb. 24, 2022.
A reported 501 children have been killed and another 994 injured in the war.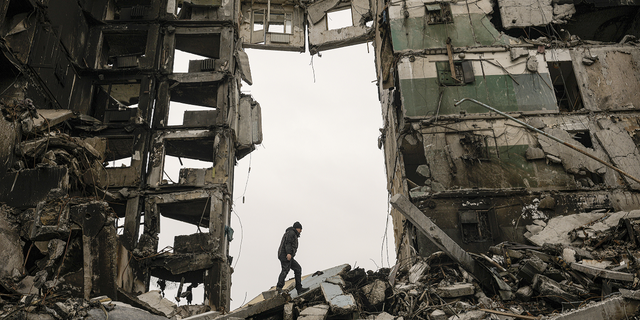 A resident looks for belongings in an apartment building destroyed during fighting between Ukrainian and Russian forces in Borodyanka, Ukraine. (AP / Vadim Ghirda)
UKRAINE READIES SPRING OFFENSIVE EXPECTED TO BE LARGEST MOBILIZATION SINCE WAR WITH RUSSIA BEGAN
"OHCHR believes that the actual figures are considerably higher, as the receipt of information from some locations where intense hostilities have been going on has been delayed and many reports are still pending corroboration," the agency said in a statement released Tuesday.
Investigations remain ongoing in areas like Mariupol in the Donetsk region and Lysychansk, Popasna and Sievierodonetsk in the Luhansk region where fighting persists and "where there are allegations of numerous civilian casualties."
Of the more than 22,700 casualties reported in total, the majority have been confirmed from areas controlled by the Ukrainian government with 18,280 casualties reported, including 6,596 deaths and 11,684 injuries.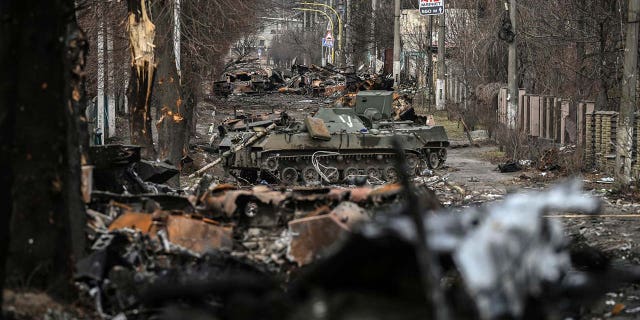 Destroyed Russian armored vehicles line the street in the city of Bucha, west of Kyiv, on March 4, 2022. (Aris Messinis / AFP via Getty Images)
UKRAINE RESCUE TEAM BRINGS BACK 31 CHILDREN FROM RUSSIA AMID WAR
Russia has repeatedly denied targeting civilian infrastructure like hospitals, residential buildings and schools, though it made targeting Ukrainian energy infrastructure a key strategy in its war aim by the late fall in 2022.
Another 4,454 casualties, including 1,894 killed and 2,560 injured, have occurred in territories occupied by Russia at the time of incident – further suggesting that casualties in eastern Ukraine, which Russia has occupied for nearly a year, are underreported.
The U.N. has repeatedly condemned Russia's invasion of Ukraine and called on Moscow to abandon its war.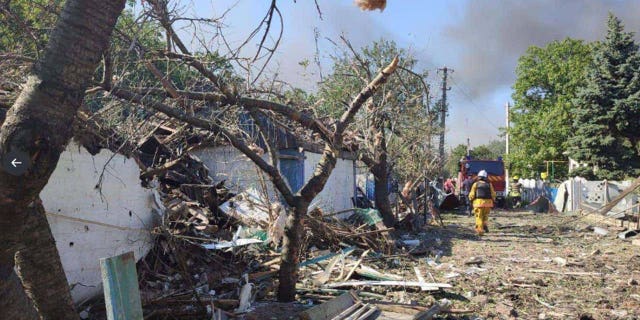 Officials look over the scene after a Russian missile struck a train station in Ukraine. (Fox News / File)
CLICK HERE TO GET THE FOX NEWS APP
The International Criminal Court has issued an arrest warrant for Russian President Vladimir Putin for war crimes committed in Ukraine and the illegal deportation of children to the Russian Federation.
Russia has rejected the arrest warrant as invalid as Moscow does not recognize the international court.