The U.S. Department of Education (DOE) is opening an investigation into Loudoun County Public Schools over accusations that the district failed to adequately address reports of sexual assault at two of its schools.
The probe comes after the department received a letter in January from the America First Legal Foundation (AFLF) regarding concerns that the Northern Virginia school district did not respond appropriately to students' claims of sexual assault as required by Title IX.
"This is about protecting students from sexual assault, and sexual harassment," AFLF Senior Advisor Ian Prior said, according to Fox 5 DC. "And it's important that the politics are taken out of this, and they do a thorough investigation to make sure that these problems are remedied."
Prior's daughters attended school in Loudoun County Public Schools before he moved them to a different school.
LOUDOUN COUNTY SUPERINTENDENT SCOTT ZIEGLER FIRED AFTER GRAND JURY REPORT ON HANDLING OF SEXUAL ASSAULTS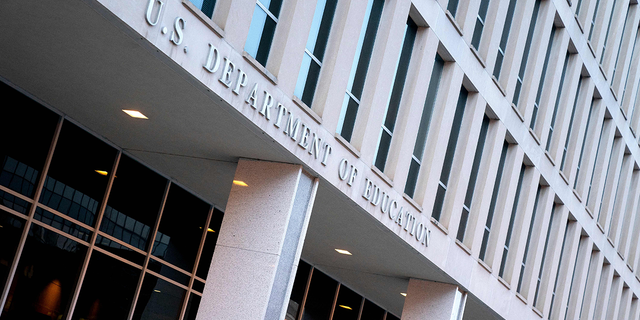 The Department of Education is opening an investigation into Loudoun County Public Schools over concerns it failed to properly address reports of sexual assault at two of its schools. (STEFANI REYNOLDS/AFP via Getty Images)
The DOE's Office for Civil Rights will probe whether the district failed to respond as required by Title IX to two assaults, committed by the same student, in 2021.
An LCPS father accused the district at a June 2021 school board meeting of covering up his daughter's sexual assault after a biological boy wearing a skirt raped her in the girls' bathroom in May of that year. The father, Scott Smith, claimed the district had attempted to cover up his daughter's assault to push its controversial transgender bathroom policy that had sparked parental protests at district school board meetings. The policy had not yet been implemented at the time of the assault.
"The U.S. Dept. of Education now declaring that it will investigate LCPS for potential Title IX violations is meaningless," Smith said in a statement to Fox 5 DC. "It's like the National School Board, who branded me a domestic terrorist, saying that they are going now to investigate the harm put upon my family — it's biased, and the only result that the USDOE will come to is that Loudoun did everything right, in order to protect it from truth and reason."
Smith's mention of the National School Board Association (NSBA) is in reference to a letter the organization wrote to the White House in September 2021 requesting federal assistance to deal with violence and threats from parents protesting at school board meetings across the country that the organization likened to "a form of domestic terrorism and hate crimes." Attorney General Merrick Garland then issued a memo directing the FBI to address threats against school officials. The NSBA later apologized for the language used in its letter.
"You have to question why now, over a year later, that suddenly the federal government is interested in this problem," Smith's statement continued. "Is it to root out wrongdoing or is it actually to make an effort to protect the wrongdoer, the Loudoun County School Board, that adopted the harmful left-leaning policies that the federal government actively agrees with regarding the education of our children? Any investigation by the federal department of education is an absolute farce, and any conclusions it may come to as completely untrustworthy."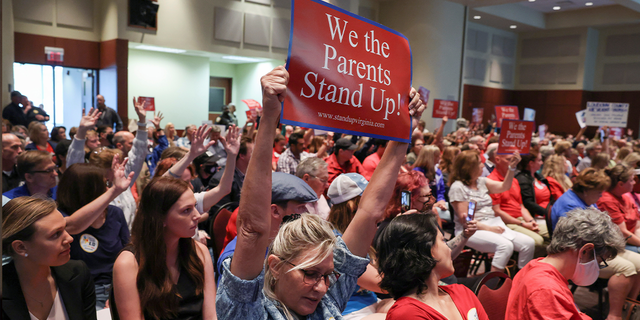 Parents and community members attend a Loudoun County School Board meeting on June 22, 2021.  (REUTERS/Evelyn Hockstein)
LOUDOUN COUNTY PUBLIC SCHOOLS BEAR 'BRUNT OF BLAME' FOR PREVENTABLE SEXUAL ASSAULT FINDS VIRGINIA GRAND JURY
After the sexual assault in May, the suspect was transferred to different school in the district and assaulted another girl in October 2021. The suspect faced charges in both cases and was found guilty of the first sexual assault.
A grand jury report released in December said the district was looking out for its own interests over the best interests of its students in its handling of the sexual assaults, emphasizing that LCPS "failed at every juncture."
The report said LCPS displayed a "stunning lack of openness, transparency and accountability, both to the public and to the special grand jury" about its response to the sexual assaults. The report also condemned then-Superintendent Scott Ziegler for denying at the June 2021 school board meeting that he had any knowledge of the May assault.
Ziegler had said at the board meeting that "the predator transgender student or person simply does not exist," and, to his knowledge, "we don't have any record of assaults occurring in our restrooms." However, on the day of the assault on May 28, Ziegler informed school board members in an email that the assault had been reported.
The school board fired Ziegler days after the grand jury report.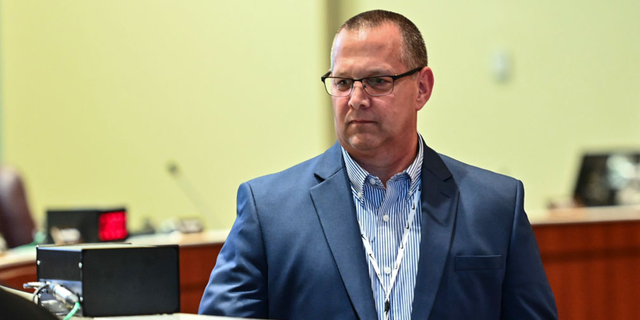 Former Superintendent Scott Ziegler had denied at a school board meeting that he had any knowledge of the May 2021 sexual assault. (Getty)
CLICK HERE TO GET THE FOX NEWS APP
According to emails outlined in the report, senior district officials had privately met to discuss the first assault and linked it to LCPS's transgender policy, which allows students to use bathrooms and locker rooms that correspond with their gender identity.
LCPS released a statement Monday saying that it "has received a Notification of Complaint from the United States Department of Education Office for Civil Rights, and will duly assist OCR in this process."
"The staff and administration of LCPS remain committed to making student safety and welfare the Division's highest priority. As this investigation relates to matters concerning student privacy, we will not comment further at this time," the statement continued.