U.S., Japanese and Philippine coast guard ships staged law enforcement drills in waters near the disputed South China Sea on Tuesday as Washington presses efforts to reinforce alliances in Asia amid an increasingly tense rivalry with China.
Witnessed by journalists onboard a Philippine coast guard patrol boat, the BRP Cabra, the drills focused on a scenario involving the interdiction and boarding of a vessel suspected of carrying weapons of mass destruction off the Bataan Peninsula, Philippine coast guard spokesperson Commodore Armand Balilo said.
Shots rang out as heavily armed coast guard personnel rapidly boarded the vessel from a speedboat and herded the crew members toward the stern. A helicopter hovered as U.S. and Japanese coast guard ships helped rescue crew members who jumped off the target vessel during the mock assault.
"We are not just all display," Philippine coast guard deputy spokesperson John Ybanez said. "All these exercises that we do will help us help each other in possible scenarios in the future."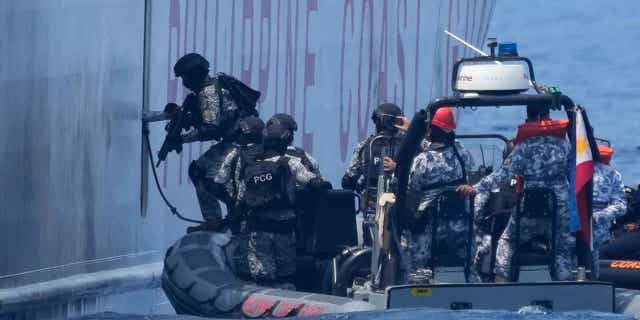 Armed Philippine Coast Guard personnel board the PCG Melchora Aquino ship during a coast guard drill in the South China Sea, on June 6, 2023.  (AP Photo/Aaron Favila)
Japan deployed a large coast guard ship, the Akitsushima, while four Philippine coast guard vessels joined the exercises.
The Biden administration has been strengthening an arc of military alliances in the Indo-Pacific to better counter China, including in the South China Sea and in any future confrontation over Taiwan, the self-governing island which Beijing regards as a Chinese province.
CHINA ENTERS WATERS OFF OF VIETNAM NEAR RUSSIAN GAS BLOCK IN 'WORRYING ESCALATION'
CLICK HERE TO GET THE FOX NEWS APP
Last month, the U.S. Indo-Pacific Command said a Chinese J-16 fighter aircraft flew directly in front of a U.S. Air Force RC-135 plane in an "an unnecessarily aggressive maneuver" while the American reconnaissance plane "was conducting safe and routine operations over the South China Sea in international airspace, in accordance with international law."
In April, Japan adopted a new five-year ocean policy that calls for stronger maritime security, including bolstering its coast guard's capability and cooperation with the military. It cited a list of threats, including repeated intrusions by Chinese coast guard ships into Japanese territorial waters.