WASHINGTON – As the United States works to ramp up semiconductor production domestically, lawmakers are also heading overseas to work with allies abroad.
"In today's interconnected world, we cannot wall ourselves off from shared problems. We are stronger and better when we work together," President Biden said on a trip to Mexico City earlier this year. "We're working to strengthen our cooperation on supply chains and critical minerals so we can continue to accelerate in our efforts to build the technologies of tomorrow right here in North America."
Biden met with Mexican President Manuel Lopez Obrador and Canadian Prime Minister Justin Trudeau at the North American Leaders' Summit in January. They discussed a variety of issues, including ramping up semiconductor production throughout North America.
"Economic policy is climate policy is security policy," Trudeau said. "With growing competition, including from an increasingly assertive China, there's no doubt why it matters that we turn to each other now to build up a North American market on everything from semiconductors to solar panel batteries."
WHATEVER HAPPENED TO THE GLOBAL CHIP SHORTAGE?
Canada plans to spend $240 million to expand its chip manufacturing. Commerce Secretary Gina Raimondo said during a trip to Mexico in September that the benefits of the CHIPS Act will not be limited to just the U.S.
"These investments are going to create jobs and opportunities for Mexican workers and businesses," Raimondo said. "I'm especially pleased that the CHIPS and Science Act includes funding that will help us work with partner countries to strengthen our semiconductor supply chains."
Ongoing discussions between the North American leaders have shown that getting Mexico onboard with ramping up production has been challenging. The U.S. and Canada have aimed to increase green energy output to help run fabrication plants. President Obrador has been slow to abandon his energy policy, which has benefited state-run electric companies in favor of adding more renewable sources.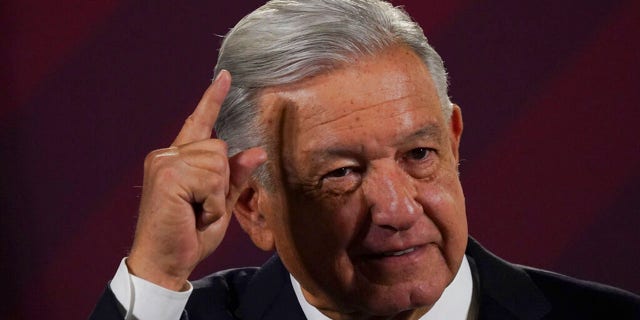 Mexican President Manuel Lopez Obrador's energy policy has helped state-run electric companies. (AP Photo/Marco Ugarte, File)
"We think consultations have helped clarify both the nature of U.S. concerns, have identified some potential pathways forward, but we're not there yet," National Security Adviser Jake Sullivan said in January.
Climate envoy John Kerry met with Mexican leaders in March to discuss a possible $5 billion investment in a solar energy farm near Arizona. Mexican officials have said the site will send power north across the border to help run the state's semiconductor hub. Manufacturers believe transitioning to more renewable resources is important for the future of the industry.
"I think energy and the availability of electrical power is an issue for our industry," GlobalFoundries CEO Thomas Caulfield said. "Our industry uses a lot of energy, and we need to lead the effort to make sure we're using it from greener sources over time."
U.S. NEEDS TO STOP CHINA AND HERE ARE THE BEST WAYS TO DO IT
It's unclear if the U.S. will help with the additional funding. Kerry is expected to return to the country for further discussions this year.
Semiconductor Industry Association President and CEO John Neuffer said it's important for the U.S. to work with allies around the world to generate more chips manufacturing.
"Our goal is not to totally onshore our supply chain. It's too big, too sophisticated. We can't do it all at home," Neuffer said. "We must also work with global partners to increase production, partners like Mexico and Canada, like-minded economies in Southeast Asia and in Europe to reinforce our global supply chain."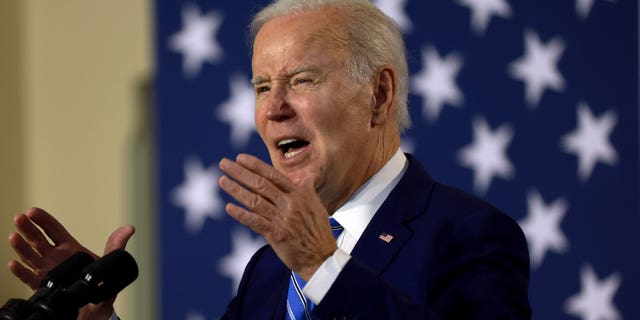 The Biden administration has pushed for cooperation from global partners on semiconductor production and supply chain issues. (Joe Raedle/Getty Images, File)
Many countries are joining together to compete against China. U.S. officials have met with Dutch and Japanese counterparts to discuss possible export controls on Chinese semiconductor manufacturing. The Biden administration put its own restrictions in place last year. But for those to be effective, officials said they wanted a top European producer in the Netherlands and a leading Asian producer in Japan to join in.
"If we try to put controls on ourselves, our non-Chinese competitors can fill in the holes, Neuffer said. "Then, you get harm to U.S. companies, and you don't get a national security priority taking care of it."
Japan and the Netherlands reportedly agreed to join the U.S. effort in January, but little is known about the specific details.
HOUSE CHINA COMMITTEE: CARGO CRANES GIVE CHINA A TOOL TO DISRUPT TRADE, MILITARY MOBILIZATION AT US PORTS
"We talked about a lot of things, but a lot of it is private," Biden told reporters after the meetings.
China is the fifth leading semiconductor producer in the world. South Korea, Japan and the U.S. all make more. But it is China's aggression toward the world's top manufacturer in Taiwan that has many around the world concerned.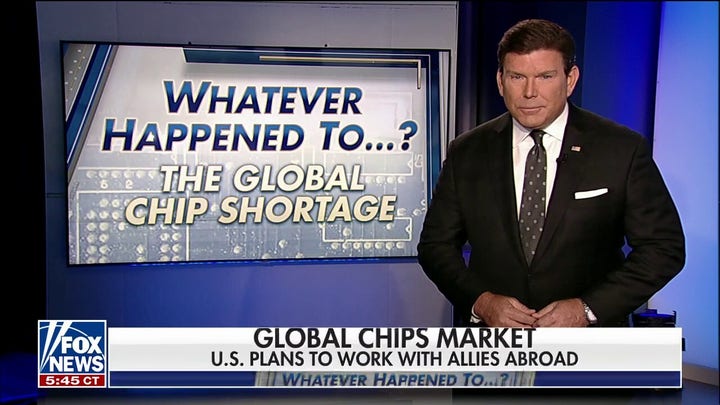 Video
"They've made some indications that they want to pull back Taiwan," Sen. Mark Kelly D-Ariz., said. "They make the best microelectronics in the world, the best semiconductor chips. If we lose access to that, the estimate is that, in a couple in a couple of years, we would lose up to 10% of our GDP."
Sen. Todd Young, R-Ind., said China has wanted to develop high-tech products while cutting off other countries from accessing that technology.
"The Chinese are trying to weaponize our economic interdependence with their country," Young said on "Special Report" in January. "Cutting off imports of various things, disrupting supply chains. We can't allow them to do that with a mission-critical component like a semiconductor."
Video
Some companies design their own chips but use Taiwanese manufacturing to produce the semiconductors. If Taiwan is cut off from contributing to global supply, it could hurt businesses outsourcing their practices.
U.S. FOREIGN POLICY 'PARALYSIS' ALLOWED CHINA OPPORTUNITY TO PURSUE PATH TO 'TOP SUPERPOWER': EXPERTS
"It's about 30% cheaper to make them in Taiwan as opposed to the United States," Sen. John Cornyn, R-Texas, said. "So it's a great business model for them, but it's a huge national security and economic vulnerability for the United States."
Some companies have also cut ties to China. GlobalFoundries decided against opening a fabrication plant there in 2018.
"Part of that pivot of the company was to abandon our plans to expand manufacturing in China," Caulfield said. "I think it's a reality. As business leaders, we don't get to set the rules of the playing field, but it's our job to deal with those issues."
Most lawmakers and experts agree that staying a step ahead of China when it comes to semiconductor manufacturing is crucial.
"The countries that have enough chips are the ones that will lead in technology, and the countries that lead in technology are going to be the winners will be the strongest," Raimondo said on "Special Report" in February. "It's very definitely true that for America to maintain its global leadership position, we have to lead in tech and innovation, and investing in chips is necessary to do that."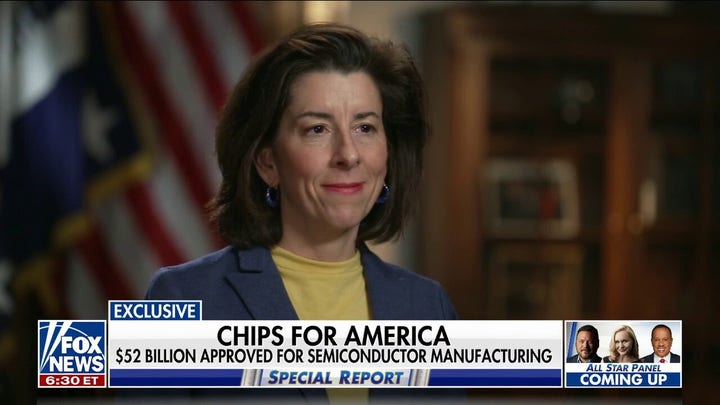 Video
CLICK HERE TO GET THE FOX NEWS APP
Rep. Ro Khanna, D-Calif., said the CHIPS Act is a good start when it comes to competing with China but also warned that manufacturing overall needs to increase in the U.S.
"The bulk of the production for the chips that go into our consumer products, our cars, our dishwashers, our dryers, our refrigerators are still not produced in the United States," Khanna said. "I don't want a situation where the advanced chips are made in America, but everything consumers buy is made in China. So we need to do a lot more."