A cat from Richmond, Virginia, weighing nearly 40 lbs. was adopted within just a few hours.
Patches was brought into the Richmond Animal Care and Control Center in Richmond, Virginia, earlier this month, reported Jam Press.
The chunky cat was put on the scale and weighed almost 40 lbs. — something the shelter staff said they loved about him.
26-POUND TABBY CAT GOES VIRAL ON SOCIAL MEDIA
A spokesperson for the shelter told Jam Press that they loved his belly — but to benefit his health, he now has been put on a special diet.
"He's been on a very special diet, is on an exercise plan and is very sweet," the shelter said.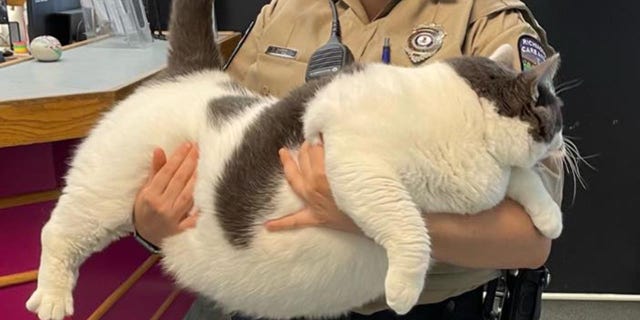 A massive cat that weighed roughly the same as a four-year-old child now has a new owner in just one day. (Jam Press)
Patches was reportedly neutered, tested, chipped and ready for adoption — but had barely been listed as adoptable before Kay Ford decided she needed the cat, according to Jam Press.
MISSOURI FARMERS TRAP WHAT THEY THOUGHT WAS A 'CRAZY-LOOKING CAT' — ENDED UP BEING AM AFRICAN SERVAL
Ford saw a photo of Patches — and knew she needed to adopt him, she told local media.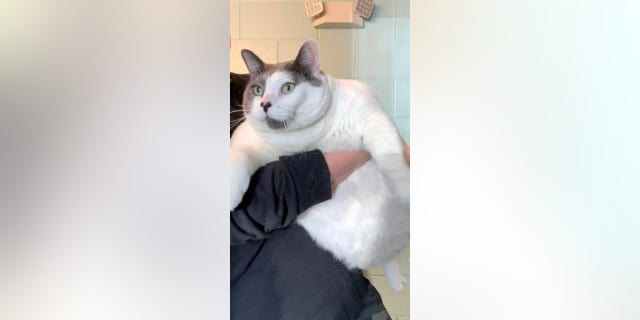 Patches weighed nearly 40 pounds. Today he's on a special diet to help him drop some weight.  (Jam Press)
"I knew that there were going to be nine billion people who were falling in love with him at the same time," she said.
GEORGIA PET OWNER MUST SURRENDER EXOTIC AFRICAN CAT THAT ESCAPED, ENTERED NEIGHBOR'S HOME: REPORTS
Ford is a cat owner already and lives near the shelter — making it easy for her to stake her claim on Patches, she noted.
Patches took to her immediately, Ford said, adding that he was definitely her cat, as Jam Press reported.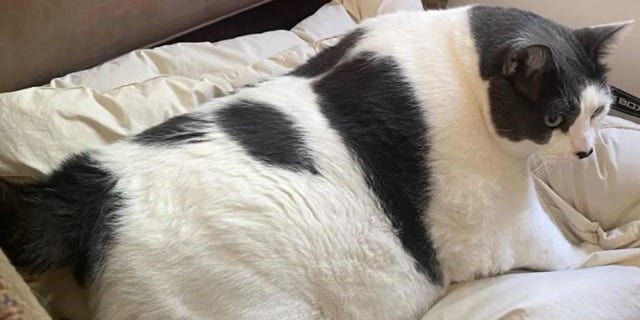 Patches the cat was quickly adopted and brought to a new and loving home.  (Jam Press)
Although Patches is large, he is not the biggest cat in the world.
CLICK HERE TO GET THE FOX NEWS APP
The fattest cat on record, according to Guinness World Records, was 10-year-old Himmy back in 1986 — who weighed roughly 46 lbs.
CLICK HERE TO SIGN UP FOR OUR LIFESTYLE NEWSLETTER
In 1998, Guinness World Records dropped the record of "fattest cat" to prevent cat owners from potentially harming their felines by overfeeding them in order to win.