With the return of calm seas, migrant smugglers launched a score of boats from Tunisia during the weekend and their passengers reached a tiny Italian island by the hundreds. A body was found in one of the boats, Italian news reports said, while survivors of two rescues said 23 persons were missing.
Dozens of the migrants sat Monday morning near Lampedusa's port awaiting transfer to the island's overcrowded shelter or eventually to Sicily or the Italian mainland.
Earlier Monday, a fishing boat off Lampedusa aided a distressed migrant boat that contained 34 people and a body, the Italian news agency ANSA said. Survivors reportedly told rescuers that some 20 fellow passengers were missing from the boat, which had set out from a Tunisian port on Saturday night.
ITALY ESTIMATES 680K MIGRANTS IN LIBYA WANT TO CROSS MEDITERRANEAN SEA FOR EUROPE
A few hours later, the Italian Coast Guard rescued 42 migrants from a boat foundering off Lampedusa after setting out Saturday night from Tunisia, ANSA said. Survivors told rescuers that three men were missing.
The Italian Coast Guard, when contacted by The AP, declined to comment on the reported rescues.
On Sunday, with seas calm after four days of rough conditions, a total of 640 migrants reached Lampedusa, while more than 200 came ashore from several boats on Monday. In many cases, Italian coast guard or other military vessels took on migrants when they approached the island, including transferring the 34 from the fishing boat.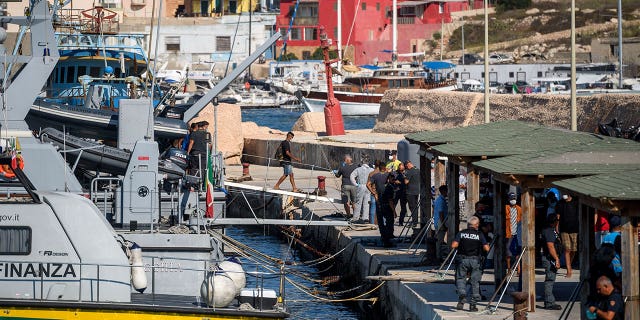 A migrant disembarks from a boat on August 5, 2022, in Lampedusa, Italy. Lampedusa saw hundreds of migrants reach the Italian island on Sunday. (Antonio Masiello/Getty Images)
Last week, Italian authorities used commercial ferries and military vessels to transfer some of the migrants who had been rescued earlier from Lampedusa to Sicily or to the Italian mainland. Those transfers finally brought Lampedusa's migrant center below its approximately 400-person capacity. But with the slew of boats arriving starting on Sunday, the number of migrants there quickly swelled to nearly 1,100, and authorities were scrambling anew to make arrangement for more transfers off the island.
Separately, the humanitarian group Doctors Without Borders said its rescue vessel Geo Barents, came to the aid of 75 migrants in a wooden boat foundering in international waters off Libya on Monday. Among the passengers are 40 minors.
MEXICO MIGRANT CAMP TENTS SET ABLAZE ACROSS TEXAS BORDER
The rescue vessel must now wait for Italian authorities to assign it a port to disembark the migrants. Italy's right-wing government has been assigning ports in northern Italy, far from the rescue area, to try to limit charity boats' time at sea. Government officials have contended that the charity boats encourage illegal migration by providing safety to the smugglers' passengers.
Although far-right Premier Giorgia Meloni has led a crackdown both on smugglers and on the charity vessels that frequently rescue passengers from unseaworthy boats launched from Tunisia, Libya and Turkey, migrants keep setting out on the dangerous voyage in the Central Mediterranean in hopes of finding work or relatives in Europe.
CLICK HERE TO GET THE FOX NEWS APP
According to figures provided by the Italian Interior Ministry, by Monday, more than 36,600 migrants had arrived in Italy since the start of the year. That's more than four times the number for the same period in each of the two previous years.
Italy denies the asylum bids of most of the migrants because they are fleeing poverty, not war or persecution. But since barely a handful of countries have repatriation accords with Italy, the migrants who lose asylum bids often stay in Italy for years in a kind of legal limbo, or try to make their way to northern European countries.
Italy's pleas to fellow European Union nations to take on some of the migrants have largely gone unheeded for years now.