Wesleyan University students returning to campus this fall will be eligible to have remaining abortion-related costs covered after insurance, meeting the demands of a Democratic Socialist group who petitioned for the change.
Ruby Clarke, a member of the Wesleyan Democratic Socialists, said the push for abortion cost coverage not only relieved her when the institution agreed to fulfill students' wishes, but also when she noticed people taking up interest in the issue.
"It's been really great to have students feel supported by this new change, but it's also great to see how it's made people get activated and interested in this issue," she said, according to WFSB, a local news outlet based near the university in Middletown, Connecticut.
COLLEGE LECTURER CLAIMS 'NO LAWS' AGAINST HOMOSEXUALITY, ABORTION 'BEFORE WHITE PEOPLE': 'SEEK HELP'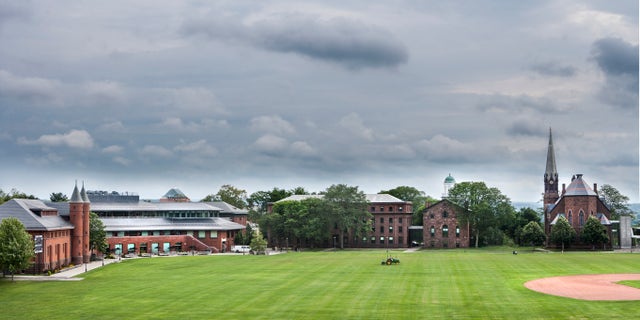 Wesleyan University Campus, Middletown, Connecticut, USA.  (Education Images/Universal Images Group via Getty Images)
She added that democratic socialism is "about making sure everyone's needs are met and everyone has a voice that's heard."
Ruby's group amassed over 700 signatures on a petition brought to the school before the change was announced.
"The overturning of Roe v. Wade illustrated the importance of abortion access and reproductive freedom as an equal justice issue," the petition read.
"Although Wesleyan is located in a state which protects the right to abortion, the renewed focus on reproductive care has illustrated the ways in which the University could better provide accessible care to people with uteruses. We strongly believe that Wesleyan should adopt these policies to ensure all students are able to overcome financial burdens to and lack of transportation for abortion procedures."
AMERICAN COLLEGE OF OB-GYNS BANS PRO-LIFE DOCTORS FROM CONFERENCE: 'VAGUE EXPLANATION'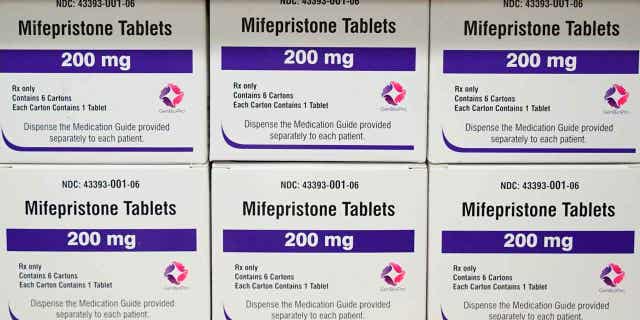 Boxes of the drug mifepristone sit on a shelf at the West Alabama Women's Center in Tuscaloosa, Ala., March 16, 2022. (AP Photo/Allen G. Breed, File)
The group demanded free emergency contraceptives, covered expenses for off-campus abortions, including transportation to and from clinics, care for students during breaks and those who are abroad and increased access to information regarding reproductive care access.
The university already covered the cost of birth control for its students, according to the WFSB.
The initiative to cover abortion-related expenses means students are eligible to have emergency contraceptives, clinic expenses and postoperative medication costs covered by the university.
PRO-CHOICE COLLEGE STUDENTS AVOID 'MY BODY, MY CHOICE' ARGUMENTS FOR VACCINE MANDATES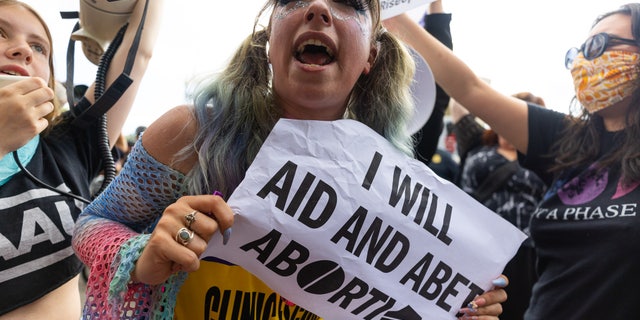 Protesters demonstrate outside the Supreme Court after a landmark abortion decision struck down Roe v. Wade, Friday, June 24, 2022. (Joshua Comins/Fox News)
Other students supportive of the effort sang its praises, with some alleging the change is a positive step forward in light of alleged threats to reproductive rights, particularly in light of last summer's Dobbs v. Jackson Women's Health Supreme Court ruling which effectively rescinded a nearly 50-year precedent established by Roe v. Wade in 1973.
Fox News Digital reached out to Wesleyan University. A spokesperson for the school said:
"Wesleyan University's Davison Health Center offers birth control, emergency contraception, sexual health screening and testing as part its overall services. Starting in the fall semester 2023, DHC will provide all emergency contraceptives (Plan B and Ella) free of charge. Consistent with the health center's mission to provide education and support in the decision-making process, students will be able to access emergency contraceptives by consulting with a nurse at DHC.
The University will rely on a student's insurance plan to pay for abortion services but will offer financial assistance to any student whose insurance does not cover abortions and/or pay co-pays and deductibles after insurance has been filed.
Wesleyan University has long provided financial support for those in need beyond what their medical insurance might cover. At a time when reproductive freedom is being threatened around the country, Wesleyan is dedicated to providing students with support for free emergency contraception or for the decision to terminate a pregnancy."
CLICK HERE TO GET THE FOX NEWS APP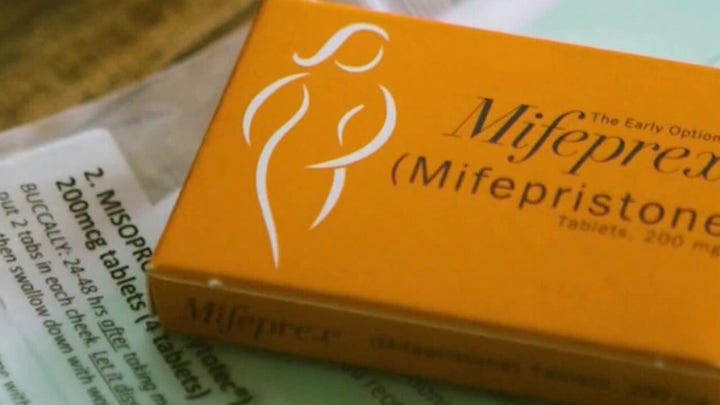 Video