White House press secretary Karine Jean-Pierre dismissed President Biden's dismal approval ratings specifically concerning his handling of the U.S. economy, telling reporters they "don't tell the whole story" about Bidenomics.
The subject came up during Wednesday's daily White House press briefing when a reporter asked Jean-Pierre about a new Monmouth University poll released earlier in the day that showed 62% of Americans disapprove of Biden's handling of inflation, and a plurality of 48% disapprove his handling of jobs and unemployment.
"So the polls don't tell the whole story. They don't tell the full story, and we understand that," Jean-Pierre responded. "The data shows the combination of unemployment and inflation is at near historic lows. And that's what we have seen."
FLORIDA'S MATT GAETZ TO INTRODUCE BILL DEFUNDING JACK SMITH INVESTIGATION TARGETING TRUMP: 'WE MUST ACT'
WHITE HOUSE RIPS 'VILE' RFK JR COMMENTS COVID-19 WAS 'ETHNICALLY TARGETED' TO SPARE JEWS, CHINESE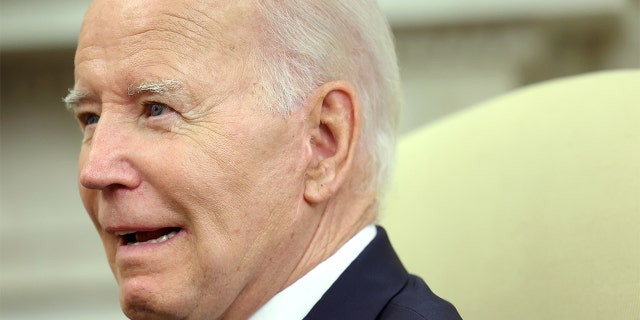 President Joe Biden meets with Israeli President Isaac Herzog in the Oval Office at the White House on July 18, 2023, in Washington, DC. (Kevin Dietsch/Getty Images)
Jean-Pierre then interrupted the reporter, who appeared to be asking how long it would take for the American people to start feeling what she was claiming the administration had accomplished, telling him she didn't "have a timeline."
"We know, just looking at the midterms, right, the result of the midterms, Americans want us to continue to work and build on the historic actions that we have taken. They want to see us continue to work – the president continue to work – on lowering costs," she said.
The new poll echoed a recent Fox News poll that found 76% of Americans believe the economy is in only fair or poor shape with just 38% saying they approve of Biden's handling of the economy.
CLICK HERE TO GET THE FOX NEWS APP
Fox News' Kyle Morris and Dana Blanton contributed to this report.