A Pennsylvania woman has turned dumpster diving into a lucrative business after discovering that authentic designer items are often tossed away.
Veronica Taylor, 32, of Quakertown, Pennsyvlania, teamed up with her friend Liz Wilson, 38, to sell the salvaged items on the auction app WhatNot and on live-streamed auctions.
"It's really like a real-life treasure hunt," Taylor told the news agency SWNS.
"It's fantastic."
GOLD ROMAN COIN FOUND NEAR POMPEII FETCHES EYE-OPENING AMOUNT AT AUCTION
Taylor began dumpster diving with Wilson in June 2022.
Initially, Taylor said it was "just a hobby," finding the unusual activity to be "so much fun." By February 2023, it was her full-time gig, she said.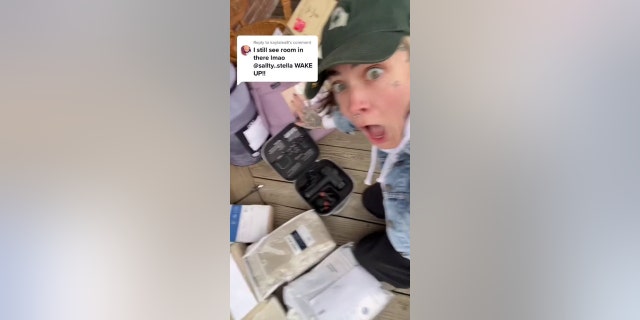 Veronica Taylor poses with some of the items she's been salvaging from a dumpster. She makes about $5,000 a month reselling items, she said. (SWNS)
Among Taylor's finds: a Louis Vuitton wallet and designer shoes, she told the news agency.
She donates most food and hygiene products to charity, she said.
"You have no idea what you're going to find," she told SWNS. "And I can hang out with my best friend and make a living from finding things."
AUCTION AMAZEMENT: BRITISH MAN TO SELL OFF COLLECTION OF AUTOGRAPHS FROM ALL 46 US PRESIDENTS
Taylor splits the sales with Wilson and claimed to be making a full-time income from dumpster diving.
"I want to say we've been getting $4,000 to $5,000 a month," she told SWNS about the women's work. "It's definitely not worth working a real job for."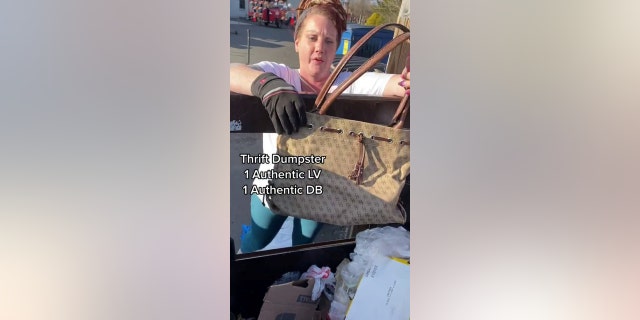 Liz Wilson is shown with a Dooney & Bourke bag that she found in a dumpster behind a thrift shop. (SWNS)
Dumpster diving, Taylor said, "gives you so much freedom."
Taylor and Wilson now travel from city to city, exploring dumpsters in "rich-people neighborhoods" and at thrift shops, they said.
"It really is like being on vacation all the time."
"We find Louis Vuitton, Michael Kors," said Taylor. "That's in thrift stores. We thought, 'There's no way this was in the dumpster.'"
EXTREMELY RARE ENIGMA MACHINE USED BY THE NAZIS DURING WWII SURFACES, UP FOR AUCTION
Taylor and Wilson said they "assume it's older people working in the stores who don't know much about the brands and throw them out."
She continued, "It really is like being on vacation all the time. The typical places that we do really well at we go [to] every single night — 10 p.m. to 3 a.m., usually."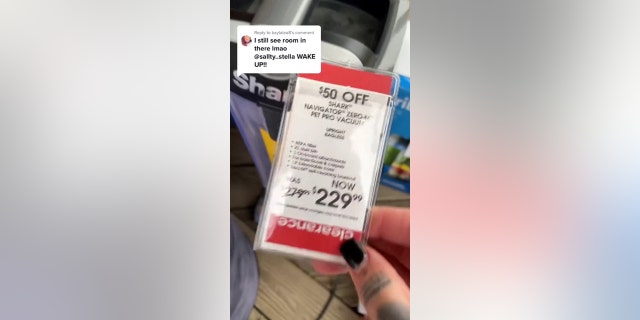 A vacuum that Veronica Taylor found in the dumpster still had its clearance tags attached. (SWNS)
During live-streamed auctions, customers bid on items as they are discovered, SWNS said.
The money made is "100% profit," noted Taylor. "We pretty much take any offer."
"We also give a lot away, too, and that's why our supporters keep coming back. They know we hook them up," she said.
CLICK HERE TO SIGN UP FOR OUR LIFESTYLE NEWSLETTER
"Another reason why auctions are so enticing [is] because every item starts at a dollar," said Taylor.
"We do a big auction every Saturday and then multiple pop-ups throughout the week."
CLICK HERE TO GET THE FOX NEWS APP
The larger auctions feature over 100 items, whereas the pop-up auctions have between 40 and 70, she said.