Three construction workers were injured Tuesday when part of an upper floor collapsed inside Savannah's 124-year-old federal courthouse, which has been undergoing extensive renovations for more than a year.
All three workers were taken to a hospital, none of them with life-threatening injuries, after part of the courthouse's third floor gave way and the workers tumbled down to the floor below, said Savannah Fire Battalion Chief Wayne Ifill. Everyone else inside the building was accounted for and not injured, he said.
"We went through the building twice to make sure," Ifill said. "Now we know for a fact that it's completely empty. And they're not allowed to go back in it until they have a structural engineer come and do a good, solid assessment of the building."
THREE TEENS ARRESTED IN SHOOTING THAT KILLED 2 TEENS OUTSIDE GEORGIA BIRTHDAY PARTY
The Tomochichi Federal Building and U.S. Courthouse opened in 1899 on Wright Square in the heart of Savannah's downtown historic district. It was named more than a century later for the chief of the Yamacraw people, a small band of Native Americans who befriended the colonial English settlers that founded Georgia in 1773.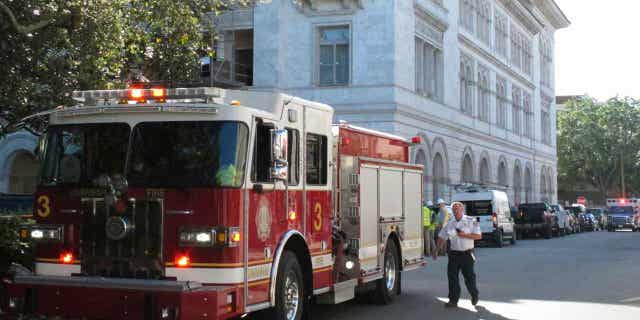 A firetruck sits outside the federal courthouse in Savannah, Georgia, on April 11, 2023, after part of an upper floor collapsed and injured three construction workers.  (AP Photo/Russ Bynum)
The building is in the middle of a $75 million renovation scheduled for completion next year and has been essentially gutted on the inside, Ifill said. But it's unclear why roughly 30 square feet of the floor collapsed. No courthouse personnel were inside.
FAMILY OF GEORGIA MAN WHO KILLED HIMSELF IN POLICE INTERVIEW ROOM SUES CITY OF SAVANNAH
"It could have been a lot worse," Ifill said.
Workers in hardhats huddled on street corners Tuesday afternoon outside the courthouse, where scaffolding covers portions of the building's exterior.
CLICK HERE TO GET THE FOX NEWS APP
There didn't appear to be any threat of the exterior walls collapsing, according to Ifill. Still, the street along the south side of the courthouse, nearest where the floor fell in, was closed until structural engineers confirm the rest of the building isn't at risk. It was not immediately known how quickly that inspection would occur.