Allstate has joined other leading insurance companies in pausing its sales of new home insurance policies in California due to wildfires and higher costs of doing business in the state.
"The cost to insure new home customers in California is far higher than the price they would pay for policies due to wildfires, higher costs for repairing homes, and higher reinsurance premiums," Allstate said in a statement to Fox News Digital.
The company said it stopped offering new home, condominium and commercial insurance policies in California last November but would continue to offer home insurance to current customers in California.
STATE FARM STOPS ACCEPTING HOME INSURANCE APPLICATIONS IN CALIFORNIA: 'DIFFICULT PLACE TO DO BUSINESS'
"The cost to insure new customers and pay claims would be higher than the price they pay for policies," Nash said.
STATE FARM CEASING NEW APPLICATIONS IN CALIFORNIA FOR PROPERTY INSURANCE, OTHER POLICIES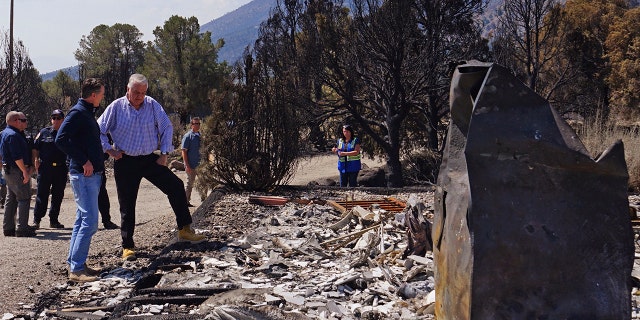 California Gov. Gavin Newsom, left, and Nevada Gov. Steve Sisolak talk as they tour destroyed home by wildfires near where the Tamarack Fire ignited earlier in July in Gardnerville, Nev., Wednesday, July 28, 2021. (AP Photo/Sam Metz) (AP Photo/Sam Metz)
Another leading insurance provider, State Farm, recently announced similar reasons for its decision to stop accepting new applications for business and personal lines property and casualty insurance in the state.
Allstate had previously stopped providing new homeowner policies in California from 2007 to 2016, the San Francisco Chronicle reported, "after state regulators questioned the company's request for a 12.2% rate increase."
CLICK HERE TO GET THE FOX NEWS APP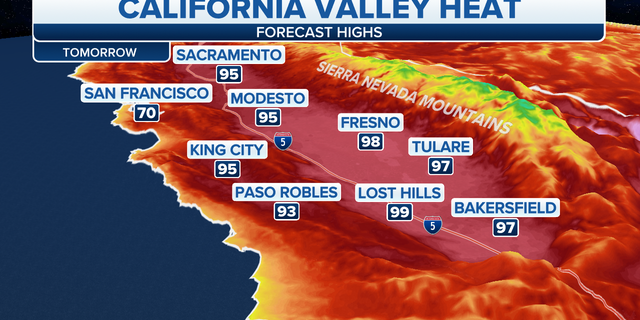 High temperatures forecast in California for Tuesday, May 16. (Fox News)
Last August insurance giant GEICO, closed all 38 of its agent offices in California, laid off hundreds of employees, and announced it would no longer sell insurance through telephone agents in the state.